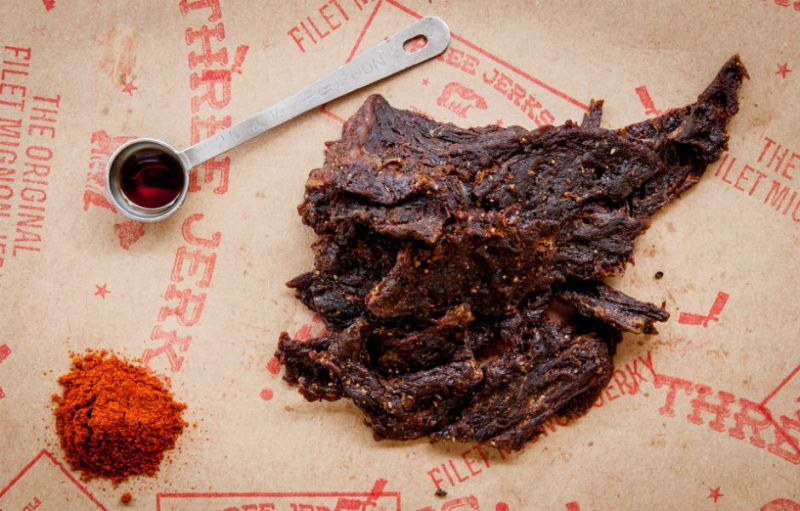 Beef jerky is a staple of the manly diet. It's simple, nutritious, fulfilling, and doesn't go bad if you leave it out for a couple days. It's also one of the few types of meat you can eat with your bare hands without getting looked at like you're some sort of deranged caveman. It might just be the manliest food ever created. There's just something so primal and satisfying about ripping a chunk of meat apart with your teeth, and we can't get enough of it.
We love jerky, but for too long we've been forced to live under the tyrannical reign of Jack Links and Oberto – ruthless monarchs of meat who feed us sub-par ingredients processed with all sorts of nitrites, MSG, and artificial flavors. It's time for something different.
Three Jerks takes an entirely different approach to beef jerky. Rather than haphazardly stuffing some mechanically processed meat into a dehydrator, these guys start with one of the best cuts you can find on a cow: the lean, tender, and supremely succulent filet mignon.
Next, they take the meat and braise it using the "slow and low" method before it's sent into the dehydrator. This process gives the finished product a delightfully tender texture – much more enjoyable than the leathery, sinewy texture you get with other jerky.
And then there's the flavors. Gone are the days of being confined to the paltry tastes of original, teriyaki, and peppered: Three Jerks offers flavors like Memphis BBQ and Chipotle Adobo — as well as an "Original" flavor that tastes unlike any jerky you've ever eaten. Word on the street is that they've got some new stuff in the pipeline, too.
Get your hands on a three-pack at ThreeJerksJerky.com — you won't be disappointed.
Editors' Recommendations