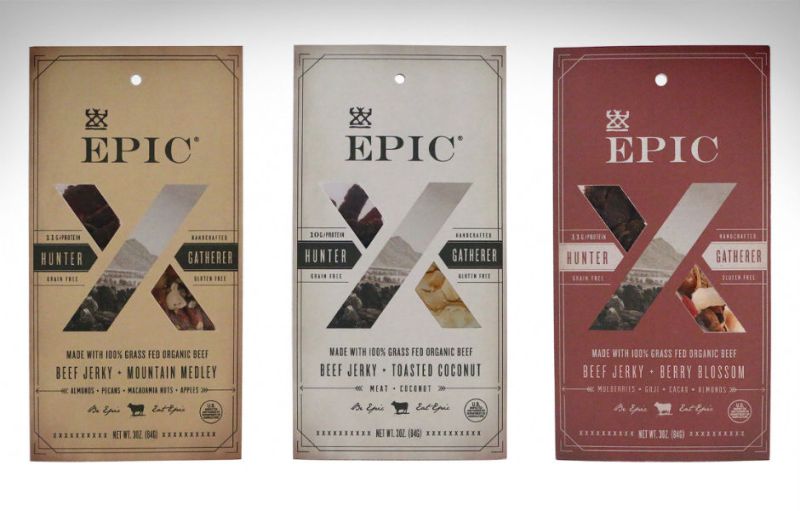 The folks over at Epic —the makers of protein bars with odd flavor combinations like bison with bacon and cranberry, turkey with almond and cranberry, beef with habanero and cherry, and lamb with currant and mint — have come up with another innovative snack idea for athletes, those on a paleo diet, and anyone who wants a satisfying bite to eat.
Epic looked all the way to our roots — to the time when people were still hunting and gathering to come up with its new line of snacks. The snacks contain two packets, one with beef jerky, and the other with a berry mix, nuts, toasted coconut, or a mix of apples and nuts. According to Epic's website, each combo "is inspired by the foraging diets of our ancestors and each ingredient is full of rich cultural history." The company looked for ways to balance sweet with salty, for a snack that is perfect for someone who is constantly on the go. It's also full of good stuff like omega-3, vitamin B12, CLA, vitamin E and niacin. They're also gluten free, soy free and paleo friendly. Plus, the beef they used is 100 percent grass fed and organic beef.
Next time you're planning on going camping, or for a long hike, or anywhere you'll need a snack that is nutritious, tasty and good for you, try one of Epic's new combos. There's nuts, fruit and meat. What else could you possibly need in a convenient snack?
For more information, visit epicbar.com.
Editors' Recommendations