Tequila is an untameable spirit. If you've ever spent the night with it, then you've experienced its unbridled power first hand. When you drink a liberal amount of tequila, it's common to wake up feeling utterly wrecked, yet with a vague sense of having had fun the previous night.
Good news for those who have survived their encounters with tequila: Herradura — the premium, 140-year old tequila maker from the Mexican state of Jalisco — is debuting their new ULTRA Tequila in the U.S., where it's bound to do some serious damage.
Related: The Manual's Liquor-Laden Gift Guide for Booze Enthusiasts
ULTRA is comprised of an Añejo base with a healthy amount of Extra Añejo blended in. For non-Tequila drinkers, Añejo is spanish for "aged," or "mature," and in this context refers to tequila that has been aged for at least a year. Extra Añejo is tequila that has been aged for longer than three years; the Extra Añejo used in ULTRA is aged in American White Oak barrels for up to 49 months (just over 4 years).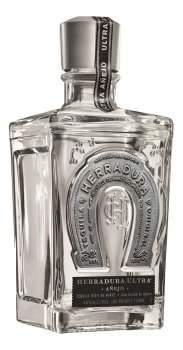 The tequilas are imbued with a hint of agave nectar for sweetness, then filtered and bottled. The end result is a carnival of delicious flavors, including cooked agave, vanilla, honey, toasted almonds, dried fruits, and caramel. The aging process makes ULTRA extraordinarily smooth — it's the kind of tequila you want to sip, not slam. Definitely a gentleman's tequila.
Herradura was founded in 1870 by a man named Felix Lopez. The word "herradura" is Spanish for horseshoe, which explains the bottle design AND the horse-kick-to-the-head feeling you get after you've had too much. Despite other tequila companies' willingness to blend their products, Herradura always insisted on 100% agave tequila — and they still do to this day.
For the best taste, the folks at Herradura recommend that you stir ULTRA with ice, then serve it chilled and neat in a shot glass. Starting this month, ULTRA will roll out in Southern U.S. markets, including California, Nevada, Georgia, Texas, and Florida. Hopefully we'll see this tasty tequila come to the rest of the country real soon.
(Feature Photo by Michael Bezjian/Getty Images for Tequila Herradura)
Editors' Recommendations