You may be asking, "What the hell is biltong?" Well, biltong is a South African cured meat that is comparable to beef jerky. Growing up, one of my best friends came from a South African family and her father used to cure biltong in their garage and it was (and remains, since he still actively makes the stuff) one of my favorite snacks.
Jonty Jacobs is a biltong shop in New York's West Village owned and operated by the husband and wife team of Monique Daniels and Camran St. Luce. Daniels was born in South Africa and decided to start her own brand of biltong when, while pregnant and craving her homeland's national treat, she couldn't easily get her hands on an authentic version of the cured meat in New York.
The Manual spoke to Daniels about the differences between biltong and beef jerky, what it's been like to open up Jonty Jacobs, and how receptive New Yorker's have been to this unique cured meat. After reading what Daniels had to say, you may want to consider buying some beef jerky as a stocking stuffer or holiday gift this season.
What is the main difference between Biltong and beef jerky?
There are a few key differences. First, the types of beef we use to make biltong are only prime cut top and bottom flats. In addition, the process of curing biltong is completely natural. Strips of beef are rubbed in vinegar and spices and then hung to naturally cure. Unlike beef jerky, the goal of curing biltong is to maintain the meat's tender, natural flavor with complimentary spices—not dry it out.
How do you create the variations between the slab biltong and the traditional cut?
The various offerings we have at Jonty Jacobs are based upon the cuts of meat we use. Traditional cuts are taken from the outside to include the beautiful, fine layer of fat, whereas the lean cut is trimmed completely.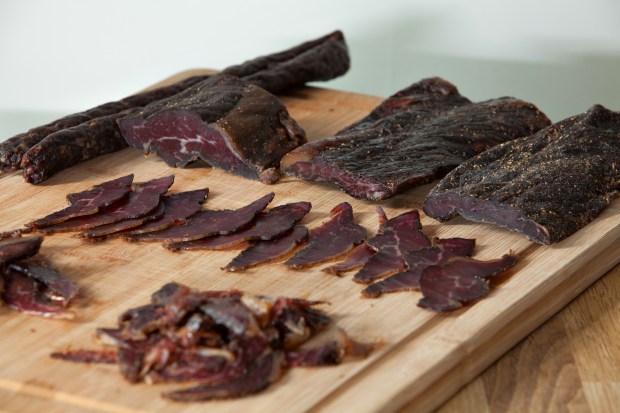 What makes a type of biltong "wetter"?
The wetter biltong undergoes the same process curing process, but we use a wider cut of beef. So, once it is cured, you have a juicier taste.
What makes the spicing of the meat unique? What are some trademark South African flavors?
What makes the spicing unique is its natural simplicity. We really only use traditional spices such as brown sugar, vinegar, salt and pepper. However, there are no traces of sugar once cured.
Did you have a lot of experience making biltong?
My family made biltong my entire life, so I was very familiar with the process. The beauty of it is that everyone does it slightly differently. Our focus is on high quality, great tasting all natural products.
Where does the store name come from?
Like the true Saffa that I am, I am a huge cricket fan. Jonty Rhodes was my favorite cricketer growing up and Jacobs is my (late) mother's maiden name. It just came to me one day and I knew it was perfect!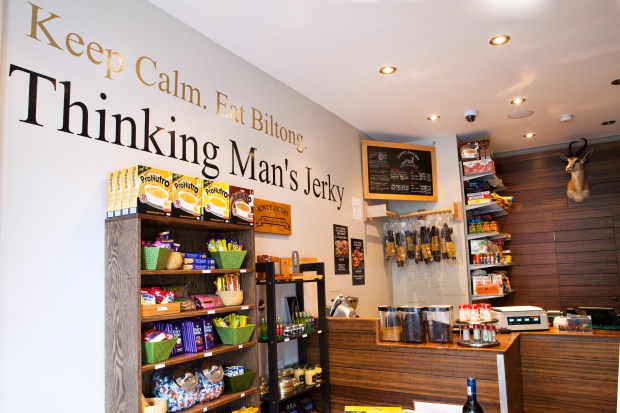 What has been the hardest part about starting and building the business?
Wow! It's tough to choose what has been the hardest part so far.  Overall it has taken a lot of hard work and perseverance. I think if I had to say what the very hardest part has been (and continues to be), it is definitely promoting a product that is relatively unknown in the U.S. market. I know its great and I know if people try it they will love it—but getting the word out there and educating the consumer base continues to be our biggest challenge.
Where are all of your products made?
We work with a USDA approved processing plant in North Carolina.
How do you source all of your materials?
It's a constant and ever changing process given the fact that pricing in the global food market changes constantly. We work with various distributors and import certain items ourselves. For example, we are currently importing our grass fed beef from New Zealand as they have the highest quality beef completely free from hormones and GMOs.
What has the response been like to your product so far? Have you found a clientele that has embraced biltong and want to learn more about the process?
Needless to say, the South African ex-pat community has been amazing! Like I said, most South Africans either make their own biltong or have tried the best biltong available—so it can be a tough crowd to please! Thankfully our hard work and high standards of quality have paid off and our clientele loves our range of biltongs. The American market has also been great, but we need to get more people to try it!
Editors' Recommendations