Boozing at breakfast is quite possibly the greatest thing ever — but unfortunately everyone seems to drink the same tired old cocktails. Mimosas, Bloody Marys, maybe an Irish Coffee if you're feeling crazy — don't get me wrong, I love 'em as much as the next guy, but breakfast boozing doesn't need to be limited to the same three drinks. So to help broaden your horizons and take your brunch game to the next level, we've put together a quick collection of awesome and unusual cocktails that go great with brunch. Enjoy!
The Pledge
This is one of my personal favorites. Made with a thick oatmeal stout, a good raisiny sherry, and honeyed Benedictine liqueur, it ends up tasting like "breakfast in a glass." It makes a great brunch drink if you ever get tired of bloody Marys and mimosas, and a sprinkling of sweet, spicy nutmeg gives it a wonderfully autumnal slant. Here's how it's made:
1 oz. Lustau East India sherry
.5 oz. Benedictine liqueur
Oatmeal stout (we suggest Lost Coast)
Grated nutmeg
Stir the sherry and Benedictine together and pour into a pilsner glass. Top it off with the oatmeal stout and garnish with grated nutmeg. Then just sit back and listen to the contented oohs and ahhs that everyone makes after they take the first drink.
Breakfast Sangria
this one is awesome because you can make it in one giant batch and leave a pitcher on the table until everyone's had their fill. It's a lighter, brighter, and more effervescent take on the classic sangria recipe, and it goes great with practically any kind of breakfast food.
Serves 4 to 6
1 pink grapefruit
1 navel orange
2 limes
1 cup Cointreau
1 750ml bottle Prosecco
12 to 24 ounces plain or grapefruit sparkling water
Slice the citrus fruit into half moons. Mix with the Cointreau in a pitcher that holds at least quarts. Add the Prosecco and cover the pitcher tightly with plastic wrap. Refrigerate overnight. When ready to serve, top off the pitcher with sparkling water and serve with lime or orange wedges.
Ramos Fizz
Created in 1888 by bar owner Henry C. Ramos, the fizz that bears his name takes the already appealing Silver Fizz—a mixture of gin, lemon, sugar and seltzer, with an egg white to add foam and body—and advances it several steps along the decadence line, adding cream, lime juice and a few drops of aromatic orange-flower water (no, not orange juice—the perfume-like stuff usually sold in small blue bottles).
2 ounces gin
1 ounce cream
1 egg white
1/2 ounce lemon juice
1/2 ounce lime juice
2 teaspoons sugar, to taste
2-3 drops orange flower water
Seltzer
Combine everything except seltzer in a cocktail shaker. Tradition dictates that the drink be shaken very hard for at least one and preferably two full minutes with ice. You can cheat by either whisking the mixture with a milk-frother or whisk (or tossing a spring from a Hawthorne strainer into the shaker and using that to whip the ingredients) until foamy, and then shaking with ice for a good 20 seconds, or you can buckle down and take the fully authentic ride, while working off the calories you'll be taking in from the cream and sugar. Strain into a chilled Collins glass and add an ounce or two of chilled seltzer, to taste.
South of No North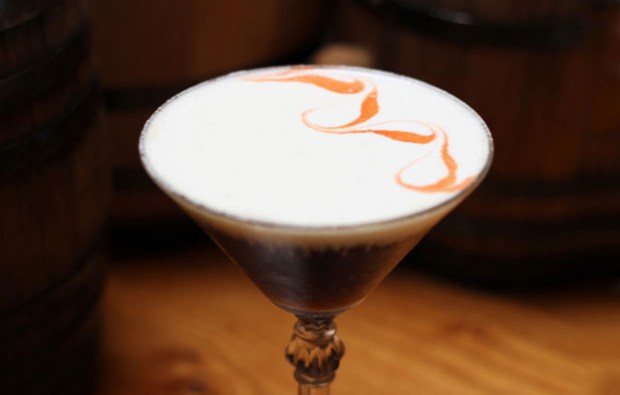 This drink comes from Chris Langton of 1022 South — a fantastic cocktail bar in Tacoma, Washington. It's kinda like a cold irish coffee — except it uses aged tequila instead of whiskey, and egg quite instead of cream. It's damn good though, and pairs nicely with a meatier, richer dishes like chicken fried steak or biscuits and gravy.
1 1/2 oz reposado tequila
1/2 oz Cynar
1/2 oz simple syrup
1 oz of cold coffee
1 fresh egg white.
Pour all ingredients into a mixer with some ice, and shake vigoriously for a couple minutes to ensure that the egg white gets frothy. Bonus points if you substitute a fine mezcal for tequila, amaro Ramazzotti for Cynar, and some agave instead of simple syrup. Makes it way more classy and interesting.
Editors' Recommendations