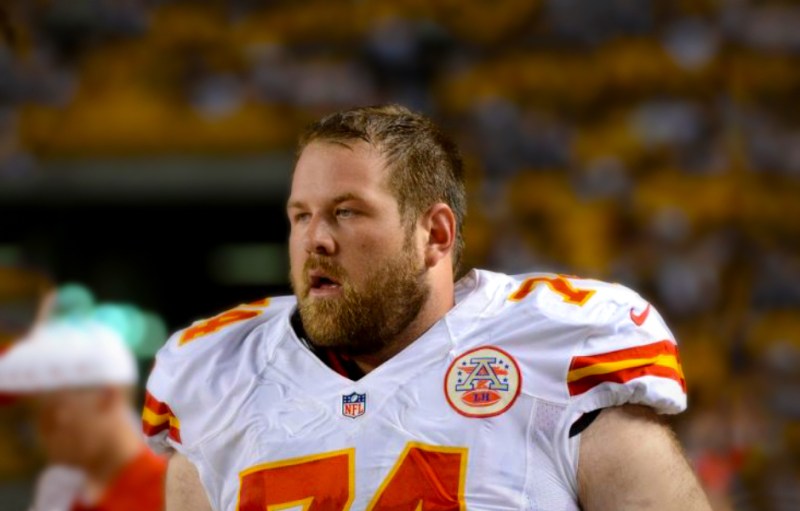 Athlete Eats is our periodic column where we speak to professional athletes about their favorite spots to eat when they are in their home city as well as on the road. If anyone knows the best spots to eat in a U.S. city, it's going to be one of our sports stars.
Geoff Schwartz is a twenty-seven year old offensive guard who has been in the NFL since 2008. He's played for the Carolina Panthers, Minnesota Vikings and most recently, the Kansas City Chiefs. After a strong season in 2013, he was targeted by the New York Giants as a top free agent to improve their offensive line, and they signed him this past March to a four-year, $16.8 million dollar deal.
Geoff is an avid foodie and loves to cook. In fact, he plans on writing his own cookbook and hopefully developing his own cooking show in the not so distant future. Because of Geoff's love of food, we decided to chat with him for the latest installment of Athlete Eats.
I know it's a tough question, but what are your three or four favorite restaurants to go in New York so far?
Honestly, I haven't even had a chance to go to many restaurants yet since I have been so busy. I've visited New York in the past and been to most of the famous delis. Katz's Deli is my favorite.
When you're on the road, are there some specific restaurants you always try to hit? Do you have "go to" restaurants for specific cities?
I always try to eat local when I travel. In New Orleans, I know to get fresh seafood. When I'm in St. Louis or when I was living in Kansas City, I always had to get some BBQ. In California, I'm definitely going to a Mexican restaurant. In Pittsburgh, I have to go to Primanti Brothers.
How do you find places to eat when you're staying in a city for an away series?
I use Yelp or ask the front desk—pretty simple. I try not to venture too far from the hotel because I don't like being rushed to get back for meetings. If my parents or guests come to visit, I might ask them to pick out a place and see where the night takes us.
Do you have a group of guys you usually go out to eat with?
I'll normally go eat with the other offensive lineman. We tend to stick together.
Do you have a personal chef or team nutritionist that recommends a specific diet?
I don't have a personal chef, but my trainer has me on a specific diet. I stay away from carbs and sugar during the training months. During the season, though, you need to replace carbs after practice, so I'm allowed to include foods with carbohydrates back in my diet. Yeah, but during the training months I don't need them.
Are there any foods that you don't like or try to stay away from?
I only like a few vegetables, so I generally just stick to those. But I do not discriminate against any type of meat. It's all fair game!
What's your favorite meal to cook/have when you're at home?
Well, my go-to is to just to smoke some ribs on my Green Egg. It doesn't matter what type. Beef, pork or lamb ribs—it's all good.
Editors' Recommendations