Chances are you've heard of organic wine before, but do you actually know what that entails? With so many "green" products and marketing campaigns today, sometimes it's easy to overlook the process that can go into making something truly organic.
Quivira – located in the Dry Creek Valley of Sonoma County, California – is making wines that are both certified organic and Biodynamic. They are focused on "creating the healthiest soil possible" in which to grow their grapes, as well as to capture the unique terroir of their vineyard in each bottle and glass.
We spoke to Quivira winemaker Hugh Chappelle about the increasingly widespread popularity of organic and Biodynamic wines, the process of meeting Biodynamic standards, and the unique traits of both the Grenache and the Sauvignon Blanc.
As you'll see, Hugh can teach you a lot from just a twenty-minute chat.
For our readers who may not understand the difference between an organic and standard wine, can you explain the difference?
Basically there are four main categories in the wine business now. First, there is conventional where basically anything goes. Wines under ten dollars fall into that category. Then there is sustainable, which does require a certification. Sustainable wine production allows for modern materials to be used for controlling pests, mold and mildew. It emphasizes cover crops, composting, owl boxes and other eco-friendly practices even though it does allow for modern approaches.
Organic wines are different because there is a long list of things you are not allowed to use. A lot of synthetics that are now used to control powdered mildew – things like pesticides and weed killers. Other than that, pretty much anything goes.
Then there are biodynamic wines, which is the Quivira focus. To be biodynamic, you first have to be certified organic, which is a three-year process. After that, there is another three-year process for the biodynamic certification. Biodynamics has a whole list of things that you have to actually do.
What are some of those?
They include a composting regimen, specific field sprays for the soil, and above ground field sprays for the health of the plant tissue. There are certain field sprays you have to implement for biodynamic certification and then others you have to undertake based on your environmental conditions. Biodynamic regulations also strongly recommend that you plan your growing schedule on the lunar calendar. The biodynamic twist adds a bit of homeopathic element to the whole winemaking process.
Are biodynamic wines rarer to see?
No. When you look around the world, most of the top vineyards in France and Germany are organic or biodynamic—especially in Burgandy. In Champagne, of all places, Roederer is farming about four hundred hectares biodynamically. It's entering the mainstream a lot more than people think.
The Sauvignon Blanc has an earthier taste, which you describe as grassy. How intentional was that result?
On that wine we're really going for a more complex expression of Sauvignon Blanc. This is a more sophisticated wine that is inspired by the Sauvignon Blancs from the Loire Valley in France. We're not trying to copy those wines, but to showcase our own unique microclimate with that inspiration in mind. There are very few additives in our wine. It's more of a connoisseur's Sauvignon Blanc. But when an average person tastes it, they will notice that it has a much richer, layered "mouth feel."
The finish isn't very alcoholic. What can that be attributed to?
That's due to the lack of additives. The wild yeast takes much longer to ferment, so that helps the wine have a much smoother finish. It creates a creamier, rounder "mouth feel." It's definitely a signature of that wine.
Related: Three Red Wines To Kick 2015 Off Right
I also noticed that if you tip the glass at a sharp angle, there is a scent of grape leaf. Is that something you have found as well?
Those grape varietals by their very nature have a grassy, leafy flavor. We're not afraid if some of that makes it into the wine.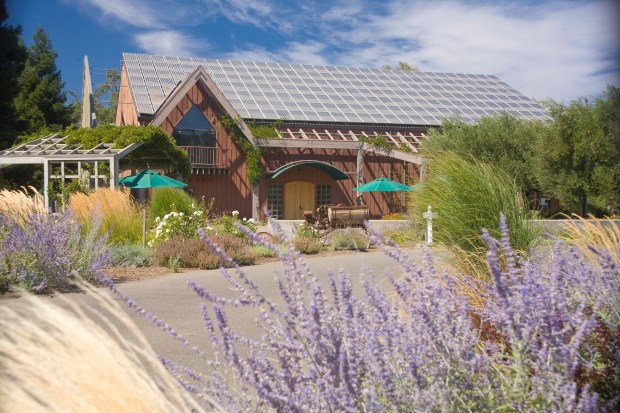 Can you explain the key characteristics of the Grenache? What should our readers be looking for?
Grenache is a wonderful grape and it's becoming better known. Rhone wines and reds are picking up. The signature of Grenache is a perfumy, strawberry flavor. It can be crushed, fresh strawberries or dried strawberries or even strawberry jam. Grenache can also be a bit of a chameleon. You have lighter more quaffable styles of Grenache as well as old-vine versions of Grenache from Spain and France. It has a lot of similarities to pinot noir, but with firmer, drier tanins. It's best suited with a meal.
The nose and finish are both very spicy, what brings that element to the profile of the wine?
That's actually a regional character. The northern California Grenaches are spicier than the central California versions. What we like to do with the Grenache is put the whole grape stem in with the grape clusters into the fermentation tank. It adds spiciness and slows the fermentation down. We like having the two fermentations take place to bring a more complex flavor to the wine.
Is that a common practice with Grenache?
It's very common in pinot and shiraz, but less common in Grenache.
What else separates Quivira's Grenache from others on the market?
We age the Grenache exclusively in large casks. Most wineries have 60 gallon barrels, but we use the barrels that are use in the South of France that are 10-15 times larger. We just get the best result. We are more reliably able to capture the strawberry flavor in the wine by bottling from those large barrels. It helps our wine become more consistent year in and year out.
Editors' Recommendations