If Don Draper were real and around in present-day Los Angeles, he'd be drinking at The Chestnut Club. This Santa Monica bar is sophisticated without being pretentious and has one of the most impressive cocktail menus in town.
The Chestnut Club is the brainchild of LA heavy hitters Mario Guddemi, Sal Aurora, and famed mixologists Pablo Moix, and Steve Livigni, who gave us Black Market Liquor Bar among others. With over 400 specifically chosen liquors, including fortified wines, they have almost endless possibilities to choose from when developing their cocktail menu. The Blackberry Honey Sour is the perfect summer night choice: Bourbon, Blackberries, Lemon and Honey. The Chestnut Cup is absurdly drinkable, using Gin, Campari, Lemon, Orgeat [a type of syrup] and Bitters. The cocktails are garnished beautifully and simply and are infinitely Instagram-able. They haven't forgotten about their beer drinkers, though, and offer a comparably small, but fantastic, list of craft beers, largely from Southern California brewers.
The incredible collection of spirits is on display, taking up almost an entire side of the bar, and many are going to be new to you, but that's the best part. The bartenders know their stuff and are excited to pass on the knowledge, unlike some other bartenders who can be intimidating. Order off the menu, order a classic cocktail, or shoot the shit with the staff and come up with something new: they will be able to guide you to new favorites. And if you love whiskey in particular, you cannot miss The Chestnut Club.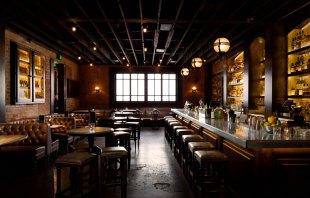 They don't expect you to drink on an empty stomach though. Their menu is classic bar food, but elevated. Olives marinated in orange, garlic, and herbs, whole grain pretzels dipped in spicy aioli, smoked trout, peel and eat shrimp, and even oysters. If you're a meat lover, do not skip the BBQ Short Rib Sandwich.
It has a relaxed vibe with a relatively upscale design, almost like a modern twist on a 1960s cocktail lounge: exposed brick walls wood beam ceilings, and plenty of seating. There is a dress code, but it's not egregious, no baseball hat, flip-flops or shorts (men only), but honestly, who is trying to pull off flip-flops in a bar? Arriving on the early-side during the weekends is key or you risk waiting in line, plus you get the benefit of talking to the bartenders when it's still quiet.
Editors' Recommendations