Although brands work together constantly on everything from beer to clothing, a type of collaborative effort has been on the rise lately, and that's shops working with their customer's favorite brands on special releases. This is one of those times, where San Francisco clothing and accessories shop Unionmade to provide customers with a special, limited edition pair of Tretorn Nylites, a unique tennis shoe.
As it turns out, the collaboration between the two brands was one that came about organically. Unionmade has been carrying Tretorn shoes and goods since the first store opened, back in 2009. The unique take on rubber-soled sneakers is a perfect fit for the fashion-forward Unionmade.
Swedish footwear brand Tretorn has a long, storied history that starts in 1891 with founder Henry Dunker. Since its inception, Tretorn has manufactured everything from boots to tires, and more recently, tennis shoes. The Nylite is one of the newer endeavors, pairing a no-nonsense upper with a thick rubber sole for a pair of sneakers as functional as they are attractive.
While the standard Nylite is a lightweight tennis shoe with a focus on flexibility and support, the Unionmade collaboration is a little more centered around looking great. The upper is comprised of an indigo cotton upper that's been folded into a unique basket weave pattern. They're packaged with two sets of laces, one with white cotton and one with natural rawhide.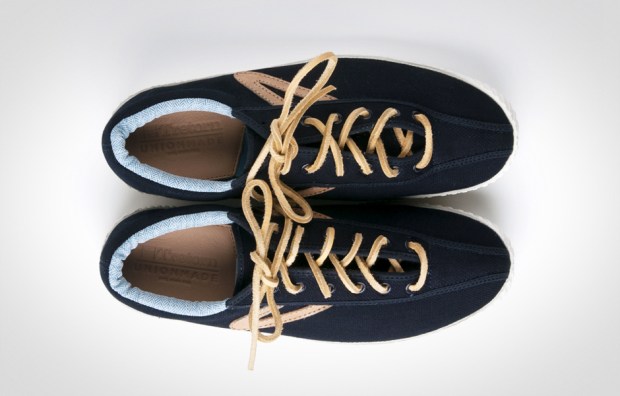 That doesn't mean comfort is an afterthought, however, and the Nylites feature EcoOrthoLite insoles, which provide excellent support and comfort while replacing 20 percent of the foam with a castor bean oil-based formula.
Of course, the Tretorn Nylites with this color scheme and material choice are only available at Unionmade stores, as well as on the Unionmade site. They sell for a wallet-friendly $110, too, so you don't have to pay top dollar for limited edition kicks.