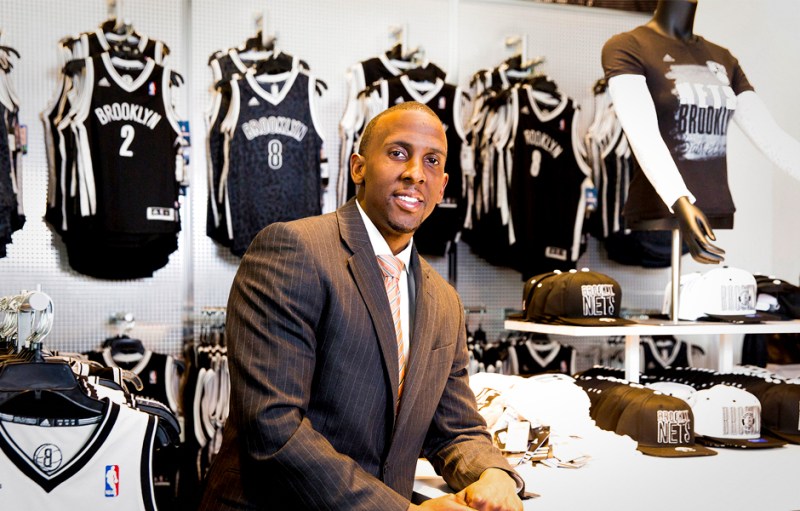 Football season may have just started, but some of us here at The Manual (read: this faithful writer) are already looking forward to the NBA's opening night on October 28. Since September is usually a dead zone for NBA news, we were delighted when we had the chance to talk to Tyrel Kirkham, the Vice President of Global Merchandising for the Brooklyn Nets.
Since 2012, under Tyrel's stewardship, the Brooklyn Nets have risen from #31 in merchandising sales—last in the league behind even the defunct Seattle Supersonics (RIP!)—to #7 overall. Tyrel is dedicated to the Brooklyn brand. He brings a sense of imagination to all of the lifestyle and fashion possibilities that come with the Brooklyn brand. And his approach to the business has played a huge part in the team's merchandising success.
Below is our conversation with Tyrel where he discusses some of the most important, but overlooked aspects of a sports franchise—the team's gear, how it reaches its fan base and how sports merchandise can extend in different ways off the court.
 What goes into merchandising when you are revamping a team's image, which has happened with the Nets over the past two years since moving from New Jersey to Brooklyn?
Quite frankly, we approach every facet of the business from a "storytelling" perspective. The days of just putting merchandise on the rack are gone—you have to have connectivity and a narrative. When you have your merchandise and narrative aligned it makes the selling process that much easier. We think a little outside the box. We not only want to have people support the team, but we also want to show them how to style as well. We are now a lifestyle brand and our opportunities are endless. We want to give our consumers a full breadth and depth of product that represents Brooklyn—that represents the Nets.
For expanding merchandise, do you have a say in what kind of materials you are using? Do you have a certain aesthetic you go after?
The main on-court licensee for the NBA is Adidas and we were the first individual team to form a partnership with Adidas, as they are the operator of our team stores. We have three stores: a performance store at the arena which focuses on the on-court product; we have a lifestyle store which features Adidas originals and Mitchell & Ness product; and then we have a pop-up shop that is open every summer in Coney Island. I am very involved in the process, not necessarily with materials, but I meet with corporate to look over the various lines and we review what's trending in the marketplace, seeing how we can piggyback trends that are successful and bring them into the sports licensing world.
What are the trends can we see in the merchandise for the upcoming 2014-2015 season?
We really focused on cardigans and sleeveless hoodies. We want to align ourselves with what's popular in entertainment and music and are going to try and bring those styles to life through our partnership with Mitchell & Ness.
When the NBA approached the team with the mandate for alternate sleeved jerseys, how did you decide on the blue and grey color scheme?
Well, with Brooklyn's rich sports history and how important blue and grey are, we thought it was the perfect decision to make. We incorporated blue and grey to all facets of the business. That blue and grey jersey really made sense for our brand. It was the first time we introduced any color outside of the black and white palette. That jersey not only helped our merchandise sales, but we were also able to sell ticket packages (Brooklyn Blue Nights) around the games where the team would be wearing those sleeved jerseys.
Will you develop the alternate colors to more lifestyle oriented merchandise as well?
Absolutely. For every "performance" or on-court product we have, we extend the design to our lifestyle collection. So there will be a blue and grey line of fitted hats, snapbacks, polos, and linens.
Are a lot of teams as focused on lifestyle merchandising as Brooklyn is?
Brooklyn is a brand within itself. We are in a position where we are more globally based and our brand resonates more throughout the world. We don't just limit ourselves to our particular region. We can become more aggressive and extend our reach into other markets. Licensees are approaching us with collections.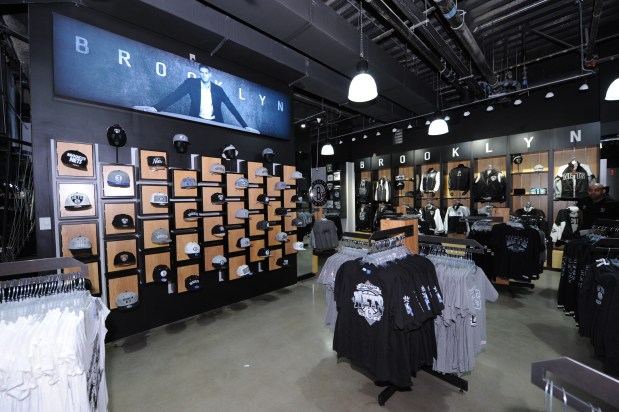 Can you give us an example?
Last year, Adidas launched a Brooklyn Nets shoe as part of their Crazy 8 collection. It was on-sale at Foot Locker in the United States as well as Foot Locker Europe. We were the only team with that type of limited edition launch. The inner sole of the shoe had the subway lines that run to Barclays Center; along the side was the herringbone pattern, which reflects the herringbone stitching on the trim of our jersey. We are getting unique opportunities in the marketplace that other teams aren't.
Are there any campaigns that you and the team are excited about for this upcoming season?
At some point this season we are going to unveil another jersey. I can't really give any more information about it at this time, but we are really excited about that opportunity. We also have an all-new assortment of product that will hit in September, including new Blue Night product. And then as the year progresses we'll have different campaigns and products: new merchandise for Christmas, for St. Patrick's Day. We always want to give our fans and our consumers something to look forward to.
How do you feel about the brand and your merchandise as you enter the team's third season?
Well, the brand continues to grow. We're always competing with Yankees gear on the subways and on the street, and now when you look around you're starting to see more and more people wearing their Brooklyn gear and they're proud of it. So we want to influence and spread our reach across our consumers' lifestyle as much as possible.
Featured image courtesy of Angela Cranford/Barclays Center; store images courtesy of Adam Pantozzi/Brooklyn Nets
Editors' Recommendations