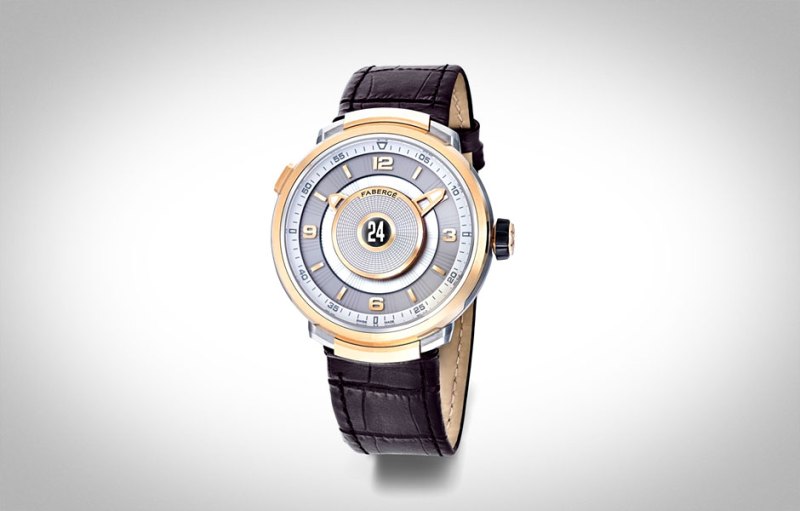 What is in a name? Watch conglomerates are experts at rejuvenation by digging in the files of watchmaking's past, choosing a brand with history and resurrecting it with present technology. Many current brands have taken this path. Years dormant and suddenly revived. Fabergé is a name known very well. Perhaps its fame is not from watchmaking, but why not create a watch? Fabergé is known for its priceless and collectible eggs, clocks and object d'art. Almost synonymous with royalty, why shouldn't this brand be utilized today for luxury?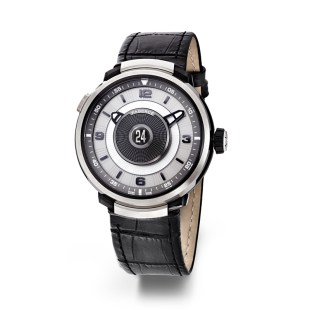 The latest creation out of the house of Fabergé is the Fabergé Visionnaire Double Timezone. Offered in DLC titanium or rose gold, this 43mm timepiece is a standout. A domed sapphire crystal encapsulates the futuristic design of the dial. The hands can be seen protruding from a center ring to tell the time, while in the center of this ring lies a wheel displaying a second timezone digitally. Great texture and detail give this piece a very futuristic look. Under the dial lies a well dressed 50 hour power reserve in-house caliber movement. This can also be seen from the underside of the watch. This piece is attached to the wrist with either a black or brown crocodile strap.
Related: Tiffany and Co. East West Timepiece
Fabergé has an interfering piece on their hands with this Visionnaire Double Timezone. At first glance you might not know the manufacturer; Harry Winston or Ulysse Nardin might be assumed from a distance. This piece does not take any historical cues from its renowned Fabergé brand. It is not bejeweled nor egg shaped (except for the dome crystal perhaps). Regardless of the fact this piece could bare any brand name, it is still quite cool. Popular complication meets futuristic design for something unique. The price tag is reminiscent of the Fabergé brand even if the timepiece is not at an MSRP of $29,500.