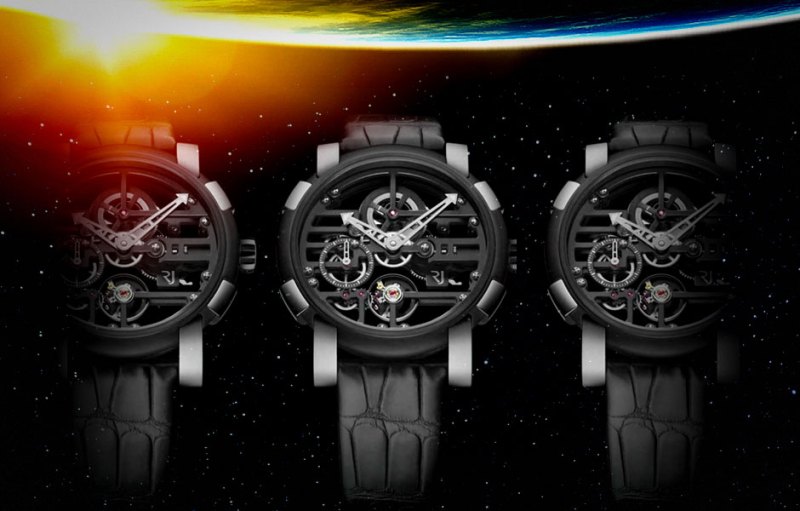 The term 'modern watch' covers a wide spectrum of the watch market. This term encompasses both classic brands with new technology and design, and the eccentric specialty brands that live on the edge. The specialty modern watches are always pushing the boundaries of not only technology and design, but theme as well. One brand well known for its theme designs is Romain Jerome. Having made their debut with the Titanic DNA watch, which had parts of the Titanic in the actual watch, RJ has come out with some outrageous themed timepiece over the years. Their latest themed piece, the Skylab 48, is inspired by NASA's first space station.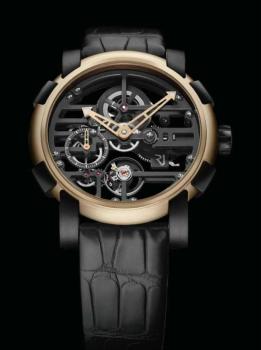 At a sizable 48mm in diameter, the Skylab 48 is a monster skeletonized piece. Fragments of the Apollo 11 spacecraft make this a genuine themed Romain Jerome. Five layers of black steel make up the dial and hold the visible movement. The case of this space station on your wrist is black steel PVD coated and also comes available with a red gold bezel. As Romain Jeromes come, this is one of the more tame designs considering some of their previous. Paired with a crocodile strap and matching PVD buckle, size aside, this piece might actually be considered a dress piece. Limited to 99 pieces of each model, this is sure to get collectors attention.
Romain Jerome is known for their themed timepieces. From the Titanic DNA to the Moon Dust and Space Invaders, RJ definitely makes an interesting modern watch. The Skylab 48 is another great example of a modern watch that pushes the boundaries of ordinary. These pieces do come with a price tag; $20,950 in Steel and $24,500 with a red gold bezel. To own one will set you back a pretty penny, but not many can say they have a piece of the Apollo on their wrist.