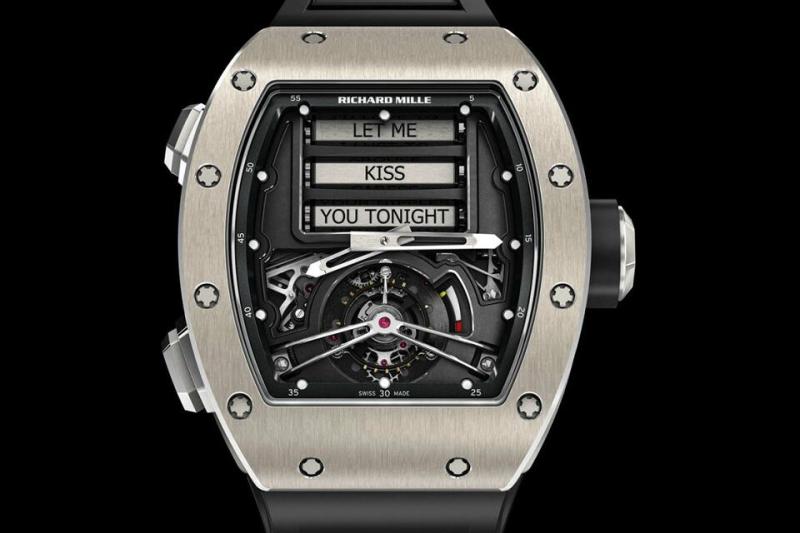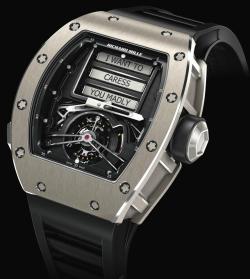 There are certain watch brands known for pushing the envelope. The brand that is first to come to mind is of course Richard Mille. These insanely priced limited production timepieces define exclusivity. Creative dials, use of materials, and themed pieces keep things interesting. One piece receiving a lot of attention at the moment is their latest tourbillon; the RM69 Erotic Tourbillon t. Other brands such as Ulysses Nardin and Chopard have released erotic themed watches but this one is unique. Instead of having a depicted sex scene in motion as most provocative timepieces do, this is more of a game of chance.
As Richard Mille's go, this is a monster timepiece. 50mmx42.7mm, at least the case is titanium to make it nice and light on the wrist. Encased is a sixty-nine power reserve toubillon movement along with the erotic part of this timepiece. Three rollers with subject, verb, and object words on them are in position to roll at random with the push of a pusher. With each press of this pusher, these rollers engage and land to create an individual erotic message. The tourbillon version of erotic dice. This unique eerogenous timepiece will only be produced thirty times. As most Richard Mille, it is a limited edition and this one will only be available at their worldwide boutiques.
This timepiece will certainly make for some late-night fun at the bar with the ladies, but don't expect to be wooing that easily. Richard Mille Tourbillons easily carry a six-figure price tag. Chances are these pieces will be greatly utilized for those long intercontinental private jet flights. Keep dreaming!