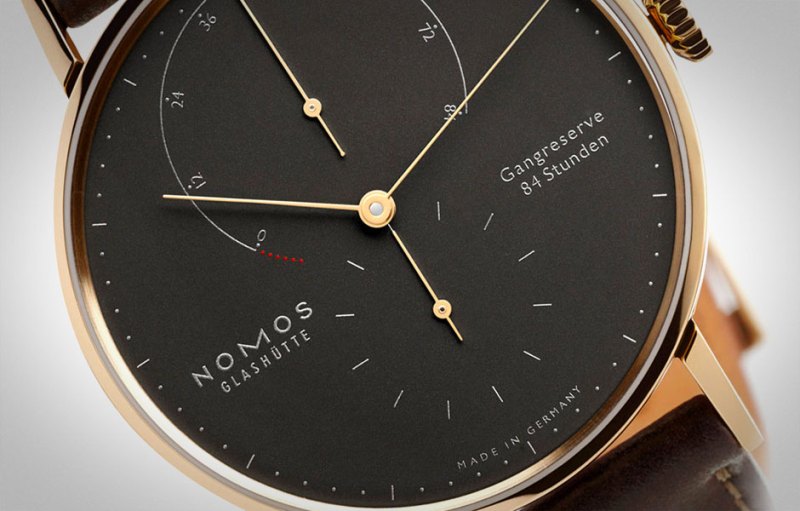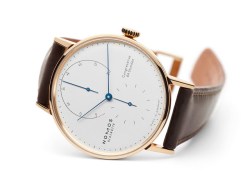 Some of the toughest critics are watch enthusiasts. From price point to fit and finish, you might say there is never pleasing a watch collector. With that said, It takes hard work and unique design to be a successful up-and-comer in the watch world. One brand that is slowly winning over these hard critics is NOMOS Glashutte. Clean design and in house movements got this boutique German ball rolling and its certainly gaining speed. Its latest, the 39mm NOMOS Lambda, is another clean look that is hard to hate.
A little smaller than the original, this 39mm version takes the clean Lambda look and brings it in 3mm from its original 42mm diameter. Inside lies the same in-house manual wind movement as its big brother. Made in three variations, all rose gold, there is great contrast along with the simplicity of the dial design. The three variations include a while dial with gold hands for a more classic look, white dial with blue-steel hands for a more modern look, and a "black velvet" dial with gold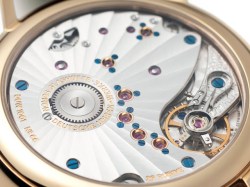 hands which i find the most striking. The layout of the dial is what truly sets this watch apart. With the focus on the power reserve, this makes for great symmetry with a different aesthetic then normally seen in such a piece. Unlike the dramatic figure "8" design of Jacquet Droz, this upside down "8" is more subtle yet still maintains the same amount of classic design.
There is something to be said for releasing a smaller version of a wildly successful model. At 42mm, the Lambda big brother helped put NOMOS on the map. At 39mm, NOMOS has made the Lambda the purists dress watch. Priced at $17,000, this piece requires a large withdrawal to make a subtle statement.