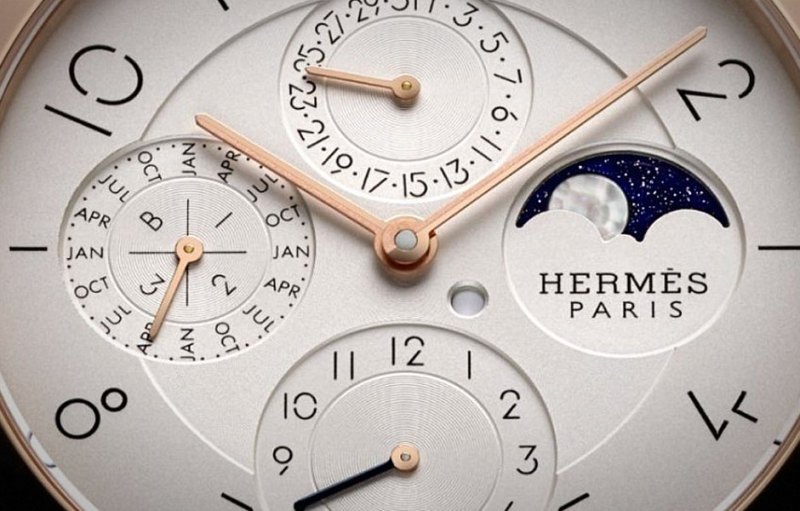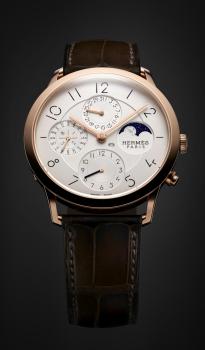 High end brands are no longer specialty houses. A brand might be known for its atelier, but that certainly does not limit its outreach. The best way to keep your loyal consumer under your umbrella is to continuously give them what they want; exclusive high end product. Hermes is one brand that is no longer known for just their Birkien. Shoes, belts, ties, and a bevy of other accessories bearing the "H" are more popular than ever. So why not a watch? Hermes has been in the watch game for some time. Mainly offering fashion watches with the occasional complicated timepiece, they have not broken into the watchmaking market just yet. With another lunging stab at making a breakthrough, Hermes introduces the slim d'Hermès Perpetual Calendar.
Made of 18k rose gold, this 39.5mm case does not get much cleaner. Not just another round gold case, the lugs of this piece are certainly unique. Elongated, truly centering this piece on your wrist, the lugs make this more of a show piece. Stylized, painted arabic numerals keep it simple on what could easily be a crowded perpetual dial. This piece is more than just design; its complicated.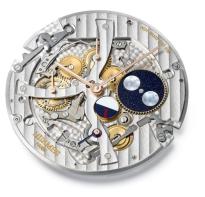 A Voucher perpetual calendar with day/night indicator lies beneath dial. A micro-rotor keeps this 42 hour power reserve engine going while on the wrist. Every last detail accounted for, even the moon is mother-of-pearl. Attached with some fine Hermes crocodile, this piece defines elegance.
When you are a high end brand like Hermes, you have the luxury world at your disposal. Their latest creation, the slim d'Hermès Perpetual Calendar, is a perfect example of that. High end finishes, high end movement, high end brand, high end timepiece. Buyer beware. This one will cost you.