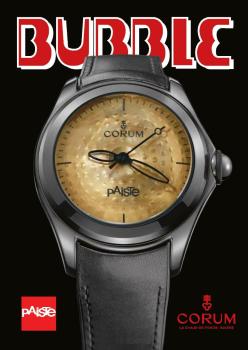 Collaborations in the watch world are commonplace.  Whether a watch brand creates a limited edition for a new sponsorship, brand ambassador, or just to try a new design, these editions are introduced often.  You can typically expect different coloring and some branding on the dial, but nothing too dramatic.
As Corum continues to reintroduce its classic Bubble to the market, their latest collaboration goes above and beyond to embody this partnership.  Paiste symbols have been one of the most well known symbol manufacturers over the last 40 years.  In this latest Corum Bubble, Paiste limited edition of 350 pieces, there is no mistaking which limited edition this is.  Corum has taken its black DLC 47mm Bubble case and inserted one of the coolest dials I have seen in some time; a symbol.  The dial made of bronze is actually a miniature symobol; Paiste branding and all.  Constrasting with the hammered brass are blackened brass hands for the easy telling of time.  Beneath the symbol dial lies a Corum self-winding movementt with 42 hours of power reserve.  Completing the look is a black calf strap and black dlc buckle.
Musicians are known for having a passion for watches.  Purchasing watches on the road to commemorate shows or tours is a common story told by the watch collecting musician.  Here, Corum has created its own musical timepiece for collectors.  This unique collaboration has spawned an equally unique timepiece.  If you are a die hard classic rock and watch enthusiast, be sure to locate your local Corum dealer to secure one of the 350 pieces to be produced.
Editors' Recommendations