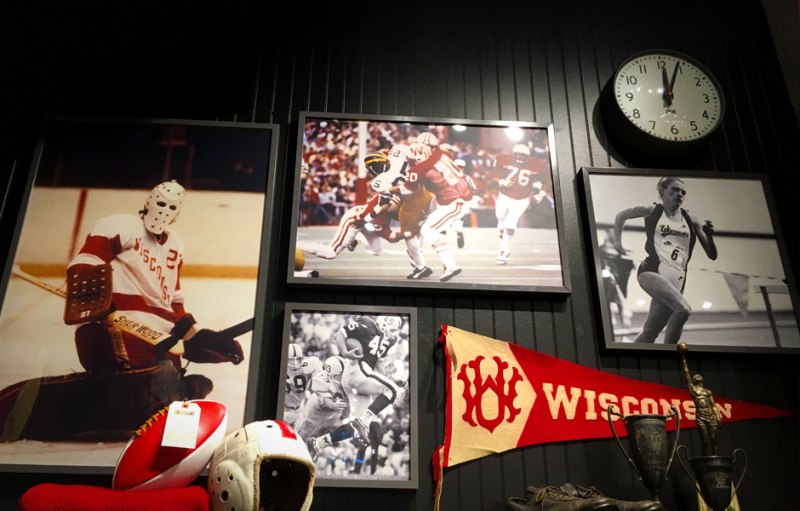 Although your alma mater may have a shining academic reputation chances are that its branded apparel collection from its onsite college bookstore is sub-par. But Tailgate Clothing, which was founded by acclaimed menswear designer Todd Snyder at his father's house in Iowa nearly 20 years ago, is here to change that.
Offering licensed college merchandise with a designer upgrade, the brand now runs two standalone stores – one in Snyder's home state in Iowa City, Iowa and another recently opened one in Madison, Wisconsin – with two more to follow in October of this year, in Athens, Georgia and Knoxville, Tennessee. And more are to come soon. The shops and brand were made to boost local/campus pride and add some improvement to basic campus bookstore offerings. Tailgate also does a thriving online business.
Snyder, a veteran of Ralph Lauren, J. Crew and Gap, recently educated The Manual about this new clever college-town retail rollout….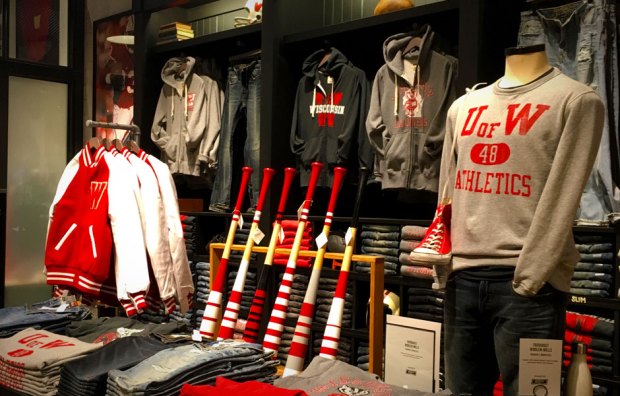 What makes the Tailgate Clothing stores special?
I started doing Tailgate a long time ago so this is really a dream come true for me. I created it because there was nothing to buy on college campuses. The stores came because we had done a collaboration with Champion under Todd Snyder and we built this amazing store in New York City and that was kind of the launch pad for the idea. It's very kind of classic American but done in a modern way. There's really nothing on college campuses for students. And students and kids today are so discerning.
Who is the customer?
Whether you are a student whether you are alumni or just a fan, we want to have the best the assortment so when you walk in you feel like I gotta get this because this is the coolest thing I have ever seen. And that is the reaction we have been getting. We've been getting parents coming in saying this is the coolest thing I have ever seen and the son or daughter saying the same exact thing. It's really about the curation and the assortment so we designed our own product in there, which represents about 75 percent of the assortment and then 25 percent we buy third party.
What is the third-party assortment?
A Tailgate store will have Faribault stadium blankets for the school. Then we'll do a Golden Bear letterman jacket made in California, an Ebbets Field baseball hat and Stance socks. They are all these cool things that you normally could not find on campus. The fan shops are all cheap souvenirs. We make these very cool tasteful souvenirs. We call them Local Pride. You have to be in the know to know some of the things we do. We do T-shirts for the Hall of Fame coaches and players. We partner with the players and the coaches and give them a percentage of sales. We make these really unique things for the campus so it's not just your run-of-the-mill school logo on the T-shirt. We're not just doing the same old things that you can get anywhere. You can only get them at our store.
Tell me about the recently opened Madison, Wisconsin store.
It's meant to look like a modern version of a general store. It has a very nostalgic feel. We have old black-and-white photographs of past athletes and icons for the school and we have an amazing collection of vintage apparel whether it's an old letterman jacket from the 1950s or an old football jersey from the 1960s. We have all these artifacts that we put in the store. We want it to be about Wisconsin Pride and not just for the school.
What's unique in there?
For Wisconsin we have a Ron Dayne T-shirt which is doing incredibly well and we have some really cool Rose Bowl T-shirts that you can only get from us: old historic Rose Bowl T-shirts from when they won the championship. It really touches the alumni and then the students come in and we've got this really great T-shirt that has MAD TOWN on it, for Madison. That has been one of our bestsellers just because everybody calls it Mad Town but there's really no cool T-shirt you can get. We put it on a beautiful blank with a great wash and print so it's not a heavy print and it doesn't shrink. It's really more of a designer approach that we put on campuses. It's not just taking some T-shirt and sticking some graphic on it. We really think a lot about it for each school.
And there are local items?
We do a T-shirt called WISCO POP because in the Midwest they call it pop and not soda. We sell the pop plus we do a T-shirt for them. We have an old-fashioned candy bar in there as well and people can go up to it and get the old Bit-O-Honeys or the old Slo Pokes or whatever it is and they fall in love with it. So there's this sense of nostalgia but then there's also this modern sense that we really know what's going on in fashion. We also have an old Coca-Cola machine that works in there and if you made a purchase we give you a coin to put in the machine and get a free Coke or Fanta out of the bottles. It has that old-school sensibility but done in a new way.
How did you decide which schools to partner with?
It's kind of a partnership with the university. Wisconsin was really open to it. A lot of it depends on finding the right store. For example, in Athens, Georgia we found this old bank and it was perfect. It's where everybody goes for football games and when they come back it's where everybody hangs out. In a perfect world we would open one in every campus but have to do it strategically so we are being smart about it. We want it to be special.
How are Tailgate's designs made?
We hire the best talent. I've got a great design team and we all have worked in the industry whether it was at Abercrombie or Ralph or wherever. They are amazing designers. What we do is we go to campus and we get to know the people. We talk to the locals and local restaurants. We get a feel for the place and do research and then we design specific collections for each campus so that each campus has its own sensibility and it doesn't feel cookie-cutter. So if you went to each of our stores you wouldn't feel like, for example, this is the Notre Dame version. It feels like this was designed for the locals and it really touches them.
How else do you reach them?
We partner with the local businesses. In Wisconsin we have State Street Brats, which is one of our neighbors, and they are famous for bratwurst in Wisconsin so we did a T-shirt for them and set up a licensing partnership with them where they get a percentage of sales. We put the T-shirt in our store and it has been one of our bestsellers.
We also partner with the athletes. In Wisconsin we partnered with Ron Dayne who won The Heisman and the championship and he's an ambassador for the store. He lives there; everybody loves him. It's just wanting to be a part of Madison, Wisconsin. We do that for each city where we open up.
Editors' Recommendations