Most brands take a predictable stance when the weather warms up: brighter colors, lighter materials, and fun patterns. Not Tabor Made.
This Portland-based streetwear company has taken its summer line in a completely different direction. As designer Ira LaFontaine puts it, the Dark/summer collection is "built around the idea of contrasts between light summer tones and deep black fabrics." Mix this new take on the summer season with a sharp eye for quality and details, and the newest from Tabor Made is turning heads with just a short sleeve tee.
The star of the show is the Ladru Kimono. It fits like a button-up, but carries the accents and detailing of a kimono. Instead of buttons up the middle, there's a tie on the waist to pull it together. It's sewed from stretch twill, and dyed a deep, dark black.
For those cool summer nights, Tabor Made has the Moreland Pullover Hoodie, a new look at a classic casual sweatshirt. Tabor Made opted for a terry loop cotton and polyester blend, so the hoodie drapes a bit more than usual, while still breathing well. As with every piece in the Tabor Made lineup, there's a keen eye for details. Flat seams all over, careful lines on the forearm, and dropback ribbing – this isn't the same hoodie you wore in high school.
On the summer side, Tabor Made is offering up a selection of detail-oriented shirts for the discerning T enthusiast. Sewn from super soft jersey knit cotton, these extended length shirts keep it casual without it looking like you just threw a shirt on this morning. They're available in a number of cuts and attractive custom colors, including a standout light peach.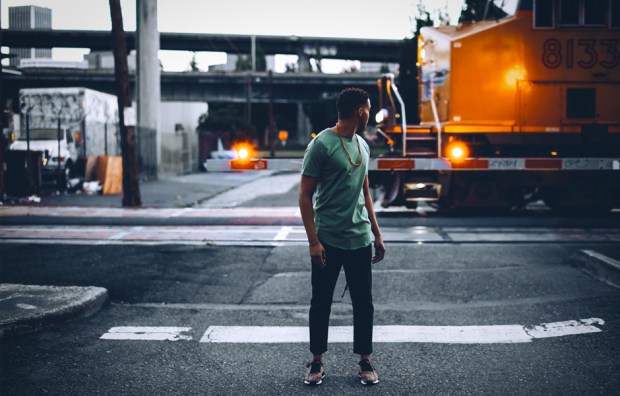 LaFontaine's attention to detail extends to the lookbook. Photographer Ryan McKinnon takes model Kage Jantjie into some gritty, beautiful hidden spots around Portland, at the intersection of locally sourced art and fashion. Make sure to swing by Tabor Made's site to check out the lookbook and the whole Dark/summer collection.
Editors' Recommendations