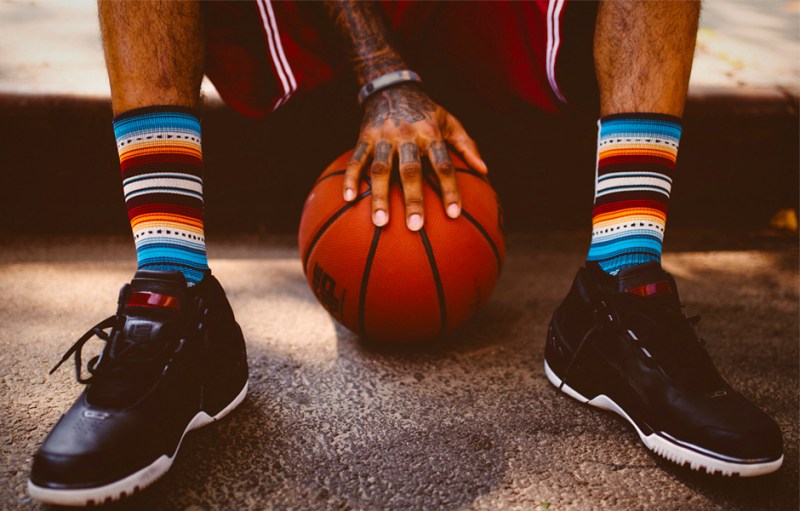 Let's face it, when you're getting ready to play pick-up basketball with your buddies, the last thing you think about is your socks. Ankle length black socks? Fine. Calf length "high" white socks for that traditional baller look? Yeah, sure; why not?
Now, that may be your current mindset, but Stance Fusion Basketball socks will be sure to change that.
The Stance brand is dedicated to making socks that are completely individual and they hold "a design philosophy that believes in expression and function." Since 2010, Stance has been creating affordable and wholly unique pairs of socks in a wide variety of colors, patterns and styles. You just have to look at a few of their designs to completely understand the Stance vision.
Over the past year, Stance has developed a firm connection with the NBA and the basketball community at large. First, the company rolled out their NBA Legends and Hardwood socks that feature classic team logos and full representations of iconic NBA players such Larry Bird, Julius Erving, Dominique Wilkins, and the duo of Shaquille O'Neal and Penny Hardaway. Then, this past fall, Stance partnered with current NBA superstar (as well as fashion trend setter) Dwyane Wade of the Miami Heat to create a collection of socks "with color and class." Each design in the collection would fit right at home on the streets of South Beach.
Stance's latest development is their Fusion series. Stance Fusion socks use Triniti Technology, which combines traction control (thanks to the integrated networks of silicone printed on each sock), premium cushioning and support, as well as moisture management for a sock that matches high fashion as well as cutting edge athletic performance.
Just because these socks are made for games of pick-up ball, doesn't mean that the design quality is compromised. The Cyrpsis (Mint), Jimenez and Ganado designs are just as creative and innovate as any of Stance's other offerings. Plus, if you want more of a traditional on-court look, you can't go wrong with Overtime (White) or Overtime (Black), which update the classic basketball sock look.
You may not think about style when heading out the court now, but after you use Stance Fusion, we're pretty sure that you're whole outlook on socks is going to change.