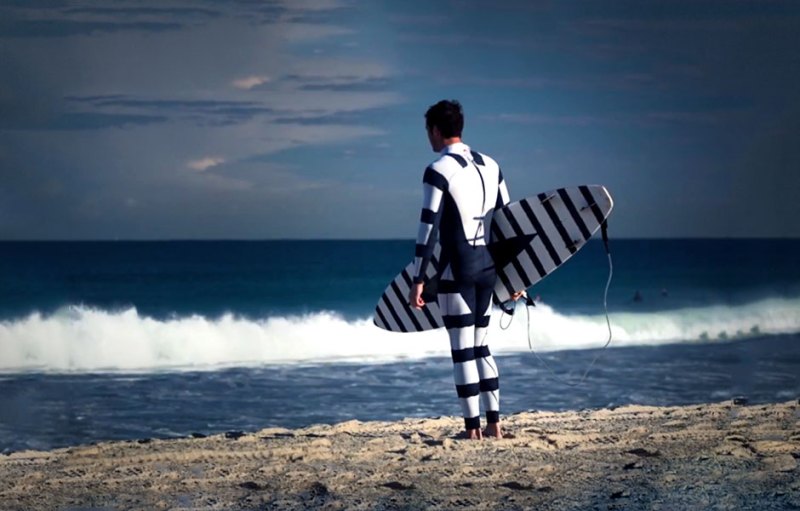 When locating prey, sharks use a number of senses.  So, no matter if you're diving, snorkeling, surfing, or kayaking, a wet suit is key.  Radiator is the first company licensed to incorporate SAMS (Shark Attack Mitigation Systems) Technology™ into wetsuits and surfboard stickers, but other established brands are expected to follow suit, and soon.  So be it, Shark Week (happening now!)  or Sharknado, you won't end up being a piece of human sushi.
How do these nifty suits work? Vision is known to be a crucial sense in the final stage of an attack. By disrupting a shark's visual perception, an attack can either be diverted altogether, or at least delayed to allow time to exit the water.  The shark deterrent technology can be applied to products such as wetsuits, skins, and stickers for diving air tanks, surfboards, kayaks, skis, and more. The two design variations either present the wearer as potentially dangerous and unpalatable to a shark, or make it very difficult for the shark to see the wearer in the water.
The Radiator wet suit has forever changed the way you keep warm in the water. It provides warmth that you never would have thought possible in such a flexible and lightweight garment. So whatever rubber you were wearing before, you can now wear less, and be safe.  SAMS has been working, for a number of years, with a leading university, and has translated the scientific data into a range of shark deterrent designs.  Added Bonus:  You now officially look like a piece of Pop Art.