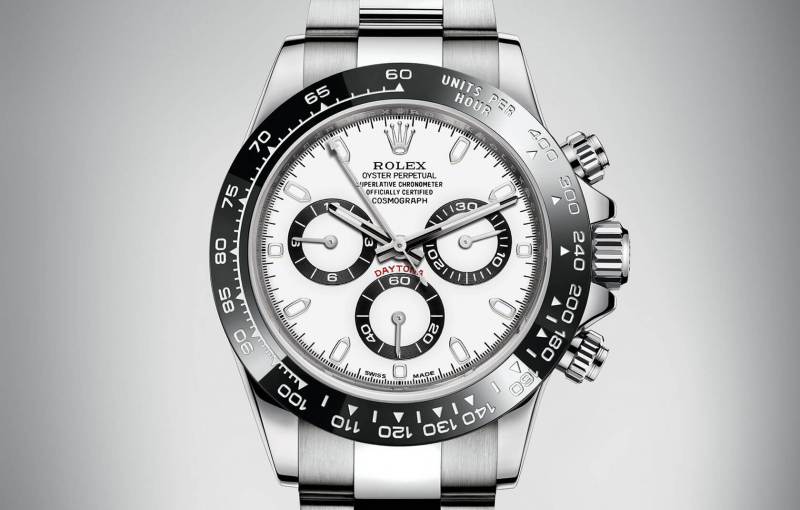 The decision to update a classic cannot be easy. Years of history and allure of a nearly unchanged watch design are reconsidered. The roots of this timepiece, as in demand as ever, must not be compromised as a new tribute is paid. The Rolex Daytona is the chronograph. One holds a place in most every serious watch collection. Whether it be the highly sought timepiece of the Paul Newman era, or the modern stainless steel Daytona we all know today, this piece is a staple. This staple has now been given a more modern persona with a big cosmetic change; the addition of a ceramic bezel on stainless steel.
The Rolex Cerachrom bezel is a mono bloc piece of black ceramic that is quite resilient. This bezel had previously made its debut on rose gold models but it is quite a big deal to be placed on the stainless steel timepieces. This black contrasting bezel makes this 40mm classic chronograph much sportier. The Daytona in all steel was always a sport watch per say, but was one of the few all steel timepieces on the market that was considered a dress watch. This bezel tips this timepiece to the sport side.
The tribute Rolex is paying with this new addition is to the beloved Daytonas of the 1960s. With their black plexiglass tachometer inserts, these pieces were originally designed for their true purpose, sport. Legibility was a key factor and the contrasting black bezel helped. Although function is hardly a motivating factor in watch design today, we can still benefit from necessity of the past. The Rolex Daytona with the Cerachrom bezel will come in both black and white dials. With the same price tag as the previous all steel Daytona, roughly $12,000, the demand for this piece will be incredibly strong.