Not only does Richard Brandt's new "bad ass" line of gear and accessories exemplify New York's rich motorcycle history, it perfectly captures its spirit and essence. Aptly called IRON & GLORY, each of Brandt's products bears a style and design reminiscent of 1970's motorcycle culture, but with plenty of modern day flavor. Whether you deem yourself a city-dwelling urbanite, or tackle a weekend like it's your last, IRON & GLORY's premium collection promises to have something fit for your lifestyle.
Though before Brandt brought his premium collection to fruition, he spent many a late night obsessing over and perfecting the idea with his partner and co-founder, Marnin Schwartz — known as the "powerhouse of design." Between nights spent in the back of the Williamsburg bar Lady Jay's, and brainstorming sessions which saw the sun come up, IRON & GLORY's creation has seen no lack of hardwork or intense dedication.
But what good would hardwork and dedication be for IRON & GLORY if it wasn't located smack dab in the heart of current-day motorcycle culture? Understanding this as an important pillar of his business' success, Brandt set up shop in the riding capital of New York, Brooklyn. While Brandt acknowledges many considered the borough a wasteland in the '90s, he knows more and more people have their sights set on Brooklyn now more than ever. "Brooklyn is a booming creative hub right now," Brandt says, "it's become such a good place for art and culture."
IRON & GLORY puts Brooklyn's art and culture on full display, but aims to take it so much further. Brandt didn't create the brand just to promote the 'motorcycle lifestyle,' he created it to influence and symbolize its way of life. "It's about more than just the lifestyle we showcase," Brandt tells The Manual, "IRON & GLORY is inspirational; it embodies the culture."
After just a few minutes on the store's website, it's clear the brand easily accomplishes this. Functional products like the pocket knife-sporting carabiner keychain, or the array of belt buckles and lighters, brim with classic motorcycle flair. To make things better, IRON & GLORY engraves every one of its products and adds unique personal touches to any order. Though unlike the engraving services you might find at your local mall, Brandt takes pride in using a diamond engraving method to give his products even more of a traditional feel.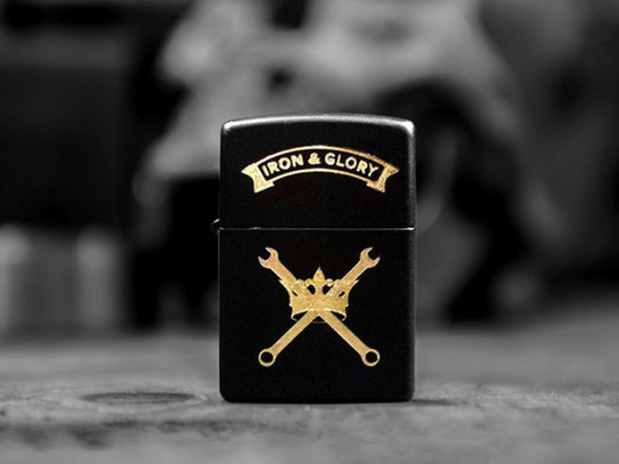 For now, the brand operates strictly online but a brick and mortar location is something Brandt sees going up in late 2015. With IRON & GLORY still in its infancy, his main focuses veer more towards growth, stability, and creating a presence in Brooklyn. "We plan for the future all the time," Brandt says, "right now it's the holidays, but next we want to do events, parties, collaborations, everything."
Every entrepreneur strives to continually build their business, but the ferocity at which Brandt pushes IRON & GLORY is inspiring in itself. He started this venture by encapsulating what makes 1970's motorcycle culture classic and turned it into a full fledged brand; it wouldn't be the least bit surprising if he doesn't stop until the culture's completely brought back to life.
For a look at Richard Brandt's entire collection, head on over to IRON & GLORY's website.