The founder of Owen & Fred says his company's products are so hot these days that men want them from the moment they wake in the morning to the time they go to bed. While the company offers more than 150 products, Mike Arnot specifically talks about their line of bags that guys use for commuting to work, going to the gym, or heading out on a weekend getaway.
Related: 5 Weekender Bags for your Next Getaway
"We have a great waxed canvas weekender," said Arnot. "It's well-sized. You could probably fit three soccer balls in it and a good number of clothes. We also have what I think are great-priced duffel bags. They're $115 and you can't beat that for a duffel you can use for the gym and a weekend getaway. We sell a lot of duffels."
Arnot launched the company in 2012, but at the time he wasn't focused on bags. He was looking for a better wallet.
"I wanted to buy a wallet that wasn't too frilly or made with crappy leather," he said. "You find a lot of that on the market. I thought we could design something and have it made here."
He put that vision into action and Owen & Fred was born. All of their products are high quality, affordable and made in the U.S. In 2014, they launched into retail stores and now have 450 accounts worldwide including the Metropolitan Museum of Art and J.Crew. Bloomingdale's and Restoration Hardware are set to start selling Owen & Fred products this fall.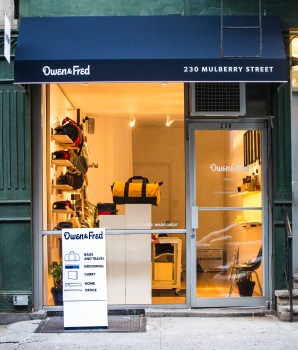 Plus, Arnot is getting ready to unveil the first retail store in the historic NoLIta neighborhood in New York City. The store at 230 Mulberry Street is the first retail concept for Owen & Fred, with plans to launch similar stores in other domestic markets in 2017. The store design showcases the brand's travel accessories and weekend bags, and features floor-to- ceiling looping videos shot from the flight deck of commercial aircraft.
Owen & Fred is releasing two to three new products a month. In August, they will unveil a new grooming line called "You Dirty Dog." We'll be on the lookout for that.
Editors' Recommendations