On Your Feet is all about that new shoe feeling- from the first time you open the box until they're worn into the ground. Sometimes we'll sift through the constant Air Jordan releases to bring you the gems other people will leave on the shelves, and sometimes we'll slide on reclaimed leather loafers from Prague, but we'll always focus on comfortable shoes with appealing and creative aesthetic. So lace up your new kicks and stand on the precipice of adventure, where will we go together?
Long story short – they've been around since 1973 and they've never fallen out of style. First designed by Adidas in the early 70s for the namesake tennis star. In the last few years, the Stan Smith has become a staple of sneakerheads and classic casual wear enthusiasts alike, a testament to the simplicity and comfort of the classic Adidas sneaker.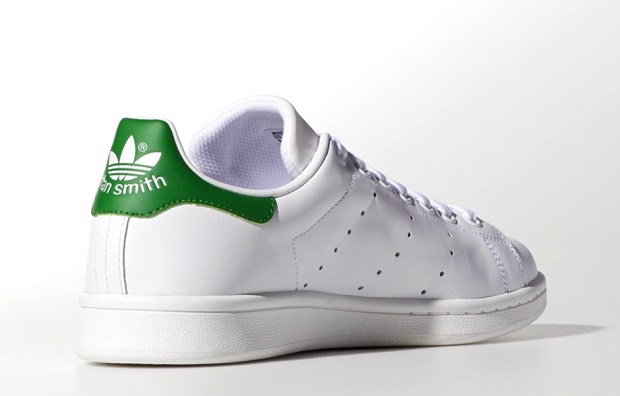 Though available in many colors, the easiest choice is to pick one with the clean white leather upper. Adidas refers to it as "running white" harkening back to the days when the Stan Smith was as much a tennis shoe as a fashion statement. Now the clean white upper shows that you know your way around a great sneaker, and it pairs with everything, from khakis to shorts. With or without socks, you're bound to look fly in a pair of Stan Smiths.
The key to the Adidas Stan Smith is the simple design. The flat white upper takes advantage of perforations on the sides for a clean take on the three stripes logo, allowing greater breathability and flexibility than stitched stripes might. They also look great when applied with a more graphically interesting upper, keeping the same clean silhouette and comfortable fit.
There have been many like it, but the Adidas Stan Smith can't be beat. With a synthetic lining for supreme comfort, a full-grain leather upper, and a simple and timeless silhouette, these are the perfect shoe for spring or summer. They come in a few options with white uppers and different highlight colors, or for the more adventurous, full print graphic designs. Unlike a lot of modern sneakers, they aren't in short supply, so you can always pick up a pair over at Adidas.com, or in a local shoe store.
Related: Futuristic kicks from Adidas and Yohji Yamamoto
Editors' Recommendations