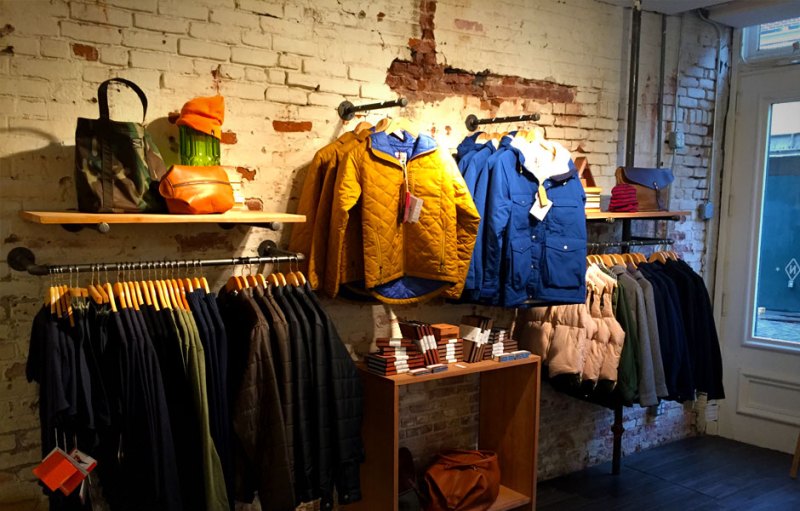 For six years, Northern Grade has sponsored 27 roving marketplaces that showcase products that are made in the USA. Late last year company founders Katherine and Mac McMillan allowed their nomadic retail concept to establish long-term  roots by opening a permanent multi-brand Northern Grade boutique at 203 Front Street in The South Street Seaport in Lower Manhattan. The 30,000-sq.-foot space, which was severely flooded during Hurricane Sandy (the water-level marks are still visible on the brick walls), stocks a broad, unique assortment of mostly men's apparel plus home goods, furniture and art that is all produced in the United States.
A highly welcome alternative to what seems to be the mall-ization of Manhattan, the shop is also a leader in the plan to transform The Seaport from tourist trap to a hip wanna-visit destination. Last week, Mac gave me a tour of the store and explained why Northern Grade truly is one of a kind…
What's Northern Grade all about?
The whole premise is that it is all made in the U.S. – every single thing in here. That's our whole platform. We've probably got over 80 brands here and it's brands and products that either have no presence in New York or minimal presence, which is cool. I don't want to be selling things that you can find down the street or somewhere else.
Such as?
We have a lot of West Coast brands that have large followings out there but have no accounts in Manhattan. Katin is a perfect example. It's an old school surf brand from the '50s and they don't have any accounts here. But we also have brands like Haspel, which is an older brand and I think they have a couple of accounts here. And we have all different size brands. Merchant Leather, for example, is guy from Minnesota who makes everything himself. So we have larger companies down to ma and pa ones. And it's varying styles: something for everybody.
But it's not a typical "Americana heritage" selection…
Pointer is the most workwear-type stuff we have in the store. We want to have all different styles and don't want to be typecast as heritage or workwear.
Did you know most of them from doing your pop-up markets?
Yeah. Most of them I have personal relationships with and there are a few brands that maybe I was introduced to or sought out but for the most part I kind of knew everybody in here.
What are the current bestsellers?
The American Trench socks have probably been one of our bestselling products because they are small, they're great gift items and everybody needs socks. Mizzen + Main shirts are one of our better sellers. And Rogue Territory from L.A., Freenote from Orange County and Iron and Resin from Ventura, California.
What about non-apparel items?
Candles! We have Simply Curated from Grand Rapids, Michigan and Manready candles out of Houston. And our home goods do really well too. Amana is from northwestern Iowa and they have been around for 100 years but people don't really know about them. They produce wool and do a lot of cotton, too. Their pillows and their cotton throws do very well for us.
Who is Northern Grade's typical customer?
There are four types of people. There are still a lot of tourists who come by so a lot of Europeans. And the local residential population downtown has exploded in general. You've got the Wall Street crew who come over on lunch breaks. And then the destination people for the brands since a lot of them don't have doors in Manhattan. Mizzen + Main and Rogue Territory, for example, have a lot of fans who will come in here to touch and feel and try things on.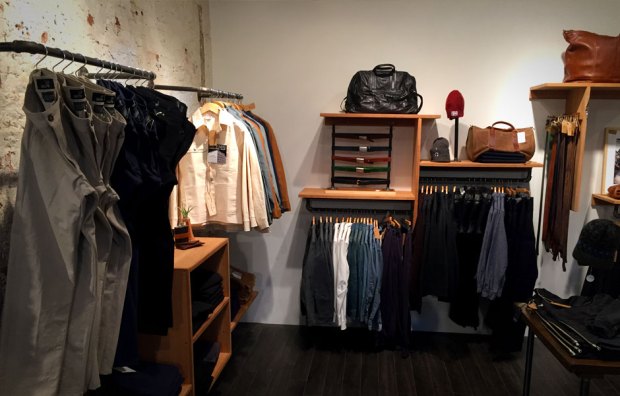 What has been the best part about running it thus far?
The neighborhood is great and it has changed so much. The Seaport used to be associated with chains and souvenir shops and the owners' vision was to get rid of that and bring in more independent brands and retailers. It has been exciting to be a part of that particular vision because there's a whole redevelopment plan here and when it's done in another year it's going to be great. It's already a great neighborhood and I love it down here. It's such a unique corner of Manhattan. It's fun to be a part of New York City that's so unique and changing and different. Not to generalize but everywhere else in Manhattan just seems to feel like it's an extension of another neighborhood.
What's next for you?
We're opening up a store next door next week. It will be called The Design Market at Seaport Studios and it's going to be all design-oriented products and objects.
Editors' Recommendations