English brand Sunspel has a heritage that is more than 150 years old, yet it couldn't be any more modern with its clean, purposeful, and luxurious design philosophy. Famous for its Riviera polo custom made for Daniel Craig in "Casino Royale," Sunspel also produces fine jersey tees and "loopback" sweatshirts that rank among the best-made, most understated and quietly innovative in the world. As the category of luxury basics continues to grow globally, the company is now gearing up for even greater success with an expanded offering and distribution stateside going into the fall. We checked in with co-owner Nicholas Brooke recently to learn more.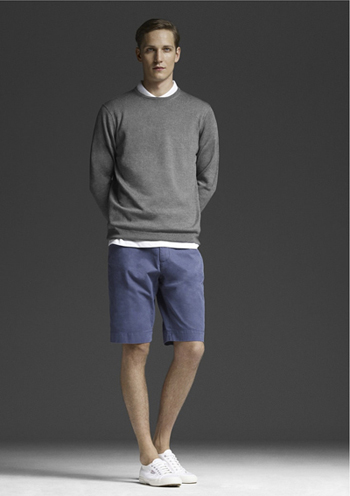 Tell us about the history of the brand.
It's a great story. Historically we are a cut-and-sew jersey brand with two factories. On the one side, there was one factory that made cut-and-sew underwear and t-shirts and had done so for about 150 years. (Some of the earliest t-shirt ever made as undershirts were made there.) The other side made boxer shorts, pajamas and dressing gowns, and in the 1930s two brothers took over the business. They then fell out. One did the boxer short side, one did the knitwear side, and there's a little yard in the middle. When I bought the business there was only one of the brothers left and he asked me, "What do you wear? Boxer shorts or briefs?" I said, "Well, it slightly depends on the weather." And he said, "Boxer shorts—nasty things!" because he was the brief guy. So that's what its history is. Now the focus is really on a range of colored t-shirts, because underwear is not something that we can make in the UK. But we're still using the same fabric, which is Egyptian cotton, picked and spun in Egypt, knitted in Leicester, dyed in Nottingham, and made up in our factory. Another big wholesale product is the Riviera polo shirt. It's got a very cult following because of the Bond film, and that's a special fabric as well. It's made in Portugal because we couldn't find a machine that can still knit this fabric in the UK. So for our wholesale business it's very much t-shirts and polo shirts. It is slowly expanding now into shirting, also done incredibly well. This has the look and feel of what a Sunspel guy wears as a shirt. It's got that soft handle; it's not super casual, but it's relaxed. And then knitwear is developing as a category. Our knitwear is similar to Smedley, but it's a little bit heavier. Smedley is very fine, which means it's quite esoteric. This has got the same luxury feeling, but it's a little easier to wear. Then you've got heavier gauge knitwear, coats, and trousers.
When I was reading about the brand's history, I came across a lot of references to the 50s.
Yeah, the 50s was an interesting period. If you look at the history of the business, it started in 1860 and it was a hosiery business. It was a vertical business, and it was the Industrial Revolution. We were spinning the cotton, we had the mills, we had a huge factory in Nottingham, and they were exporting to the rest of the world. Ironically their biggest export was China because Britain was industrialized and in places like China it was still craft. They had lots of different brands, but the luxury brand was called Sunspel and they were doing Sea Island Cotton as luxury. At the end of the First World War there was a collapse in Sea Island Cotton. There was an infestation of weevil, so Sea Island Cotton disappeared and you had the Depression and then the Second World War and consequently the business was making utility underwear for the air force and the army. After the war it slowly began to emerge again. They brought the boxer short from the US and began to emerge as a brand. The 50s was a big moment in a way because the export business started opening up again. We started exporting to all over the world, predominantly the old British colonies (I've got letters from Jamaica, South Africa, what was then called Rhodesia). If you wanted to get the best underwear then it would be Sunspel. So that's why the 50s was a big period.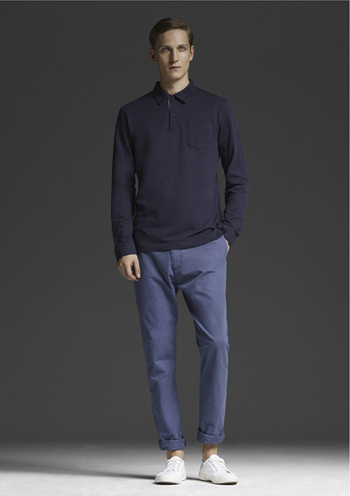 So since you came on board in 2005, what have been some of your more iconic innovations?
In terms of product, I think the key one is the loopback. It's one of the strongest parts of the business. It kind of fits with what the rest of the brand is about. We spent a lot of time developing a fabric that had the right weight on the front and the back, made the cut nice and slim, and slightly tailored so it's not a slouchy, super sporty, relaxed look; you can wear it dressing up or dressing down, and it's really, really comfortable and it's really high quality. So it's almost the perfect version of what we are as a brand, which is casual luxury. The knitwear is important as well.
Related: J.Crew Unleashes First-Ever Collab with Lacoste.
You certainly seem to be picking up and adding more items going into fall. How do you see the brand moving forward?
There's much less than you think. When I think about it, it feels as if it's been agonizingly slow! I think we have been quite slow. We add things, but when we add them we spend a lot of time in advance. Loopback took two years to develop the product. We think of it more as product development than new fashions, because what we want to do is create new products that will last into the future. And then we don't just go, "Now that's done." We tend to tinker with it, just like we've been doing with underwear for years and years to try and make it a little better. We're always trying to improve it.
You teamed up with the designer Jonathan Anderson in the past. Is there an interest in doing more designer collaborations?
We do have a designer that's replaced Jonathan. She was on Savile Row for eight years before she did her own line, so she brought in a lot of these looks and fits. It's one of the reasons we've been able to move into outerwear with confidence [for fall]. We have someone who really knows what they're doing.
So the collaborations are never branded separately?
They're all under one label. We do do collaborations. We've got a little capsule collection in the US with the store Unionmade. And we like doing that sort of thing. One of the great advantages of having a great factory is you can do something fun and interesting and do quite small runs.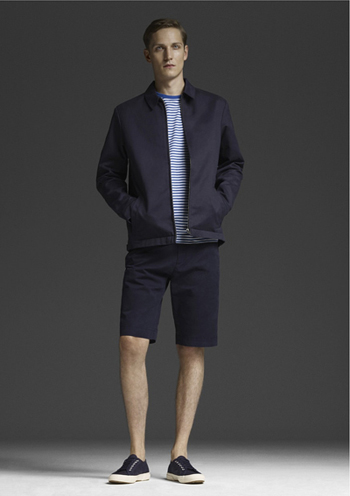 What else do you have in the vault that you might resurrect?
It's difficult to say what we might do. It tends to be something that happens when you bring in a new designer and a fresh pair of eyes. They see something new and different and they create something. That is why I think it's very difficult for me to know what's likely to come out of the archive. There may even be prints from the old letters that we could use. We've got great old labels before the crest was used, which we could run as a different line, so there's a lot in there. One of the things I'm really focused on is we're not a vintage brand. That's not what we're about. We're about being modern and contemporary—but we have a history.
Who is the Sunspel customer, especially the guys who go to your shops?
If you look at the locations—we have one store on Redchurch Street in Shoreditch, then Soho, Chiltern Street, and Jermyn Street which is pretty classic—we appeal to different customers right across the spectrum. Our brand is about product and it is clean and it is modern, but it's not about saying we're for this type of person and not that type of person, which is one of the things that makes it a brand that is not a fashion brand in that sense. Most fashion's about a customer making a choice and being part of a tribe. We're much more democratic than that and I hope everybody likes it.
Do you feel there's a void in the market for good basics?
It depends on how you define good.
Quality.
I don't think there are many brands that really do quality basics, because there's always a temptation to make them a little less well and sell them to more people, and that means to get them to more people you have to spend more on marketing and consequently less money on real product quality. It's incredibly competitive in the US, but I think if there is a bit of a void in the market it's for English brands doing what we're doing—with a heritage. I don't think there are many English brands doing that at all. I think if we came to the US [and opened a store], Sunspel would be that brand.
Editors' Recommendations