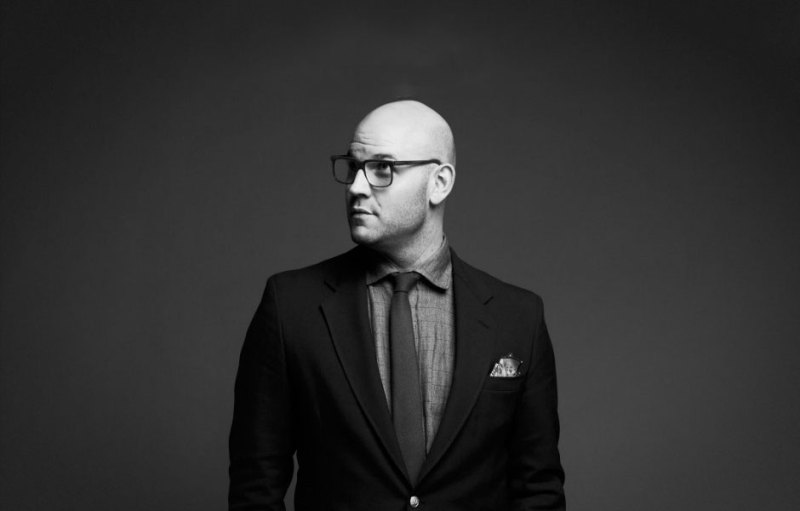 Warning: you needn't be a necktie aficionado to appreciate Glendon Lambert's neckwear, though you might feel like one after donning one of its sublimely knit ties. Rare indeed are ties that feel this soft and textural, yet such are the mainstays of this newcomer Brooklyn-based brand whose original textiles and patterns feel at once vintage and new and luxurious without being precious. Hardy but not overly casual, its neckties to pocket squares also carry more versatility than its peers, giving the brand its currency with the more casually dressed set. As it turns out, founder Glendon Breismeister (above) is just getting started (there are plans for shirts and leather goods), so we recently tracked the designer down to talk plans, rules of style, and modern luxury.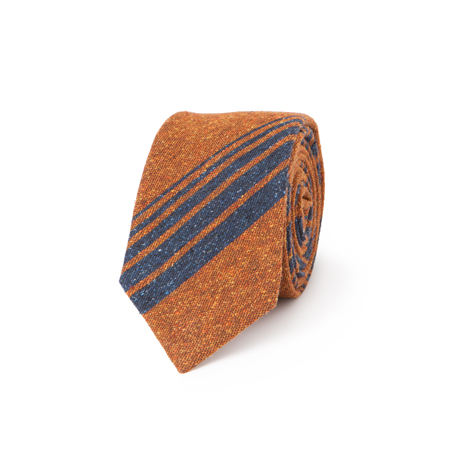 How often do you wear neckwear yourself? ​
All of the time. It's why I got into this industry. I wanted more variety in color and texture and couldn't find it on the market already. I wear neckties tied simply in a four-in-hand knot all the time. My necktie is not in the way because my blazer is never unbuttoned and I breathe freely because my tie is loosely knotted at my neck. My personal style and look is me. It's not uptown or downtown but more Town and Country​-meets-Met gift store design section. It's not subversive or angry ​and I jokingly refer to it as populist intellectualism: everyday wearable luxury that is smart. I rock a faux suit—color trousers and a matching colors blazer with gold buttons. I think it straddles the line of sport casual and really formal. Gold buttons are classic Americana but they are slightly obnoxious and there is something really funny about it to me.
Well, what are three rules you want guys to know about ​neckwear and pocket squares? ​
Ditch the white shirts and go for color. Let your neckwear do the matching for you.
Button-down collars are for sailors and Jai-alai players and should be avoided.
Pocket squares should be stuffed into your breast, change or back pocket with little to no thought. They should never be pressed or made into origami shapes. If the back or greige good side of the square is showing, it's a good thing.
We hear you were in the wine and spirits biz before men's accessories. How did you become so savvy with textiles and creating ties by hand?
I knew my ties had to stand out in some way when I began and that many menswear designers started out with neckwear. For me, this meant not only making neckties but also designing my own fabrics. (At the time, I thought it was cheating if you bought a bolt of fabric and then had it cut at a local factory and just threw your label on it.) Creating my own textiles has evolved from season to season, and though we're not quite Liberty, I continue to design and present a couple of custom fabrics textiles every season. These original fabrics are always our bestsellers.
My influences run the gamut: I grew up looking at my architect father's coffee table books featuring the best of midcentury modern design, which gave me an appreciation for clean lines (which never go out of style.) Post-modernism, though, offers me the safe clean sensibilities while also indulging my desire for ornamentation. That is my design aesthetic: casual but finished, simple but unique. I make products that I like and always have. Product design for me on a more macro level is a reaction to, against, and love affair with what I saw and experienced growing up in Connecticut, now reinterpreted with the urban influences and experiences I have stepping outside my building every day in Brooklyn.
In addition to designing my own fabrics with some of the best mills in the world, I believe our sourcing of other textiles adds a richness to the story each season. This season you'll see silks and cashmere along with fine woolens—all are presented formally, finished with our custom Indian silk shantung lining and loop, but come from far places like Mongolia and also close to home in Mexico. Our ties are all made by hand near our home in Brooklyn, using traditional four fold slip stitch construction. At no point do the ties get run through or pressed by machines. Our commitment to quality, hand-made American manufacturing is the cornerstone of our business. We are cool but not hip.
There's a story and sophisticated process behind everyone of your fabrics. Tell us, for example, how your signature "birds on a wire" pattern happened.
One of the first fabrics I made was a silk jacquard that had polyamide knots woven in and out of the face. I was inspired by birds sitting on the telephone wires out in the street but also the sneakers hanging right next to them. An English mill specializing in couture textiles helped me in creating and realizing the fabric. I drew a sketch of birds on the telephone wire—literally on a napkin—then we worked together for weeks to come up with the final fabric. When this type of creative and collaborative dialogue leads to a great final product, it's particularly satisfying. We run it once every other year and is one of the few things you'll see pop up again for me.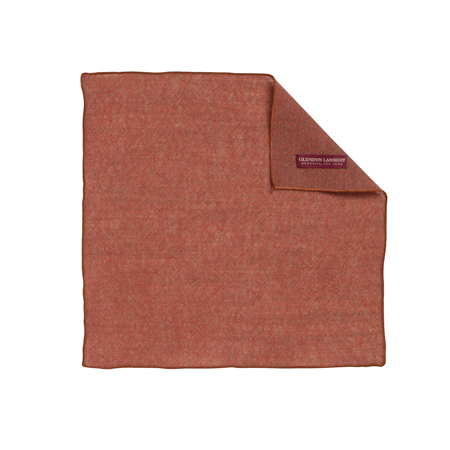 What are some other special fabrics you offer?
One of the custom fabrics I designed this season and that is arriving in stores right now is an amazing raw silk from England. It was woven in one of the best and oldest silk mills in the world. The stripes and color combinations are a little more progressive than the '60s repp tie, but it is nonetheless a classic repp tie at the end of the day.
So all your neckwear showcases new textiles, i.e. nothing is vintage even though they might have that vintage feel? ​
Any vintage feel can be attributed to a focus on texture that I love, be it a bouclé or even a knit. Any worn appearance can be attributed to the casual nature of the fabric. I think it's the contrast of these casual fabrics against the fine silk tipping that is part of the attraction.
You're also expanding into shirts and leather bags and each one of these product expansions is unique.
We have a hybrid shirting program called man about town shirting that provides modern tailoring as well as unique colors and fabrics to match my neckwear. Linen year-round is a big thing for me, but the real gem here is the hidden placard slits and button-down option you'll find hidden underneath the collar, giving you the option to play dress up in the office everyday or to always be casual with no buttons or collars. And it's a classic unstructured shirt with a straight cut bottom with 2-inch side vents. I love the colors offered in the shirt—from dark solids perfect for fall and dusty hues for the spring if you're still wed to the idea of seasonal shades. I bring my love of color and shade as well as the reaction to scale you see in, say, some of the abstract toile neckwear I present back to accessories and apply it to the other new product launch we had in 2014 (the Lost Weekender upright duffel). The North-South Carryall is a weekender or hold-all. It is inspired by the classic heritage leather bags seen throughout the market, but luxurious notes of suede, contrast color lining, and rolled handles show a real style that you won't find in any slim brief out there today.
You make men's accessories look easy. Based on your experience, can anyone get into the biz? ​
I think you have it right: anyone can get into men's accessories, but staying is hard and thriving is even tougher. The package in my opinion has to be complete: finding a compelling voice, showing continuity in design and creativity season after season. Confidence in yourself and passion for your product have to be at the forefront of your process. Knowing what makes me different from the 16 kids that just moved into Brooklyn who are ​​making neckwear with ​an active Instagram ​account is important. I love product and design from menswear to home goods to furniture, and that will always keep my creative side nourished.
So is the plan to open a shop?
A brick and mortar "clubhouse" is a long-term plan. Curating and designing a conceptual yet homey design-driven space here in Brooklyn for Glendon Lambert would be amazing.
Did you ever think what you'd do if you weren't designing neckwear?
I love furniture design. It all speaks to me,​ even the stuff I don't like—from art nouveau to atomic mid-century. But mid-​century modern and art deco are favorites and the idea of what these designers were trying to present to the world at that time really amazes me, and to see that same vision and those ideals being realized in the better contemporary work out there today amazes me. Jaime Hayon is a favorite.
Any other plans you have?
Starting next season we'll be showing Glendon Lambert to new markets globally and all the while, of course, I will have one eye on the market and new product. I place many of my product finds into my book: a compilation of what I believe to be the best or most interesting products out in the market. They're often not the most popular, running the gamut from home goods to clothing apparel all the way to hardware. This is what you'll find in my Instagram feed as well—an endorsement of products, not just menswear highlights but other brand highlights, notable artists or architects that I connect with. I will spare you "sunset in NYC" posts.