Good news for guys in search of sustainable alternatives for your wardrobe today: they needn't all look like or feel like one new twist on canvas cotton after another. Just ask Daniel Bernardo, the founder of Glass House Shirtmakers, whose sharp, well-made, and luxuriously soft dress shirts take sustainably made menswear in a refined direction and make it easy for anyone to wear without shouting it out from the rooftops. Initially in search of the perfect-fitting shirt, Bernardo spotted an opening in the market for an emerging socially responsible consumer, so he created Glass House Shirtmakers to offer a better shirt alternative for himself and others. Here, a recap with the creative director on how it all happened to what's next and how the brand is even changing Chicago for the better.
Tell us how the company came about.
The impetus that brought Glass House to fruition was not being able to find a truly slim fit shirt created by a company that held the same values I do. I've been sewing for 16 years and was altering all these shirts to fit me better. Then I decided to create a product that not only I could use, but a product for all those conscious men making smart choices around their food, transportation, and fitness, and now their style. I went to school for art, so design is in my background. And I've always been a creative person. For as long as I can remember, I was drawing. Right before I started Glass House, I was consulting for companies that wanted to make their businesses more sustainable. After moving to Chicago post-recession, the need for companies to do that dwindled. Having Glass House Shirtmakers be completely sustainable was a natural move, because it's what I know and what I have passion for. But I've also always had passion for design and menswear, hence a company was born from the heart.
So how's Glass House different from other brands?
Glass House is different because we are a values-based fashion brand. We are not only making beautiful, great fitting shirts—we're making them with complete consciousness around how it impacts everyone and everything involved.
We also read that you work with factories in Chicago itself. We weren't aware that there were any. Tell us about the ones you work with.
The factories we work with in Chicago typically make high-tech uniforms, but we asked them to take a risk on us and we've been lucky enough that they like our products and can make it a win-win for all of us.
So walk us through the spring collection. What was the approach, what's a "signature" or "core" piece, and perhaps the piece de resistance?
Light and masculine, water and earth—those are the inspirations for this spring collection. The core pieces are the two plaid patterned "cousins" we found woven from vintage looms. They're complimentary to each other yet have something different to say individually. They're soft to the touch and are casual.
How durable are these organic pieces?
The organic material is durable enough for many years of usage. I still have shirts from early samples we made from four years ago that are still going strong! We also use single-needle construction and French seams on all pieces, which makes them last.
How often do you plan to drop styles?
We like to stick with the seasons so we can stay on track with our customers needs as well as fulfill the needs of the boutiques we work with. We have a Spring/Summer collection and Autumn/Winter collection each year.
Yes, you sell to select stores. Is the plan to have a larger presence at retail?
Definitely. People nowadays really love to experience a product, and if they like it enough, they buy it on the spot. Building community is also a huge piece of what we do. Working with stores who have passion and want to cultivate a real partnership with us and can share our unique story is critical to our goals.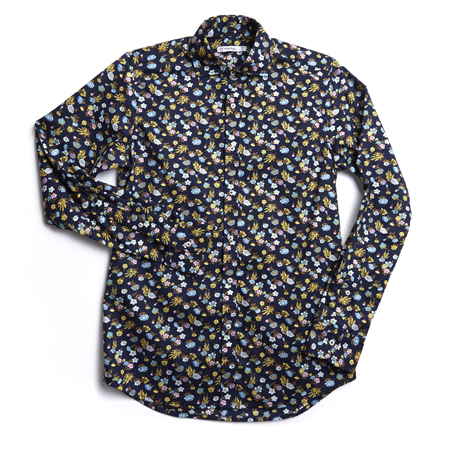 That said, what's the direction of the brand going to be?
Modern and contemporary is our approach to design. No bells, no whistles, just quality construction with great materials and a slim silhouette.
Who are some of your own biggest design inspirations?
Picasso, Rafi Balouzian, Dieter Rams, and many others.
You're made in the USA and sustainable. What goalposts have you set for your own business?
From seeds to milling to construction to final product, we want to do as little harm as possible. It's impossible to do every single thing sustainably—the gray area is vast. But we are working every day to do better in every process. We'd love to work with a farmer, a miller, a weaver, and manufacturer to make sure that everyone is happy and everything is progressive and smart. Those are long-term goals. What needs to shift in the industry is the paradigm that products can't be sustainable and in fashion. We aim to change that mentality.
What's next for the brand?
For Autumn/Winter 2015 it's all about texture. Expect to see some surprises coming your way. We also plan on releasing some complimentary products to go with our shirts at some point in the future. The release date is still kind of up in the air, but stay tuned!
What's the last thing you did for fun?
Cooking is an outlet for me so recently I made some homemade granola, which was pretty fun. I also plan on going ice-skating on a frozen lake in Wisconsin soon. I never did that before!
We're not too familiar with West Town, where you're based. What's a guy with 24 hours to see and do there?
West Town in Chicago is kind of industrial—which is dope! The beauty is that there are real businesses thriving here, from circus schools to Goose Island brewery to Intelligentsia Coffee Roasters (both give tours…I think). So drink up!
Any other must-see/do destinations in the city right now?
If you've never been to Chicago, the Art Institute is world class. Also, eat at Leghorn Chicken, shit is bomb.
Editors' Recommendations