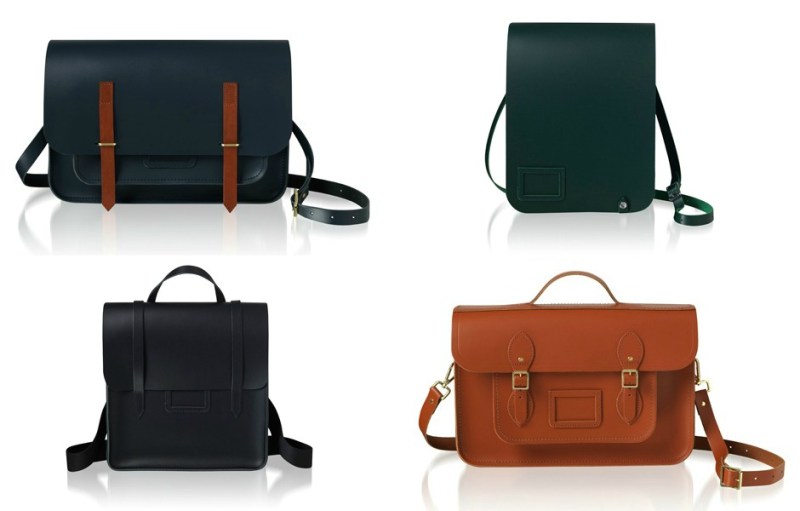 One of the most surprisingly enduring and wildly successful bag brands to have launched over the past decade, Britain's Cambridge Satchel Company shows no signs of slowing down. Come next week, the brand will release its best-looking collection of satchels, work, and leisure bags yet for men, and if our predictions are right, the brand will soon have as much of a lock on men as it has on women. The classic satchel's design is no less irresistible from the day it was handmade in 2008, but as we learned more importantly, founder Julie Deane and mother Freda Thomas's organic approach to the line, entrepreneurial spirit, and preservation of craft and made in Great Britain products continue to give the brand its unlikely cool, relatable, and smarter edge over its counterparts. We caught up with Deane, an Officer of the Order of the British Empire since last year, on a recent trip to New York City to chat about that edge as well as to ask what's next for the quintessential British company.
The Cambridge Satchel Company became successful in part because of its extraordinary relationship with its fans. Tell us about that.
Right from the very beginning the customers have really directed us. It's never been a case of watching what other accessories brands are doing. For us, it's always been more about engaging the bloggers and customers, hearing what people want—they want light colors to come out in spring time, not dark colors—trying to not just do these three or four collections a year that are so far in advance, just giving people what they want, when they want it, and lots of newness. That's really important to us.
Take us back to how you got into satchels.
In the very beginning I really needed to make school fees for my daughter. She was having a tough time at a local school, so I really wanted to send her to a really good school and I had 600 pounds to start. And I came up with 10 ideas of things I could do to make school fees to get her into this really good school, and satchels was one of the things on that list because I'd looked for satchels about six months before. I just tired of bags that either fall apart or they have something on them that means [my children] like them or they don't like them. And my school satchel lasted me right the way through school and it looked really good at the end—it softened and it had character.
Was it made in the UK?
Yes, it would have been made in the UK, but when I started looking for one for my children, nobody was making it in the UK anymore. And I thought, how can that be right? It's such a British bag and it's not being made anymore. So that sort of registered and when the time came to think what can I do to really make a business, satchels was one of the ones on there.
It's such a terrific story and we love the design of the satchel. It's so iconic and so great to be able to nail that from the get-go.
I'm really lucky because my mom is about the most stylish woman I've ever met. She looks at things and her eye for color is spot on. Every time we look at a group [of bags] sitting together it's because my mom has said that has to be a bit lighter or a bit darker, and I think one of the real joys of owning this business is that I get to say just because she's over 70 it doesn't matter—she still has a voice, she can bring her expertise. We don't have to have these big stupid corporate laws that say once you're 65 you don't matter anymore or just because you're too young we're not interested in what you're saying. Next month I'm going to China to talk about women and entrepreneurship, because I started this with 600 pounds and it's changed my life—I didn't risk the family home and I think there are so many aspects of it that people can relate to. People want to make things better for their family, people go beyond for their kids, and 600 pounds is an amount of money that people can think "I can picture having that and putting it into something." And just to dispel this rumor of people thinking they have to have a huge corporation behind them or a rich family—it's just nice to hear that stuff can happen for a good reason.
Well, how many people do you have working for you now?
A hundred and twenty and we ship to over 100 countries. So for me now, I've got them into a great shool, I've got this amazing company with this incredible team. But what I'd really like is to feel like I encourage people to do something.
About those people involved in creating your bags. Tell us who they are and what goes into making one of your classic satchels.
There are the people that check the leather when it first come in, then you've got the people on the cutting presses that cut out the individual parts. That's really a huge skill, because a more experienced person will go to the edges and cut out loads more. (I think a lot of manufacturers now use computers, but I would back our cutters against a computer any day of the week.) Then it goes to a marking bench where people go and put tiny pinpricks so that the machinists know where to start the sewing and where to stop. Then there's the person who does the riveting and another person that does the embossing. They're all quite different skills.
So how long does it take to make one bag?
If it's just a classic satchel, we can do one in just under an hour from start to finish. but if you're looking at the binocular bags, where the edges are painted by hand and then have to be dried and be repainted again—there's the handstitching on the top, the riveting at the back, and the detail on the pocket—then you're looking at a lot more time on that.
You offer bags in two leathers now.
There's the split, which is our standard, and there's the saddle leather, which is a more expensive leather but ages so well.
And where's your leather from?
We get whatever leather we can from Scotland to minimize how much the animals have to travel. Otherwise it all comes from within Europe.
The men's line looks amazing. Do you have a specific vision for it and how do you see it growing?
I want to carry on being able to make things in our own workshops to keep the margin low enough that we can continue offering bags of this quality to normal people. That's really important to me: a bag that people can have and know they'll have for ages and ages and years and years; a bag that's really stylish, really designed perfect, not fussy, not over the top; a bag that a man can feel proud of and not embarrassed by; and a bag that isn't trying to take over the whole way that somebody looks, so it would just complement and be so, so useful with loads and loads of different outfits. I would really like to feel like men have got an option to have a great work bag like these ones—bags to pop on when you go cycling—a bag that is going to last and last and is made by people that take such pride in their work.
Surely you had to invest a lot of time to find these artisans.
When I first set up the workshops, all of our most skilled people were within five years of retirement age. It just frightens me to think if it had been seven years later, where would we have found the skills because it's easy to shut down factories. It's not so easy to start them up again. Now at least we have those people to join us and teach the apprentices that we have coming through, and those skills are being passed along. It's a scary thing to look at how skills can be lost in the workforce.
You have several stores in the UK. Do you plan on opening any stateside?
We've been looking around on this trip. I'd like a shop in New York by the end of the year.
Finally, any other ways you see the brand expanding, say luggage for instance?
We're about to launch some really small leather goods—some wallets, purses, travel things. And those are very, very nice—again, really simple. I also help the British Museum and the British Library with designers that have great ideas and great products but don't know how to sell them. If I can give them a little bit of space to help them along their way, I think that would be great for us. It would make our stores really interesting and it would be really great for them to have an opportunity to have a little bit of a shop window.
Editors' Recommendations