Few things can make today's post-metrosexual or "spornosexual" man fret more than not being ready for his close-up on the red carpet or his wedding day. Fortunately for him, there's Thom Sweeney. Until now the British bespoke brand, best known for dressing the likes of David Beckham, David Gandy, Luke Evans, Bradley Cooper and Zachary Quinto in its contemporary bespoke tailoring and killer evening attire accompanied by its trademark horseshoe waistcoat, was only available across the pond. But as of this spring, the company introduced a non made-to-measure offering available worldwide exclusively through Mr Porter, specifically a tight capsule of four suits, two blazers, a trouser and an evening suit. Molded around the latter's formal silhouette with a structured shoulder and a softer, casual shoulder and silhouette for mixing and layering, the collection is as timeless and versatile as it is sublimely crafted from Italian Barberis wools with the house's signature nipped waist, abbreviated lengths, natural but roped shoulders and canvassing. Here, our recent conversation with founders Thom Whiddett and Luke Sweeney on their start and what makes them the most coolest tailors of the moment.
Thom and Luke, did you always want to become bespoke tailors?
Thom: Yes, bespoke tailoring was where we started.
You cut your teeth at Timothy Everest in the East End of London. Explain to us, non-British folk, what the significance was of tailors such as Timothy Everest for you.
Thom: I was 19 when I went there. That was 15 years go. And Tim alongside Ozwald Boateng and Richard James, they were the young tailors that got into the whole bespoke tailoring thing. They were a bit more fashion-forward and quirky. At the time it was just a modern more take on classical British tailoring.
Both of you now design a bespoke collection and a ready-to-wear line. What's the division of labor like? Is one more, say, the business "head" than the other?
Thom: We kinda both cross over. We've both got the same skillset. We try to be in the bespoke shop as much as we can; we also like to check in on the cutters. We design the collection together.
How did you approach your first ready-to-wear collection? Are there, say, five essential pieces in your collection you aimed to create?
Thom: The first one was built around the bespoke work we've been doing. We wanted to do a whole wardrobe, Monday to Friday and Saturday, so we did gray and navy three-piece classic suits. We kinda did our favorite classic suit. And then we added in rope-shouldered classic jackets with a softer construction and a softer shoulder that's easy to wear to offer separates that are less formal. 
In an interview with Mr Porter you alluded to creating the antithesis of a boring city suit. So tell us what are some signature details of a Thom Sweeney suit.
Luke: There are no gimmicky, fancy colored button holes or fancy linings. It's all about the technical aspects—slim sleeves, the shoulder line is not too heavy, the soft shoulder pad, the armhole is nice and high which gives it a really nice shape. And jackets are not too long as well, which we feel is really old. It's a good length.
How do you stay on top of what guys look for in menswear? Put another way, what's Thom Sweeney's biggest style inspiration these days?
Thom: It's stuff from traveling, seeing things, discovering new looks, just a real mix of cross-references, our friends, the people we see around London. We work a lot with the fabric mills. So often we'll start with making a new fabric that will work for a new suit and then build a collection from there.
What are some trends guys should retire?
Thom: On the tailoring side, the skinny lapel thing. We've never been a fan of it. Five years ago, there was a huge influx of designers making skinny lapels. You just see it on everyone now. So we've never gone down that road. Long jackets as well.
Tell us what does every guy need in his wardrobe right now?
Thom: It depends on what he has already, but from the collection more texture, a casual jacket and blazer—soft construction, comfy to wear, still fitted but goes with anything. Green as well.
What's a smart off-duty look Thom Sweeney can get behind?
Luke: If you're going out to a party I would suggest a deconstructed blazer, whether it be single- or double-breasted, with a chino or a casual trouser with some texture and also fitted so it looks modern. And you can either team that with knitwear or a button-down shirt so you don't look too stuffy or formal.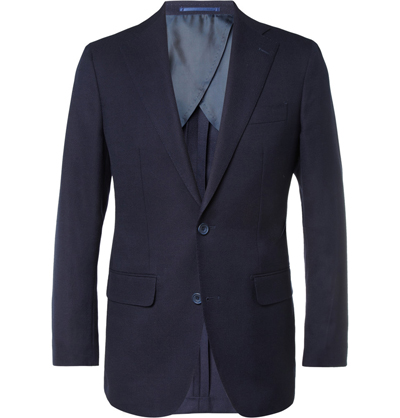 What can we expect next from the brand? Will the ready-to-wear line stay online?
Thom: We have a two-season exclusive with Mr Porter. In October we're opening our second shop. That's also going to be in Mayfair in London. It's going to have our ready-to-wear and also a small collection so you can do made-to-measure as well. We're adding in some knitwear pieces made in Scotland—crewnecks, polo necks, button-downs, fine-gauge knitwear in a mix of colors. There'll be more further down the line!
And what about the London Collections: Men, men's fashion week in London?
Thom: We're involved with it. But for our type of product, we don't need a catwalk.
Finally, tell us about your own personal style.
Luke: I like to keep things fairly simple and have fun with ties and hankies. I also like breaking up the suit. For example, today, I'm wearing a navy waistcoat with a gray suit—things like that or a very subtle twist on my outfit. Nothing too outlandish.
Thom: Definitely. That mixing up of suits and separates. Or maybe doing a softer shoulder and a more classic formal fabric.
Thom Sweeney tuxedo, suit and blazer above available exclusively at Mr Porter. 
Editors' Recommendations