For all the trends that come and go each season, the most alluring idea today is the simple notion of eminently wearable, everyday clothing elevated with luxurious fabrics and fine detail. That the New York-based company Orley does this and gets it is one of the reasons the nearly two-year-old brand, known for its technically innovative knits, slightly irreverent spirit and European Riviera-like sophistication, has already earned a coveted spot at the CFDA Fashion Incubator (the ground zero lab for tomorrow's leading American designers) and is now blowing up globally. Using some of the world's finest yarns, including those by Italy's Loro Piana and Cariaggi, the company releases its first full ready-to-wear collection this spring, featuring highly covetable items ranging from a navy linen bomber jacket to camel hair-silk blended sweater and knit lounge pants. We recently caught up with Orley founders Alex and Matthew Orley and Matthew's fiancée Samantha Florence to learn more about the most buzzed-about menswear brand of the moment in New York City.
M: Let's start with the fact that you're a family brand! Did that ever worry you as you started to put the company together?
Orley: Nope!
M: What was everyone doing before Orley came together and where did the specific idea for the brand come from?
Alex: I attended NYU and studied Fine Art and Art History and attended Parsons afterwards. I also worked for about two years at Rag & Bone. Sam spent about four years at Helmut Lang in sales, and Matthew spent a year as a production intern at Thom Browne. We all had different jobs in the fashion industry, but we had been talking about launching Orley for a long time. I think Matthew was 7 [I] was 5 when we first started talking about it.
M: So what is everyone's part in the brand?
Orley: Alex designs, Sam does sales and merchandising. Matt is the brains of the operation.
M: Now if I'm to understand the brand correctly, Orley sets itself apart by the quality of its fabrics, workmanship and, as a result, price. Can you explain what kind of special work went into making, say, your most accomplished piece for the current collection?
Orley: Well, every piece that we make is different. As a whole we always source the most beautiful raw materials we can find, and on an individual level, we are always working to develop things that are completely unique to us, whether it is a custom stitch that we develop in house (which we do often) or even developing custom yarns. From there we create our own jacquards, which is why a scarf or a sweater from us will be completely different from anything you will see from another brand. Our approach to everything feeds from that mentality.
M: You don't shy away from "technique," in fact it's almost as if you're excited by it. Still, you always seem to draw the line at sophistication in each of your collections. Where does that level of sophistication come from?
Orley: We always try and work within the framework of classicism, but at the same time we really try and subvert the notion of classicism. Whether that is through color or silhouette or fabrication, everything needs a reason to exist. Hopefully the main reason is its uniqueness. There are a lot of brands in the world that make a lot of things; we are not really interested in adding to the noise. Hopefully we are making something really special and unique that someone who is looking for that will appreciate.
M: So who is the man you're designing for?
Orley: Sometimes it is us, sometimes it is our grandfather, sometimes it's our younger brother. It is a guy who appreciates quality and isn't afraid of his own personality.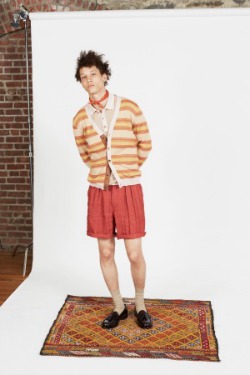 M: To be sure, there's a lot of color and pattern in your collection. Is there a right way or a wrong way to wear stripes and florals? How does that reconcile with the overall brand philosophy?
Alex: I think as long as you feel good about what you are wearing, you will look good. We love color and texture and patterns. But it's not for everyone. You need to know what is right for you.
M: What's another creed that the Orley team lives by?
Orley: To infinity, and beyond.
M: What other fans are you of?
Orley: Marc Newson, Robert Rauschenberg, Nick Hornby.
M: I see a lot of multicultural, travel references on your blog. Is that a big influence on the brand?
Orley: Definitely. We have all done a good deal of traveling. Matt and Alex grew up in Detroit, but also lived in Norway when they were young. And Matt and Sam lived together in Paris before moving to New York. We all tend to get a bit restless if we are in one place for too long.
M: What's the most inspirational thing you've seen, heard and experienced all year?
Alex: Silence is always my number one inspiration. I guess visually something that I always find really inspiring is the Peggy Guggenheim collection in Venice. I try to go every time I am there.
M: Finally things are moving quickly for you, what with the latest move into the CFDA Fashion Incubator. You seem to have your wits about you, so I need to ask what do you think makes a brand these days?
Alex: No man is an island. I don't think this would be possible if we didn't have each other. I think everyone needs a strong support system.
M: And where do you see yourself in five years?
Alex: If this doesn't pan out we will probably move to Jamaica and become fishermen or grow coffee.
Editors' Recommendations