For Meet Up Mondays this week we turn our spotlight to designer Mark McNairy, whose street-wise, contemporary approach to American menswear over the last five years has come to influence much of this generation's modern classic wardrobes. The former creative director of J. Press from 2005-2010, McNairy launched his own label Mark McNairy New Amsterdam in 2008 with updated traditional shoes handmade in the UK, then in 2010 expanded into apparel while taking over the reins at Woolrich Woolen Mills and getting behind some of the most coveted collaborations with Engineered Garments, A Bathing Ape, Sanders, Timberland, Eastland, Keds, Etiquette Clothiers and Adidas. Today the lifestyle brand is revered globally for its "up yours" attitude, sharp wit and fun prints, though probably no more so than its simple, earnest belief that great style and longevity ultimately mean never taking yourself too seriously. Here, our recent conversation with the famously laconic designer on being notorious, sporting logos and the last thing that impressed him.
When did you realize you were a "designer"?
Say what? I'm a designer? Fo' real? Cool!
You've worked on nearly countless collaborations. What have been some of your favorites?
Not enough. The best are yet to come.
How do you approach collaborations? Do you see something of a finished product in your head before you commit to them or are you more a risk-taker who takes on a project and just runs with it?
It depends. With Timberland I loved the boot but I hate nubuck, so I changed it to suede and added a smidgen of color. With Bee Line, me and Pharrell are working together on something new from scratch.
Writers often describe your work as being tongue in cheek. Does that verve or attitude come from a certain place? How has that affect evolved over the years?
I guess that attitude is my charming personality shining through. Why the fuck would someone wear a t-shirt that say Polo or Old Navy on it? Life is short, live and have fun. It has evolved from my being afraid to express my real feelings to just plain not giving a crap.
That said, you've said before you were a huge Brooks Brothers and J. Press fanatic. What made you a fan of theirs/turned you on about those brands?
Brooks Brothers, yes. When I discovered J. Press it was already shite. I wanted to return J. Press to her former glory, but the powers that be were too chickenshit. I am a traditionalist.
Tell me about the collection available on your site now. From an inspiration point of view, what's it about and what can people expect to see from Fall 14?
It ain't no collection. They are individual items that stand on their own…more of the same.
What was the last outfit/thing/person/exhibit you saw or met that impressed you?
A new Japanese brand called Kaptain Sunshine.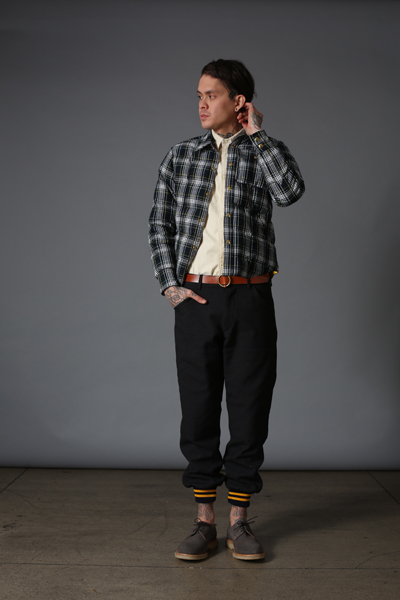 You've said before guys should wear only one interesting piece of clothing at a time. What other rules of style do you have?
Rules are meant to be broken.
You've been brutally honest in the press about your limitations, namely not wanting to be a businessperson but to just focus on your ideas, lookbooks and shows. What's the most important lesson you've learned in the business so far?
That life is a bittersweet symphony.
If you weren't in fashion, what would you be doing?
Lying in a box six feet under.
You participate at fashion week and are obviously a fan of shows. Why are shows still important?
The whole idea is quite silly, but it is fun.
What's your take on showing men's earlier in the season? Do you think men's fashion week in July in New York is inevitable?
Me no care.
You've probably got your thinking cap on all the time, but what do you do to unwind?
Sleep.
And what's the greatest luxury to you?
To be loved.
Fall 14 images by Lee Clower.