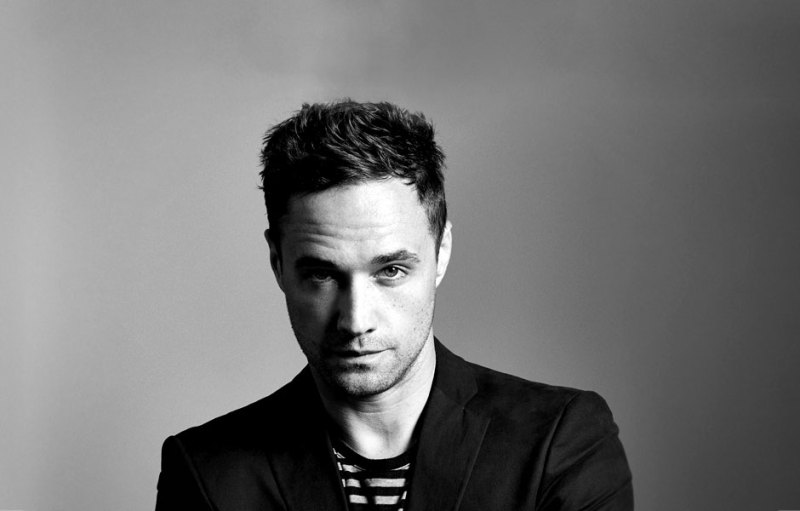 The New York-based menswear brand Jardine just may be that brand that sets the bar for design, luxury and cool, carving a niche for itself in the market with its refined, casual aesthetic and understated craftsmanship. What is little known is that it's designed by the one of the founding members of Rag & Bone, British transplant Nathan Bogle. You might recognize Bogle (above), no less, from his modeling days, but Bogle's background isn't just some cliché story of a model's leap to design.
The designer in fact grew up in a family well-versed in the fashion and branding trade. Bogle's great-grandfather for example, whom Jardine is named after, worked in a wool factory in Northern England in the 1920s before going on to manage a cotton mill; his grandfather was a publishing director and graphic designer. His mother worked for Charles Jourdan and Harvey Nichols in the 60s and 70s, while his father founded one of the most formidable agencies in the ad business today, working with clients from Levi's to British Airways. Offering lightweight leathers to crisp shirts, handsome knits and stylish waterproof coats this spring, Bogle recently connected with The Manual on growing up in the biz, good style and amongst other things how to wear leather.
M: You grew up with fashion in your blood, you co-founded Rag & Bone, you've modeled and now you have your own line. Did you always know you'd end up in fashion?
NB: I never really knew what I wanted to do, but being around it as a kid, style, brands and fashion were in the air so I probably soaked that up and yes I always remember having a sense for fashion.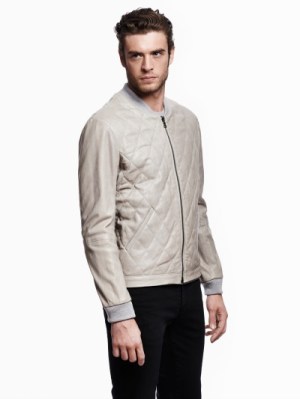 M: Since you did grew up in the trade, who were some of your style icons?
NB: I always related to the guys who looked effortlessly cool, natural and not put together, like Steve McQueen, Paul Newman or even James Hunt, the Formula 1 driver (who my mother worked for too). I remember meeting him a few times, and he had a leather jacket, jeans, cigarette, long hair—always thought the guy was super cool. I was 10 at the time.
M: So are people born with style or do you just need a handsome outfitter like Jardine to make it happen?
NB: I don't think you are born with style, you are shaped by your surroundings and upbringing. That's where it comes from initially. If it's not there then, it has to be learned (or taught or hired!). Jardine can certainly offer clothes that make someone who is a little unsure about fashion feel modern, cool but still feel safe. I design contemporary classics that can be dressed up or pared down, very simple.
M: What are three things every stylish man should have in his wardrobe?
NB: A great leather jacket, a well-fitting suit and a great jean.
M: What do you enjoy the most about being a designer?
NB: Designing and concepting new ideas.
M: When Rag & Bone launched there was a lot made about the marrying of two national identities, or an edgy, transatlantic aesthetic, and for sure fashion's evolved since. What are some of the ideas you've been most excited by of late?
NB: Minimalism, reduction, 21st-century dressing, quality over quantity, investment pieces, timeless classics, transeasonal designs, less is more, Made in NYC.
M: So how does Jardine square with that?
NB: Jardine embodies all the above.
M: To be sure, Jardine's aesthetic is very crisp, modern and even luxurious. Would you ever make it into a designer collection?
NB: The collection and price point is classed by retailers as "Advanced Contemporary"! We are shy of designer prices on the whole—sometimes we are close. I don't relate to the luxury brand lifestyle and aspiration pitch; I think that's all a bit dated. I think Hedi Slimane always does his thing under the Saint Laurent umbrella, which is obviously very cool and 21st century, but on the whole it's a different psychology behind luxury brands and their marketing approach.
M: You used a lot of leather last fall. What do guys need to know about leather in order to start wearing more of it? Is there a right way and a wrong way to wear it?
NB: I think the great thing about leather is that it is so versatile. You can wear it to work, to a party, on a date—wherever. It always looks chic and cool, with jeans, pants, trousers, whatever you want. Leather jackets are expensive but they are an investment. A well-made one, like ours, will last you at least 10-15 years and keep getting better with age. I still have one I made at Rag that looks as good as new. The same guy who made that one is making our jackets now in New York City.
M: I also see boucle jersey knit, raime fabric, French plackets in your details and I like how you link terms on your site to Wikipedia (genius!) Are you hoping to bring back more of a sophistication to menswear?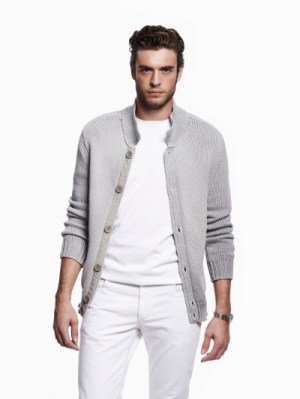 NB: I thought it was a helpful idea for guys. It wasn't my intention to bring back sophistication, but whenever guys put our clothes on, they do look that way and women keep saying to me "why don't more more dress like this?" I think in America some of men's style has become a little sloppy (it's always been behind Europe). We're now in post-heritage time, which is a bit of a grey area for some dudes! So going a little more polished might feel difficult for some. But in my opinion a cleaner, crisper, more refined look is the way forward.
M: How does that reconcile with your own style?
NB: I still dress casually too, but I've also grown up and grown into a slightly more elevated dress sense for work and play. Weekends still like to be comfortable and relaxed though.
M: Finally, you've been and still are a famous face. Are you a fairly private person?
NB: I don't know about that, but yes I'm fairly private.
M: That said, with summer approaching, tell us your absolute favorite place to go on vacation.
NB: My mother lives on the east coast of Italy and I absolutely love it down there. Alternatively a remote island in the Southern Pacific or Caribbean works just fine!