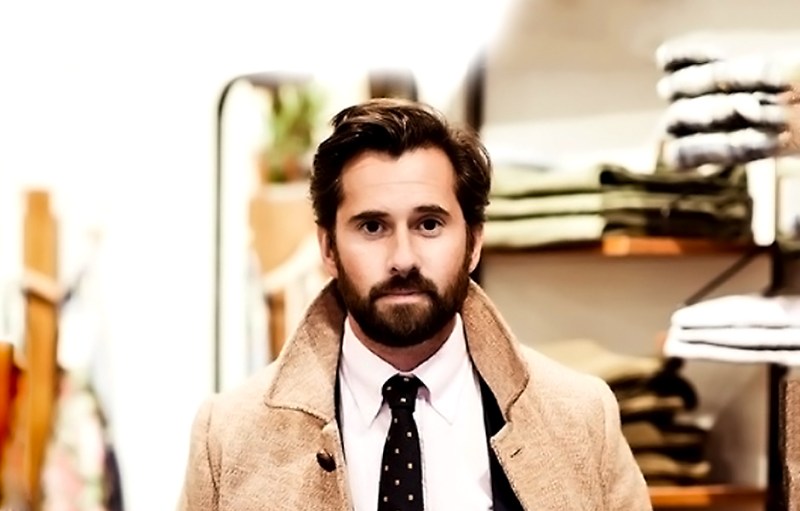 With a global presence in more than 60 countries, GANT is one of the most celebrated lifestyle brands today, applauded for capturing not only the look and feel of how men want to dress today but also its subtle newness and just downright good-looking American sportswear season after season. Much of the company's success is owed, of course, to creative director Christopher Bastin who worked at Acne, Whyred and H&M before heading to GANT in 2005 as the lead shirt designer and then head of design of GANT Rugger, the more directional and excellent archive-inspired label, in 2009. Bastin quietly ascended to the post of creative director of 2012, relinquishing his role at Rugger; however, if anything has changed under his watch, it's that GANT has never looked better and more appealing as the brand you want on your backs. Herewith, our conversation with the designer on great style, great food and the next great collection.
M: Christopher, what are you wearing in this picture and is this how you dress daily?
CB: I'm wearing "The Woo(l)ster," a wool coat tributed to menswear icon Nick Wooster (don't know if he even knows, actually). It's paired with the Hopsack Club blazer, a kick ass oxford button down shirt and a shantung silk tie. "Stick Boy" denims in "medium" wash, veggie tan leather belt and a 1967 Rolex Submariner 5513 on a leather strap (from Leffot in NYC). The picture was taken for Japanese magazine Free & Easy. I'm in jeans and a slouchy, washed-out navy tee 95% of the days, occasionally swapping the tee for a washed-out oxford or madras shirt. I spend all my time thinking about collections, themes, clothes, fabrications and so on, so I pretty much decided to make life easy.
M: Congrats on nine amazing years with the company! You also handed over the reins at Rugger to Filippa (Fifi) Hallstensson (former product developer and designer for GANT Rugger). What's your next challenge at the company?
CB: Thanks a lot! (holy crap, that means I'm turning 41 this summer). Yeah, it's been nine great years so far, and handing over GANT Rugger to Fifi was such a pleasure. She was on board from day one and we worked our asses off for three, five years, side by side. We've been eating, breathing and sleeping GANT Rugger and turned this small idea into something that really has had an impact on modern American sportswear. Fifi's a goddamn prodigy, 25 years old she has an understanding for style, fabrications, aesthetics and "the game" that most people would be lucky having after 25 years in the industry.
M: You've also talked before about wanting more people to get involved with the brand. How do you plan to do that?
CB: Have I, hahaha! I don't remember everything I say, but probably that I love collaborating with talented people outside the business, bringing their ideas into what we do. We've worked with some pretty amazing people during the time with Rugger — chefs, lobster-truck drivers, artists and so on. I'd like to implement that thinking for GANT as well. GANT's a different animal from GANT Rugger, but the smaller scale of those collaborations brings a nerve and authenticity that fit with GANT very well.
M: Looking back, what are some Christopher Bastin design signatures or rather the pieces you've been the most proud to call yours?
CB: The Hopsack Club blazer and the selvage madras shirt are two of my favorites I always love to see people wearing and some of the small little details, like adding a cream stitch lapel button hole to some items giving it an immediate GANT Rugger identity.
M: So much has changed in menswear since you started out. Has "American sportswear" changed and if so how would you describe it in a few words?
CB: What I love about American sportswear is it's constantly in change, but it's a slow change. The style will always be what it is, and its cycles are so much longer than normal fashion or trends. But it's definitely become less costume-y and less cliché Ivy/Preppy over the past years to be more self-confident and quality-driven, I'd say. I hated the huge logos, the badges and that whole thing. Hey, if someone wants to wear a GANT logo on their sweater, that's fine with me. I'm proud of our brand, but I wish more people would look at the product and not the logo.
M: There are of course a lot of young designers on the scene trying to create their own brands. What do you think, working for and reinventing a major brand, are the key ingredients to building a brand?
CB: Stick to your guns, speak from the heart and follow your gut instinct. As long as you love what you do and can get others to love as much as you, chances are magic stuff happens. In the case of GANT Rugger, I had 60 years of history and true heritage to dive into — that helped tremendously. I merely took GANT's past, gave it a spin, designed the dream wardrobe I wanted for myself and then packaged it in this kind of "the dude next door you wanna hang out with" vibe. Most consumers today see through the bullshit and want something that speaks to you on more levels than just looking the bees knees. But product comes first, second and third, then the packaging.
M: I find the way your collections are styled are so on point with guys are dressing today. How do you see guys dressing in the future? I mean, if guys are becoming more style savants, mixing it up on their own, what's a designer (left) to do? How do you see the function of designers evolving?
CB: We've worked with stylists as well but decided to do the styling ourselves lately. It came out better that way for GANT Rugger, I think. It kind of depends, though: one season you're like so sure of every single outfit already when designing the garments, and the next you just want someone to come in and mess around with it. A good stylist will understand you and the line so well, he or she will take what you've done and make it even more beautiful. That's kind of the whole idea. Fifi's been styling GANT Rugger on her own a lot, and I've done the styling for GANT men the last two seasons. For Autumn-Winter 2014 we worked with Swedish stylist Columbine Smille, who's fantastic. She's extremely well-informed, puts her own touch and look to it and she's so chill to work with. Stylists have very little to do with the design process per se. I'd say we supply the canvas and brushes and a great stylist brings the paint. If that makes any sense.
M: Others delve into art collaborations and side projects, you food. What set it off for you/got you hooked into food culture?
CB: Apart from clothes it's the one thing I'm good at, and the whole connection between slow food and caring about good produce somehow fell in place with what I was doing with GANT Rugger at the time — same kind of love, so to speak. No one had really made that connection before, and hey, when you're first with something, go with it. Also, cooks are insane and great to party with.
M: Does all this interest mean you're a good cook? And, if so, what's your piece de resistance?
CB: I guess I'm an OK cook. I haven't had any complaints so far, hehe. A very simple home-made ricotta tortellini with sage, butter and oven-baked cherry tomatoes has gotten a lot of rotation lately. But if you want to impress someone, make a soupe à l'oignon (gratinated french onion soup with gruyère).
M: What's the Christopher Bastin signature/secret to nailing that dish?
CB: Doing a mashup of Anthony Bourdain and Danyel Couet's recipes, meaning you add a bit balsamic, port and other stuff to the mix. The full recipe is on my blog somewhere. (See what I did there? Drove traffic to my blog. Wham!)
M: Finally, what's one thing you always do/on the to-do list for when you're back in the United States?
CB: How long do we have? Drink Bellinis at Bergdorf's before lunch, eat fish tacos at Tacombi, visit the GANT Rugger stores, pick up set aside vintage GANT shirts at "various connects," swing by Bob Melet's showroom, hopefully meet up with Derek and the Team Americano boys (it's been too long), take a stroll in Central Park, have coffee and cigarette breakfasts, fall madly in love with it all, repeat.
M: Alas, fashion week is here. What can you tell us about the next fall collection?
CB: GANT Rugger is based on a beautiful story of a winter garden and a highly romanticized picture of the guys working it. The colors are amazing and Fifi has really found a way of pushing the envelope with some of the styles. GANT starts up with closing down the country house upstate New York, kind of a new take on a classic country style theme. Lighter weights and extremely cosy. We base our work with GANT on a fictional, female Editor-in-Chief and her slacker husband, and we're really getting to know them by now (I so wanna be that slacker husband by the way). The second theme revolves around getting back to the city, back to work, paying the bills and the social scene. It's sharper in the silhouette and color, more tailored and takes GANT to the next level. Our women's offering is getting a whole lot younger and sexier as well. I wanna take this moment to thank the design team who has done a great job indeed. Hats off to you all!