You've probably got a drawer full of old T-shirts. But they're just old T-shirts, right? Nothing to be done with them except maybe turning them into oil rags for the garage or cleaning rags for the kitchen?
Not so fast, friends. With the debut of the Re-Spun Collection , casual clothing brand Marine Layer is upcycling old T-shirts from customers and fans of the brand and turning them into new tees. But that's just the tip of the iceberg. When the company announced the news back in November, they quickly received thousands of donated T-shirts because who wouldn't want to get rid of old tees in return for a discount on a new one?
"We've always tried to make the best shirt in a responsible way," said founder Mike Nathenson in a recent interview.
The Re-Spun Collection realizes that goal in ways even more tangible, offering four men's T-shirt styles (in addition to four women's styles) that are made with zero water waste. How's that work? The tees are sorted by color groups, then the fabric is broken down and woven into a soft cotton fabric.
The resulting fabric (by color) is quite literally respun into new tees, saving the nearly 3,000 liters of water normally required to produce one shirt – yes, just one. As for the tees themselves, we'll tell you about the ones we like the best in just a second. (Just know that they're high-quality and investment-worthy, starting at $52 for the last T-shirt you'll buy for a good while).
The Re-Spun Collection comes at a time when brands across the board are looking to reduce their environmental footprint in bigger and better ways (see Everlane's new sneakers, for instance). By the end of 2019, Marine Layer is aiming to craft 75 percent of its fabrics from sustainable sources and we applaud this lofty, though do-able goal.
The Re-Spun Collection will expand even more this fall, but for now, Nathenson is happy with the resulting tees and eager to see how consumers respond as they hit store shelves. As to the ones we think you should buy, and how you should wear them? Take a look below.
What to Shop from the New Marine Layer Re-Spun Collection
Marine Layer Re-Spun Baseball Raglan
The classic baseball raglan gets a sustainable update here in a vintage indigo and white cotton knit, finished off with retro-inspired red collar detailing. If this looks like a tee you might find in a movie like "Sandlot," well, that's very good news indeed. Wear it with tan chinos and white high-tops to complete a throwback-focused ensemble.
Marine Layer Re-Spun Stripe Graphic Tee
The Stripe Graphic Tee from Marine Layer only reinforces the timeless, retro feel of the Re-Spun Collection. It should prove just as soft as your favorite old-school tee, yet all the more sustainable for it. Pair it with light wash jeans to grab a cold lager at your local watering hole.
Marine Layer Re-Spun Contrast Pocket Tee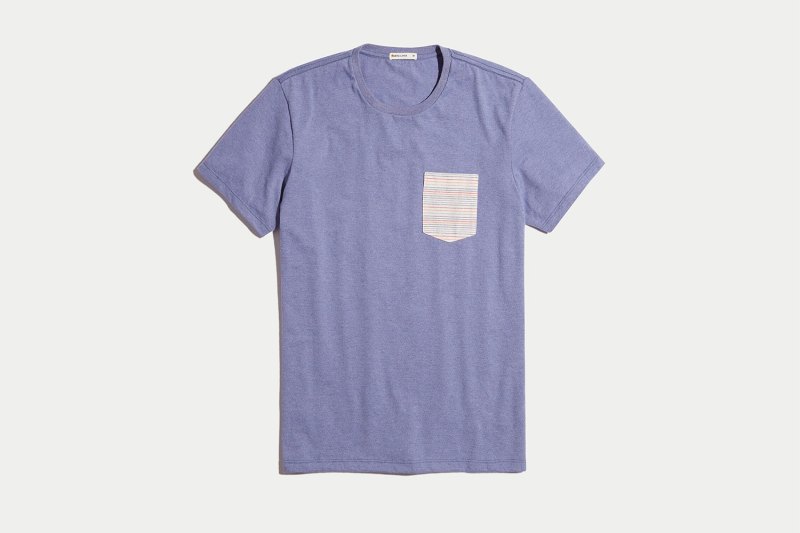 Lest you think the pocket tee is just a simple pocket tee, well, clearly you're not acquainted with the Re-Spun Contrast Pocket Tee, which incorporates that visually striking retro stripe pattern into the chest pocket. Here's the kicker: As the brand says, if you donated a T-shirt for the collection, well, there's a chance a bit of that tee is in this one.
The Re-Spun collection will be available April 28, 2019, at the brand's official website.
Editors' Recommendations