With Basel Fair 2014 in progress, the heavy hitters are stealing the spotlight with their millions of dollars in research and development. Being the largest watch fair in the world, there is much more to see than opulence. Big and small brands alike use this week to announce and display their new toys with hopes of steering customer's tax returns from savings accounts into their pockets. Hamilton is a brand that has made a good case this year for enjoying some of those dollars that are coming back from Uncle Sam.
Bearing the name of that old watch that your grandfather handed down (that you probably have never worn), Hamilton was one of the earliest watch manufacturers made right here in the United States of America. Out of Lancaster, Pennsylvania, Hamilton manufactured and gradually enveloped other watch brands until it made its way to Switzerland and eventually jumping in bed with The Swatch Group. This year they have released two models with a few variations of each that are worth serious consideration.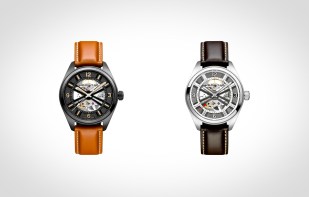 For a casual and everyday feel yet still suitable for the office, the Khaki Skeleton is prime. Offered in either stainless steel or PVD black steel, this partially skeletonized dial gives you a peek into the movement while still maintaining legibility. The PVD black steel case is paired with a honey brown calf strap and the steel case with a black calf. This 42mm with visible automatic movement is a great value for all around wear.
The Khaki Pilot Pioneer Aluminum takes care of your weekends be it hiking, drinking, or beaching. Its durable 41mm aluminum case with dual crowns (for time and rotating bezel) is attached with a matching color nato strap. Inside lies the ETA based Hamilton ca.H10 with 80 hour power reserve to take this weekend warrior into the realm of horology. Comfortable and sporty, the Khaki Pilot Pioneer is rugged in any of the offered variations; black, sand, navy, and khaki green.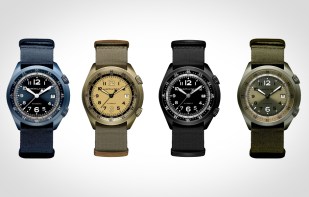 While the rest of the world is admiring the exotic out of reach timepieces by the major brands, make sure you take note of the little guys. There are still great timepieces shown at Basel Fair to be seen and had for all. Have your whole week covered with both of these from Hamilton for under $2500.
Editors' Recommendations