When you get home from a long day of work, you probably unwind with a beer and some Netflix. Not Jesse Ducommun. Ducommun instead comes home from his day job working as a business analyst at a cereal company and uses his free time to work with leather. He makes everything from wallets to envelope clutches—a great Valentine's Day gift for the special lady in your life, guys, cough cough—for his one-man leather goods company Guarded Goods.
Based in Minneapolis, Minnesota, Ducommun works with everything from shell cordovan from Horween Leather—the same tannery that makes the leather for NFL footballs—to stingray. The company, which offers beautiful bifolds, trifolds, card holders, and lanyards (among other things) began when, in 2013, Ducommun decided he needed a new wallet. Now, he says, he's making upwards of 1,000 wallets per year. And it's no wonder. His high-quality products are simple, functional, and handsome.
We talked to Ducommun about his company, his creative process, how he got started with leather working, and how much working with stingray is a pain in the you-know-what.
You said that this started because you were looking for a hobby where you could work with your hands. Why leather?
Well, I wanted to do something with my hands, and around the same time, I needed a new wallet. I was looking around on the internet, and some of the wallets were $150 or $180. Nothing I looked at ever seemed quite right. I figured I could probably buy all the raw materials and tools and make it for myself.
My first wallet was awful. So I just kept making more wallets. I'd carry a wallet around for a week or so, and make a new one, and the more I made them, the better they got. I got deeper and deeper into wanting to learn how to do things fully handmade. I kept working at it. And then my friends and family started asking for wallets. Eventually, I figured I could probably sell some on Etsy, and that kept growing, so I made my own website. And it kind of exploded.
What's your philosophy when it comes to your business?
I believe really strongly in paying a little more for a higher quality product. It's a little pricier, but it'll last a lifetime.
When most people think about leather goods, they think about department store leather—really thin and cheap. It may be leather, but you never really know. It can fall apart. It smells weird. It just isn't nice. Once those people get my product, they instantly say, "Wow this actually feels completely different."
I keep costs down by doing everything myself. I have spreadsheets in Excel to track labor, the cost of thread, glue, and everything I use in the entire process. I want these wallets to be affordable. I'm pricing them where I would feel comfortable buying something at—I want this to be accessible to people.
What about when it comes to making?
This is my creative outlet from my day job. I take my time with these wallets. There are different ways I could speed up the process, like with machine stitching. But hand-stitching is stronger, and it lasts longer. I do them as fast as I can while maintaining my sanity and the quality.
You offer stingray as one option. How many people buy that?
People frequently ask about it, but not many people buy it. It is a major pain to work with. It has this almost beaded texture. It's fine if you're doing a machine-stitched wallet, but I'm using two needles (a traditional saddle stitch) and it'll displace the needles a lot. It's cool for inlays, almost like a frame around a wallet. I've done that before. I've also made a couple of lanyards with them.
Inlays? I see you have quite a few basic models on the website, and people can customize what kind of leather and stitching they want. How custom, though, can you get?
I mean, there are standard models, where you can pick the leather and if you want, say, just a cardslot or an I.D. window, but if someone wants to go completely custom, I will absolutely do that. We can talk about what you want and go from there. That's another fun thing about running my own business. I can offer whatever I want.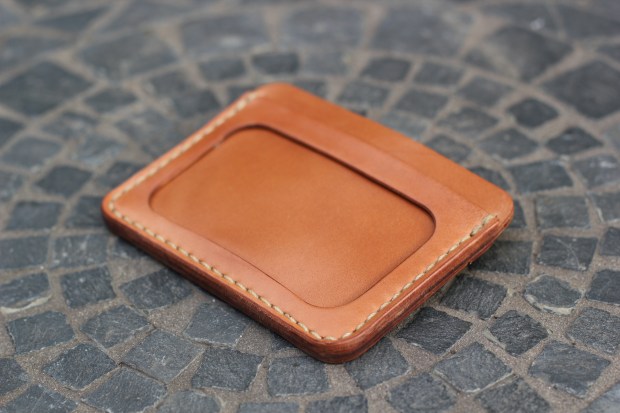 Your products are simple but manage to be playful at the same time. How did you come up with these designs? What was the thought behind the gentle wave-like card slots?
That's one thing that I really tried to figure out when I first started, figuring out the right amount of curve to put to the product. I messed around for many, many hours in Illustrator giving different amounts of curve. Ultimately, after I narrowed it down, I picked the one that is the most pleasing to the eye, while still making it easy to grab your cards.
With my products, I really am just looking for a balance between functionality and aesthetics.
What's your favorite product right now?
My favorite right now is the Bastion. It's got a lot of curves in it, but it's a minimalist design. It's the one I carry right now. It's my favorite in terms of aesthetics and function.
Why is it called Guarded Goods?
Well my last name, Ducommun, is Swiss-French, and the translation is "a person who held or guarded a common good." I thought it would be a cool tribute to my last name and applicable to wallets in general. You want something that will be able to protect your cash and credit cards.
Are you salivating over the thought of a custom-made wallet yet? This is your lucky day. Ducommun is offering $5 off any purchase over $20. Just use coupon code THEMANUAL5 at checkout.
Editors' Recommendations