We've talked before about Drake & Hutch, the socially conscious, upscale British clothing company
that is redefining men's basics like boxers and t-shirts. Well, they're at it again: not only are they offering an incredible line of socks, but they're also reinvigorating British manufacturing in the process.
You'd be forgiven for not knowing Manchester, England was once known as Cottonopolis. In the early 1900s, around 80% of the world's cotton went through Manchester, which was a major hub for manufacturing. But nowadays the old mills and factories are coffee shops and apartments. Since the 1950s, England's manufacturing has greatly declined, losing a lot of work to China. Pete McGuinness, founder of Drake & Hutch, who already made the choice to work only with ethical suppliers around the world, has now decided to help revive England's long, proud tradition of textile manufacturing.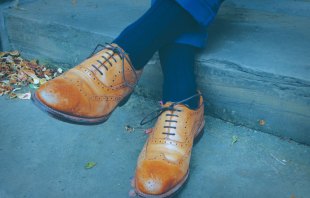 This ambitious new plan to create jobs in the United Kingdom and support local businesses starts with the humble sock. Drake & Hutch has taken the age-old favorite footwear and updated it with bold colors and classic patterns. Each chunky or fine-knit sock is made of mostly cotton (with a bit of nylon thrown in so you don't have to wear sock garters anymore– at least not until the Hipsters make them trendy), chosen because of its softness, sustainability, breathability, and dyability. The fabric's natural light coloring means the Drake & Hutch greens and oranges really pop. McGuinness is already planning to add a selection of made-in-Scotland hats, gloves, and scarves in the near future.
"Most of our suppliers are small family owned 3rd or 4th generation businesses," McGuinness says. "We work closely with them using our design capabilities and their expertise to create high quality wardrobe staples that are made to last, providing a little bit of affordable luxury you can enjoy everyday.
"Having regular contact with our suppliers means we know the clothing is being made ethically with fair wages supporting local communities." In the case of Drake & Hutch's new socks, McGuinness has partnered with one of the world's oldest sock mills that is still a family business 134 years later.
There is an exciting Indiegogo campaign to help make the plan a reality. While Drake & Hutch is a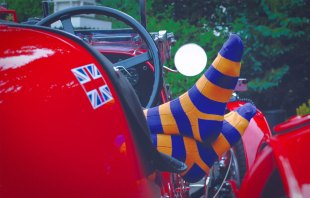 thriving online business with 15 stockists around the world, they're asking for a bit of help to jump start the new line. New companies rarely have a ton of free cash lying around. The company is looking for £2,000 (roughly $2,600 at the time of publication) which will go directly towards buying the stock and marketing the products, as well as helping them attend trade shows. The benefit of pledging money to the campaign (aside from boosting the economy) is the chance to pre-order, receiving steep discounts on the socks. And the first 500 pairs ordered will be guaranteed in time for Christmas.
Each pledge level offers different incentives. £5 will get you a £5 gift card to use on in their online store. £11 gets you a pair of the socks, which has a recommended price of £18, so you're already saving £7! Perhaps you're particularly jazzed about the resurgence of British-made clothing and pledge £32: well, sir, you've just gotten yourself 2 pairs of British-designed, British-made socks and a pair of Drake & Hutch's tailored Kensington boxer briefs. Hell, a mere £90 (roughly $120 at time of publication) gets you 10 pairs of these wonderfully comfortable, stylish English socks, which means you get to go more than a week before having to do laundry, which we can all agree is actually priceless.
Once again, Drake & Hutch is not only making you look damn good, but the company is also positively impacting the world around you.
Editors' Recommendations