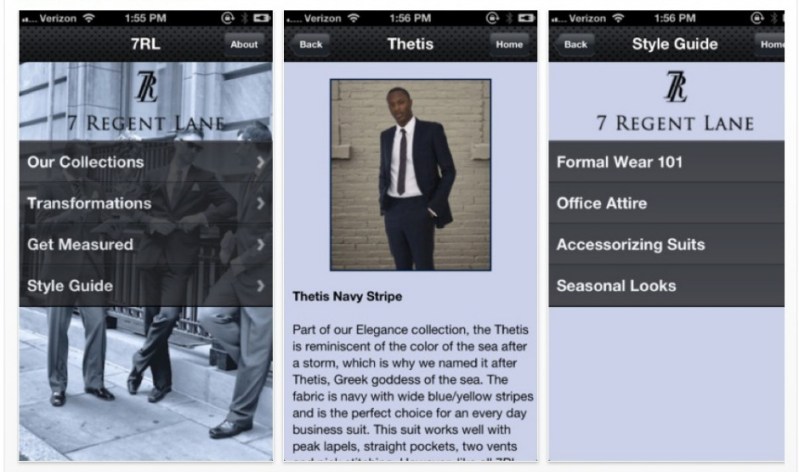 Have you ever wanted a bespoke suit from custom suit and shirt maker 7 Regent Lane, but weren't sure how to get your measurements? Now, with the 7RL app, you can learn how to do it on your iPhone or iPad. Not only does the app process your measurements so you can have a suit delivered to your home; it also acts as a personal stylist, by telling you how to look your best, depending on the occasion you're dressing for. The Manual asked 7RL's founder and CEO Karen Chung about the benefits of the new app.
Why did 7 Regent Lane decide it needed to have an app?
Two reasons: We realize that some of our clients are uncomfortable measuring themselves and would prefer to be measured by a professional. With their smart phone and our app, they can view our measurement videos at the tailor and enter the measurements via the phone. This then gets uploaded to our site. They can then work with us on the styling options at their leisure. The second reason: the app allows our clients who are interested in fashion to get style tips and understand how to look their best for each occasion. It keeps them abreast of current trends. They can also view our latest collection directly from the app.
What features does the app have that makes it easier to purchase a suit?
The videos demonstrate clear steps to get measured. They are incorporated seamlessly into the app. At the end of each video, you can enter the measurement below. You do not need a pen and paper to write down the measurements and re-enter again when you get home. The next version of the app will include some basic validation to flag any measurements entered are outside the normal range, serving as an additional check as you submit your measurements. The style guide and the section on the current trends allow you to choose the look you want — it is like having a style consultant with you. The transformation images show our clients how a well fitted custom suit can make a dramatic change to one's appearance.
How does it differ from working with a personal tailor?
It does not. It just augments the experience and makes it easy to enter the measurement data you get from your tailor by directly inputting it in the app. Each tailor has his or her own way of taking measurements. Since our perfect fit guarantee is based on a certain way of measuring the client, having the video is imperative when you are at the tailor. We intend to keep working the app to further add items that may be of interest to our clients — fashion suggestions for your specific body type, ability to have a live style consultation with 7RL.
For more information, visit 7regentlane.com.
Editors' Recommendations