As the world seems a little saturated with concept stores these days, we like to think we scour the globe in search of the really good ones, just for you. Here's a really good one. Goods launched in 2008 in one of Copenhagen's hippest neighbourhoods, Østerbro. Since then, founder Kasper Hostrup has been refining his basement store, which now boasts it own awesome collection. We caught up with Kasper to talk exciting brands and VW wheels.
I read that you launched during the financial crisis. You must be so proud of what you've built?
That's correct, it was not intentionally to start during, but it just snuck up on me like it did everybody else and the first couple of years was extremely tough. For the last couple of years business has been very good and looking back, I can say yes I'm proud.
Most of our readers are based in the US. How would you describe the store to them?
A personally curated selection of quality goods. But it is difficult to describe and that's why we just launched a new online site in December 2014 which contains some new content oriented features. We do Q&A's with founders and designers of the brands we work with, our own Neighbourhood guide to our area of Østerbro in Copenhagen and Customer portraits. We do this for all our online customers so that they get a better understanding of who we are and what we represent as a store. The new Spring/Summer collections and content will be online as of next week.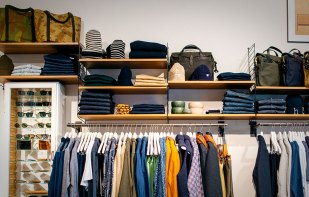 What boxes do brands need to tick for you to stock them in store?
Design and quality are key, none without the other. I also like to see consistency in the collection as we are a quality menswear store not a fashion store.
Are there any brands you're particularly excited about right now?
Besides Capital Goods, the two newcommers this season which both represent design and quality, but are very different – Italian brand Incotex which is part of the Slowear group and Stone Island´s Shadow Project collection.
Tell us about Capital Goods.
Capital Goods is my own brand which I make with my two partners and co-owners Hannes Wellander and Jakob Pedersen. Capital Goods is essentially an offspring of the store – We are making everything we consider to be essential and not available on the market today.
What essentials should every guy own?
A great pair of white leather tennis shoes, khaki chino´s, seersucker shirt, light nylon car coat and a white polo shirt.
What's on your shopping list for Summer?
New tyre's for my 1962 VW Beetle – great wine and food – ceramics from our own collaboration with a female basque Artisan named Idoia.
Editors' Recommendations