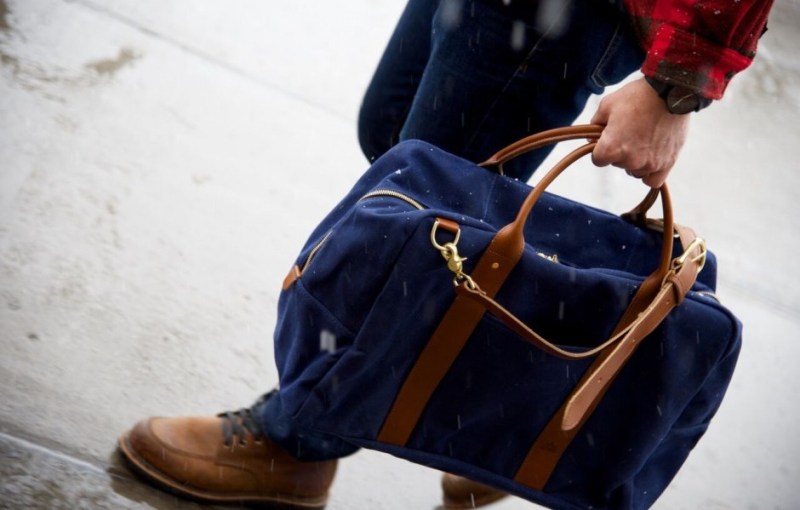 When you purchase a new bag, how long do you expect to have it? A year? A decade? A lifetime? Amōs, a Colorado-based maker of leather goods, strives to create items that last forever, and they've recently joined forces with Alpine Modern craft some truly special products.
Alpine Modern, like Amōs, is dedicated to outfitting gentlemen adventurers, be they mountaineers, city dwellers, or world explorers. This and their commitment to durable leather goods makes the two companies ideal partners.
Related: Buy It Once, Have It Forever: The Big List of Brands With Lifetime Warranties
Last month, Amōs merged with Alpine Modern and released a new line of slick leather goods. The centerpiece of the new Alpine Modern line is an overnight bag made of vegetable-tanned leather and waxed duck canvas. These handsome and durable bags come in tan, olive, and navy. Other items in the Alpine Modern line include leather coffee sleeves, leather belts, leather bracelets, and t-shirts (NOT leather, thankfully). And oh yeah, all their products are sourced and constructed here in the U.S.
Kyle Bardouche, Founder of Amōs and Product Development Director of Alpine Modern, was kind enough to answer a few questions about the Amōs-Alpine Modern merger and their new products.
In what ways are Alpine and Amōs a good fit?
Alpine and Amōs are perfectly paired like leather and canvas are perfectly paired. Alpine and Amos both had the same visions and dreams of designing timeless, durable goods that will withstand the elements and last for many years.
What do you expect to come out of this merger? What will you be able to do that you couldn't before? In other words, where will you go next?
I'm beyond stoked about the merger. We are able to be apart of something much larger that we really believe in. By larger, I mean AM is a full lifestyle/inspiration brand, which is where I wanted to go with Amōs. AM started as a design/travel/food/inspiration quarterly magazine and after much success of the first issue, Lon McGowan (founder of AM), knew he wanted to do so much more. Our products are designed to be functional, timeless, and durable all with a minimalist aesthetic. All of these qualities really embody what we strive for at AM. Our #wherewillwegonext campaign has been a great success and we love following our customers on their journey through life. We hope to inspire people to get out and live their lives to the fullest.
Are the new Alpine Modern bags meant for gentleman adventurers, like the Amōs bags? What improvements/adjustments have you made? Where
is the leather sourced?
Our goods are intended for the adventure we call life. We see an adventure as a trip up in the mountains, a last-minute road trip, or a weekend getaway. There's always an adventure out there and we want to make your travel experience easier. We leave out all the bulkiness and extra pockets and only include what's necessary. We made vast improvements from the Amōs to Alpine. Our Amōs goods were made in Hong Kong. We not only brought production back to the US, but all our materials and hardware are from the US now as well. We are proud to partner with a workshop in L.A. that manufacturers our pieces. We are using the best waxed canvas in the world and our leathers come from one of the finest tanneries in the US.
Anything else you'd like our readers to know about the merger or your new products?
Our products are designed, the materials are sourced, and our products made all proudly right here in the USA. We have a workshop in Los Angeles, where all our ideas come together. Our leather goods are crafted by 3rd generation leather makers with a superb attention to detail. We are obsessed with the leathers and hardware we choose, all the way down to the different stitching styles.
We also offer a limited lifetime warranty. If your bag or other accessory fails, we'll repair it or send you a replacement free of charge.
We are really stoked on the partnership and we are all just getting started. We have so many goods we will be releasing over the next few weeks and throughout the summer.
Visit Alpine Modern's website for more information or to make a purchase.
Editors' Recommendations