In keeping with their mission to be the go-to brand for casual luxury clothing, Abercrombie & Fitch recently launched two new menswear lines, the Sport and Lounge collections, which feature stylish, no-frills options for everyday wear.
Related: Dog Days: How to Dress for the Hottest Months of Summer
These lines are a far cry from the sweat pants and polo shirts of the brand's early 2000s aesthetic. Here, the clothing is understated and timeless with clean lines in muted hues.
When asked about what inspired the design of the Sport collection, Aaron Levine, Head of Men's Design for Abercrombie & Fitch, hearkened back to the brand's rugged early roots.
"When we were designing the Sport collection, we were looking at these dirt-bag rock climbers tackling Yosemite in the 50s, 60s, and 70s," he began.
"Nothing was flashy, everything they wore was easy and functional," he continued. "We loved the natural color palette that Yosemite itself provided…so we just looked at the colors nature gave us and coupled that with the attitude of those climbers."
This attitude manifests itself in a collection of tank-tops ($24), short-sleeve shirts ($28), long-sleeve shirts ($34), shorts ($48) and jogger pants ($68) constructed with breathable stretch fabrics, mesh panels and active zipper details in olives, maroons, grays and blues.
Though the materials are technically beneficial (they move and wick sweat well), they're not slick or sheeny, so they look and feel fashion-forward.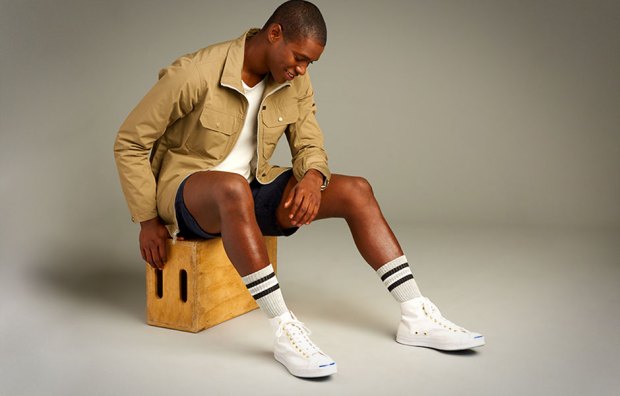 For the Lounge collection, Levine said designers were inspired by the idea of the  "ultimate loafer" who wants clothing that "will take [them] seamlessly from the sofa to the fridge and back again in style."
"We had experts tirelessly nap and eat in their homes on the weekends," he continued. "They reported back to us whether they felt the fabrics were soft and comfortable enough."
"If their loafing was in any way prohibited or restricted by our materials or the cut of these pieces," he concluded, "back to the drawing board we went."
This attention to detail produced a line of shorts ($24),  sweatshirts ($60) and sweatpants ($68) that are as comfortable as they are practical. The pieces come in soft neutral tones, which are complimented by the lush textures of French terry cloth, flannels and sub knits.
Like the pieces in the Sport collection, the lounge wear is built to move with its wearer as if it were a part of the customer himself.
Check out both collections, here.
Editors' Recommendations