A few (ok, more than a few) years back when I bought my first motorcycle, one of the pre-requisites was the ability to ride long distance in relative comfort, because ever since I was a wee lad, the prospect of seeing the world by bike was something I knew I wanted to do.
So when the day came at age 18, I saddled up my trusty Honda and headed for a campout at the coast, about 120 miles distant. Small steps, right? That first trip was an education (forgot a sleeping pad, toothbrush, aspirin, food, water, etc.), and as time went on, my rides got ever longer and my moto touring savvy deepened.
I never mounted an epic 'round-the-world tour like this guy did but I certainly did – and still do – a fair amount of  distance riding. Just like I imagined as a child and beginning rider, there is no better way to see the world than on two wheels. You're involved with every aspect of the journey instead of being just some passenger in a super-safe box thumbing the cruise control up and down.
And as time went on, the bikes I toured on got ever more simple and rudimentary. Yes, I've owned a Honda Goldwing, but today I see the sights on a single-cylinder dual-sport 650 Suzuki. Downsizing (sort of – it's a pretty big rig) has also forced me to simplify my packing, but really, figuring out where to put your toothbrush (and sleeping pad) is just one small aspect of mounting a long-distance moto adventure.
Here are the top 5 things I've learned from riding over 250,000 miles on two wheels.
1. Plan ahead, pack ahead.
You can take two kinds of trips: the focused kind where you have a destination to reach, or the open ended kind where you are only limited by time. Either way, plan your ride. Make a list of every single thing you think you will need and do a dry run packing it on your bike – and not the night before you leave. You will likely find that not everything will fit (depending on your bike) so keep this in mind: keep it simple. Maybe leave the laptop behind? Most things can be done on a modern smartphone now. Then start to cull the load. Can you stop to eat or do you need to pack food? Also, look into getting gear specific to bike touring: if camping, get a small tent/bivie, inflatable pad, folding stove and so on. Keep it all as simple and small as possible.
2. Get the bike ready
Loading up your bike will negatively affect handling, so pack carefully and make changes to the bike to compensate if possible. Pack heavy items down low in your panniers or saddlebags in order to keep your bike from being top heavy, which can make handling in a corner dicey. Distribute the weight evenly side to side. Adjust shock preload if possible for the load. Check tire pressure for the load as well. Oil your chain, maybe even change your oil before departing and if it's a really long trip, maybe pack a quart of oil with you just in case. During the ride, check the oil on level ground after each day of riding. And how's the battery? Check gravity and corrosion on the terminals prior to departure and replace if necessary. Proper prep will give you peace of mind, but do keep checking things out after each day of riding.
3. Know your route.
This isn't as simple as it sounds. Back in the day, I highlighted a paper map and, yep, taped it to my tank with that blue painter's tape. Not pretty, but it worked. Today, like most riders, I use a nice GPS that mounts to my handlebars. Others use their smartyphone in a mount, simplifying things further. Even with all this modern tech, I pre-route my rides and I also have alternate routes planned as well. I tend to choose back roads and scenic routes and stay away from crowded highways, but sometimes they can't be avoided (but usually they can). Research your trip – what cool places can you visit along the ride to your destination? Add them to your adventure. And I usually carry a folded-up paper map as well, just in case.
4. Bring the right riding gear.
For most riders, the bare minimum they bring in terms of clothes is their regular riding gear (boots, jacket, pants, gloves) – and rain gear. Think it won't rain? I suppose that's the case in some places, but here in the Northwest, I pack rain gear if I'm going across town, let alone across the state. There's nothing much worse than riding while soaking wet, and it's dangerous to boot. You can be affected by hypothermia and I'll just warn you, wearing wet gear on a bike at speed is not fun. It sucks. Get rain gear. Bring it with you on every long ride. It can usually fold or roll up into a very small space, even under your seat, and it should be item No. 1 on your packing list. After that, be sure to bring some undies, dry socks and I know many riders who wear bicycling shorts under their gear to help ward off butt pain from hours in the saddle. I promise not to tell anyone.
5. Know your limits
I love to ride all day, but even I get fatigued after a while. The longest distance I've ridden in one day was 877 miles, and the last 200 miles were borderline torture. I had to make it to a party and by the time I arrived, my ass hurt like mad, I was dead tired, my ears were ringing from the wind noise (add foam ear plugs to your packing list, trust me) and I was in no mood to be social. That's no way to end a day of riding. For some riders, 500 miles is a full day. For others, it's a bit less or more, but most people I've talked to on a ride feel 500 is plenty. Along the way, especially when stopping for gas, walk around a bit, drink water (don't drink soda, energy drinks or "hydration" drinks, none of them will hydrate you) and stretch those glutes with some squats and stretches. Take a break, maybe even a short nap. What's the hurry, anyway?
Every trip is different, depending on your bike, route, accommodations (if any) and the weather. Plan carefully and you'll have a great time. Here a short list of some of the things I always bring on a ride that you might not think of:
Gel seat cover (extends your butt's maximum range).
In-ear headphones with noise cancellation. Small, light, and they beat singing to yourself in your helmet.
Multitool, like a Leatherman or Gerber. Because your bike's tool kit is most likely made of melted Ding Dong wrappers, if there is one at all. And don't be afraid to pack a few extra essential tools, like a socket wrench and a few sockets.
Portable air compressor and flat kit. They are so small and effective now there's almost no excuse not to bring one and it can save your – or someone else's – bacon out in the middle of nowhere.
Headlamp – essential for camping or that roadside repair job. Pack extra batteries too. Leaves your hands free and it's tiny.
CB and/or FRS radio. If you're heading out to parts unknown and/or parts not covered with cell service, dialing up some help may require some old-skool tech. Channel 9 on each device is the emergency channel. Brush up on some lingo first.
Ride safe and have a great time!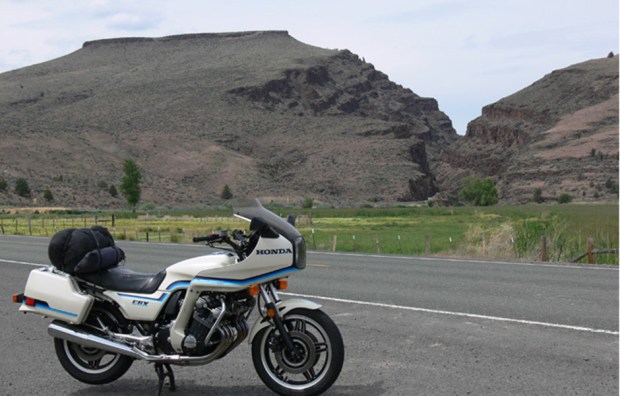 All photos by Bill Roberson
Editors' Recommendations