It's summer in the US and that means one thing: road trips.
Once July rolls around, most Americans are itching to hit the road and leave our day jobs in the dust.  But, how often do we stop to think about the system of roads, bridges, tunnels and rest areas that make up the world's 2nd largest road system?
Photographer Ryan Ford has—a lot.
In her debut photography book (supported by backers from Kickstarter), The Last Stop: Vanishing Rest Stops of the American Road Side, Ford focuses her eye and lens on the now vintage regional architecture of rest areas built in the middle part of the 20th century.  Found all over the western portions of the country, from salt flats to fields, these rest stops are more than vital places of respite among the seemingly endless highways; they're windows into a disappearing era; a world where aesthetics, practicality, and grand visions coexisted to form a national project nearly unrivaled since.
We caught up with Ford during a recent road trip to ask her about the gorgeous photos in her new book, her inspiration, and her road trip travel-style.
This all started when you took a trip down Route 66 while moving from LA to Austin.  Had you been a road-tripper before then? Did your family do that as a child? I remember as a kid being strapped into a car and driven hundreds of miles along the eastern seaboard, absorbing everything from the backseat and, yes, stopping at a few little picnic places along the way. Did you have a similar experience?
I think I've loved road trips for as long as I can remember.  When we were kids, my parents had a truck with a camper shell, and my dad would lay a bunch of blankets back there making it like a big bed – we thought that was pretty fun.  During high school, we lived in the snowy mountains of Southern California, and I hated the cold and snow. I would beg my parents to go on a day trip to Palm Springs (a couple hours away) to soak up some sun.  It was during this time that I fell in love with the desert and then later on, the Southwest.  A lot of people assume that I chose to do this project because of my nostalgic memories from my childhood, but honestly, I don't really have many memories of visiting rest stops as a kid.  I was mostly drawn to the project just visually.
I think it's so great that you included the longitude and latitude of the locations.  Did this have more to do with the preservative aspect of the work or was there something more to the mapping? Was your intent to put these places on the map to instigate a sort of modern day pilgrimage to these beautiful mid-century masterpieces sort of like the Mojave Phone Booth phenomenon? Do you fear publicizing these places might make these rare locations more prone to the type of vandalism that led to the tear-down of the Flower Mounds, TX site? Or do you believe your work will prompt future preservation?
When I started the project back in 2008, it was before I had an iPhone, but I had a Garmin GPS.  At the time, I had no idea that project would end up as a book, but I knew I wanted it to be a photo series, and I needed a quick way to remember where the stop was, as I knew the title should be the location. I didn't want to take the time to find it on a map and make a note, so I discovered that you could save locations in the Garmin, and started doing that.  When I got home, you could plug the Garmin into the computer and it would download all of your locations into a spreadsheet that you could then plot on a map.  It was really cool to see all where we had been.  I am so thankful that I kept track of all the stops over the years, or the book may not have been possible.
When we were designing the book, I thought it would be fun to include the coordinates, that way readers could navigate directly to the stop and see it for themselves. When you stumble upon a really amazing location, it is sometimes risky to post it online or on Instagram, as I do think the popularity of a lot of great places has caused them to decline or be closed.  I saw a lot of that happening in California.
I think in the case of the rest stops, however, that the publicity could help with them being preserved.  (Thats so funny that you mention the Mojave Phone Booth – I was obsessed with it during high school and college. I never did get to visit it before it was torn down, but I recreated a photo of it in a Photoshop class I took in college!)
Related: Garmin DriveLuxe 50 GPS Review
The Manual loves a good road trip.  What kind of tips or tricks did you pick up during your travels crisscrossing the country? 
Priceline Express Deals were a lifesaver – we were usually able to save about 50% each night if we didn't care what hotel we stayed at. That saved us a good chunk of cash on the road.
We also tried not to eat at chain restaurants to be able to get a taste of the local flavor of each town we passed through.  That made the trips a lot more spontaneous and fun.
Technology has really helped us out on the road over the years – at the start of the project I was using a paper map and navigating to each spot that had a little picnic table icon, indicating that there was a rest stop there.  So many times we would get there and it would be gone or didn't exist, even using a brand new map.  A couple years into the project we discovered Google Earth and Google Maps and were able to view the location before we got there to see if a rest stop existed there.  That can be a double edged sword, however – seeing the place ahead of time did take away some of the fun and mystery of what was ahead. I think I do prefer traveling with good old paper maps over GPS, it helps add to the adventure.
Other than hotels, where did you stay while on the road? Did you do any camping? What was that experience like and do you have a favorite camping item? 
When I started the project (7 years ago!), I was just starting out as a photographer and funds were tight, so we tried to camp as often as we could.  It was my mom and I during the first three years of the project and we would usually camp two nights, then do a hotel every third night to be able to sleep in a bed and take a shower.
Since we were in the southwest during the summer, it was usually really hot, so we tried to camp at higher elevations for the little relief.  I'd have to say my favorite camping gadget was my mom!  She was a lifesaver.  She used to be a chef, so she takes camp food very seriously.  I'd be exhausted from shooting in the heat all day, and she'd whip up amazing dinners once we got to camp (and wine, of course!).
What's your favorite road trip accessory or gadget—something you couldn't live without (other than a GPS/Phone)?
Eek, this is a hard one.  I'm pretty basic, and don't need a lot of stuff.  How about good company?  Like I said, my mom was an amazing road trip buddy the first three years, and after that, my fiancé started coming along on the trips.  I do love to road trip alone sometimes, but I much prefer experiencing amazing places with someone fun.
What type of a vehicle(s) did you drive during the road trip?  And do you have a road trip dream car? I've always loved VWs and over the seven years of the project, I drove two trusty Jettas—a 2002 and a 2009 Diesel.  The diesel's MPGs were great for road tripping – you could drive longer distances between fill-ups and save a lot of money.  I actually just bought my dream road trip vehicle, a VW Touareg, TDI, also a diesel.  It gets great gas mileage for an SUV and we love to sleep in the back and open the panoramic sunroof when we camp and gaze up at the stars.  It can go a lot more places than the Jettas could, off-road-wise!
Related: The Next Generation Touareg
What type of camera and lenses did you use for the photos? We'd love to know your thoughts on what you're working with.
I shot the whole book with the same camera, lens and film type.
Camera: Mamiya RZ67 Professional II
Lens : 50mm
Film: Kodak Portra 160
I did some testing before starting the project and wasn't happy with the results coming from my digital camera, so decided to shoot the same rest stop again, this time with film – what a difference.  Since the picnic table sometimes is shaded, and the landscape is in the sun, film is great since it had a greater dynamic range than my digital camera at the time.  The tonal range couldn't be beat, either, it was just perfect for the project.
In that same vein, do you have any tips for shooting great landscapes? 
Flat light, or that time just before sunrise or just after sunset is foolproof.  A lot of photographers would say flat light is boring, but that is one of my favorite times to shoot.
You seem to have a talent and knack for capturing the vast expanses of the American West—did the landscape itself affect how you photographed? I am most drawn to minimalist landscapes, or wide open spaces.  Shooting the book, I tended to avoid landscapes with a lot of brush or trees, and tried to find the simplest landscapes.  I just love the look of the vintage little picnic table and shelter set out on a beautiful, clean landscape.
Tell me more about the photo of the rancher with the bull in Fort Stockton, Texas.  This is the only photograph in the book that features a human being or animal. The rest tend to be devoid of people. What was it about this location and this particular rancher and bull that prompted you to deviate from the generally life-less aesthetic of the rest of the book?
We were headed home from Marfa, Texas, having just spent a few days there with friends, celebrating New Year's, 2010. I spotted a rest stop and decided to pull over and shoot it, since I had just started work on The Last Stop project.
I pulled my camera bag and tripod out of the trunk and got set up. I shot with a Mamiya RZ (a film camera, with a waist-level viewfinder) so I was bent over, looking down into the camera, pretty oblivious to my surroundings. After framing the shot, I looked up and saw a truck and horse trailer pull in, and noticed that the entire truck and trailer were completely covered in a University of Texas vehicle wrap. At this point, I was still pretty new to Texas, having just moved from California a couple years or so prior. I snickered to myself, thinking, "Those are some hardcore fans, haha." I quickly put them out of my mind and went back to framing up my shot.
As I'm looked down into my camera, I saw some movement, and looked up. There in front of my lens were two men, walking a longhorn around the rest stop. Yes, you read that right: a longhorn—as in the cattle breed. I couldn't believe what I was seeing and my friend and I turned to each other, mouthing "what the…" and then went back to staring at what was happening in front of us.
After about 30 seconds of us standing there in silence with our mouths open, it suddenly hit my friend what was happening. I was still clueless. "Oh my gosh, that's Bevo!"
"Who is Bevo?" I asked.
"He's the University of Texas mascot!"
"Really?" I replied back.
My friend then put two and two together, realizing that they must be coming back from playing in the Rose Bowl, in Pasadena.
At about the same time, we realized that we had to take advantage of this strange but amazing situation we were in, and get Bevo in a photo! We argued back and forth for a few seconds about how to make this happen, and before I knew it, I was walking up to his two handlers, and this massive animal with horns as long as a car, and the words that came out of my mouth were, "Can I take a picture of your cow?" They stared at me, speechless at my idiocy, and after a few awkward seconds, just mumbled, "Sure."
So I ran back to my camera, quickly directed them to move a little to the right, and snapped a few frames. And just like that, they kept walking, loaded Bevo back in the trailer, and were off.
My friend and I just stared at each other, and then burst out laughing. The whole situation was just so hilarious!
Sadly, just a few months ago, at about the time we were finishing up the design on the book, Bevo contracted bovine leukemia and passed away. After hearing of his passing, we made a couple of changes to the design of the book, moving the photo I took of Bevo to the last page, as a memorial to him. Running into him in the middle of West Texas, just the five of us, was definitely one of the most memorable experiences of the project.
Will this be a project you continue to pursue moving forward or have you closed the book on your rest stop road trips? I think time will tell!  For now, I think the book may be closed, but I may continue to photograph them as I stumble upon them, and who knows where that could lead.  I've also received some interesting tips about rest stops abroad. Who knows? That could be an interesting follow up!
I'd Love to see that. Thanks so much, Ryann.
Thank you!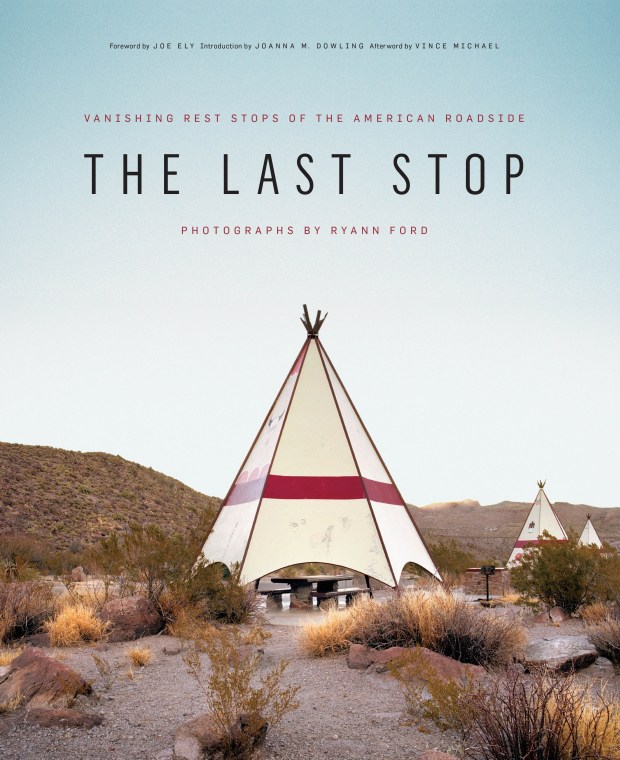 All images from The Last Stop by Ryann Ford, published by powerHouse Books.
Editors' Recommendations