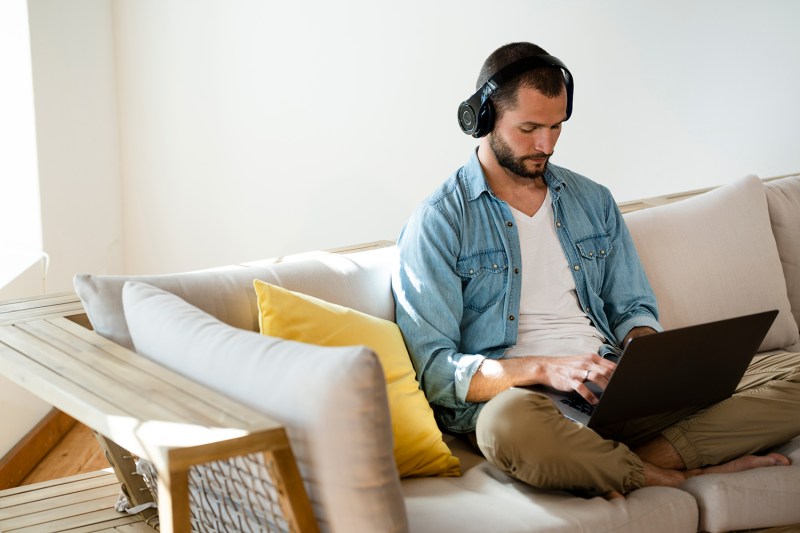 Finding a good podcast can be a bit like finding a great vinyl record at the music store. In other words, there are so many good options it can be dizzying and daunting. Worry not, we've engineered a great list of some of the most engaging podcasts out there, worthy of your time and attention.
Interested in a good music podcast? By all means, take that deep dive into Dolly Parton land. Love a true crime podcast? Great, get cozy and be prepared to be a little startled. Here, we're looking at the best overall podcasts that are equal parts engaging and insightful. That could mean one hosted by a great conversationalist like Marc Maron or even one that spotlights individual trees.
Make sure you have a great pair of earbuds or headphones, charge up that phone, and dive into the following — the best podcasts to listen to.
WTF
Marc Maron is made for the podcast. Sure, he attracts some top-notch guests, but he also manages to have some genuinely interesting and immersive conversations with stars. Best, he seems to do it effortlessly, in an unscripted fashion that's surprisingly revealing and comes off as more of an engrossing chat you'd have at the bar than a one-on-one in the studio.
Rabbit Hole
Easily bingeable, Rabbit Hole takes a look into how the internet affects our lives and our politics every day and how we got here. Unparalleled in its research and production, The New York Times' eight-part series is haunting at times, but the story it's telling about how we interact with the internet is profound and hard to forget. Well worth your time.
Lolita Podcast
Jaime Loftus's podcast series are always deeply researched and often very personal. Lolita Podcast looks into Nabokov's classic and controversial novel, but then it looks into how Lolita persists in our popular culture, in ways both good and bad. Righteous and alive, Lolita Podcast is definitely one of the best new podcasts for you to check out this year.
Startup
Startup is Gimlet Media's CEO Alex Blumberg's take on the successes and pitfalls of running his media company. Having sold to Spotify a few years ago, this show looks at the intersection of art and money and how one values each. That value changes, you find out, when you have your employees' fates in your hands.
Armchair Expert
Hosted by Dax Shepard, this podcast gets you close and personal with some of your favorite actors, musicians, athletes, and more. It started focusing mostly on Hollywood types but has since expanded to incorporate all kinds of intriguing guests, from GOAT surfer Kelly Slater to Shania Twain.
Slow Burn
From Slate, Slow Burn takes on a new subject every season — topics like Watergate, the rise of David Duke, and even the tense feud of the '90s between Tupac and Notorious B.I.G. Its newest season is all about what abortion rights in America looked like prior to Roe v. Wade. Slow Burn's ability to present a comprehensive narrative combined with compelling personal histories is completely addictive.
The Right Time
The Right Time is the smartest sports podcast available today. Bomani Jones covers every aspect of athletics in a way that no other sports journalist can. ESPN is taking notice, too, upping the drops from twice a week to three times just this year. Any time is the right time to listen to more Bomani Jones.
Still Processing
If you want a deep and intelligent discussion about your cultural interests, you should be sure to keep Still Processing in your podcast rotation as well. Jenna Wortham and Wesley Morris add meaningful perspective to ongoing important conversations regarding movies, music, politics, and more. This season, Wortham is off on book leave, but Morris has returned with an all-star lineup of guests.
NYT Popcast
The New York Times also has one of the smartest and most fun music discussions on the podcast market. Journeyman journalist Jon Caramanica has been covering pop music and hip-hop like no one else for decades now, and as much as he is an expert, every episode includes music-writing guests with even deeper expertise on each artist and subject. I'm a longtime fan of Popcast and can't recommend it enough.
Everything Is Alive
An "unscripted interview show," Everything is Alive is an interesting take on exploring the world. How so? In each episode, an interviewee is an inanimate object telling its life story. Ever wanted to hear how a bar of soap feels? What about an elevator? Think of this as that part of Fight Club concerning Jack's organs, except you're not part of Project Mayhem or burning your and other people's hands with lye. As far as storytelling podcasts go, Everything is Alive managed to find a unique premise and use it to become one of the best podcasts in the category.
The Daily
The Daily is a daily news podcast that drops every weekday morning at 6 a.m. and features recent reporting from New York Times journalists. Hosted by journalists Michael Barbaro and Sabrina Tavernise, the episodes feature interviews with Times journalists and tend to run about a half-hour in total. If you want audio updates on the latest breaking stories, this is a great podcast to listen to in the morning.
Bodega Boys
This is a podcast from Bronx natives Desus Nice and The Kid Mero, aka the Bodega Boys. You might have seen them on the Complex TV web series Desus vs. Mero or on the late-night talk show on Viceland, Desus & Mero. Since 2015, the duo has been bringing their raw comedic takes on all things pop culture. If you need a laugh, tune in and become part of their Bodega Hive.
Stuff You Should Know
You should know more stuff. Luckily for you, there's an easy way to do that. Stuff You Should Know has a crazy back catalog that only continues to expand, and covers a wide range of fascinating topics. It certainly has a bundle of episodes you're already interested in, but the special thing about Stuff You Should Know is how often the episodes spark new interests. With the help of Stuff You Should Know, you can find your new obsession.
This American Life
This should be on every Best Podcast list every year. This American Life's decades-long run as a radio show and podcast showcasing the eccentric and mundane from across the country is a true pioneer in what to expect from any good podcast. The gold standard in audio storytelling, This American Life should remain in every rotation of quality podcasts.
Start With This
Start With This is not just a regular podcast; it also serves as a playground for creativity. The hosts, Jeffrey Cranor and Joseph Fink (creators of Welcome to Night Vale) focus on a topic in each episode and end it with two assignments — something to create and something to consume. Overall, the show is designed to encourage listeners to think about, talk about, and make art.
Every Little Thing
Do you have a nagging question that googling just won't answer? Try calling into Every Little Thing. No, seriously. Call them at 833-RING-ELT, and they just might answer in their podcast. "Why do we cry?" "Why do punches sound like that on TV?" It's only the important questions on Every Little Thing, and maybe your question is next.
You're Wrong About
If you want to learn even more, You're Wrong About sheds new light on subjects you think you already know. With the speed at which news and culture move, it's so easy for things to get oversimplified. Luckily, the hosts of YWA use their journalistic skills to look into how our collective understandings may be mistaken. Some episodes are one-offs, and some installments in a series — regardless, You're Wrong About is definitely one of the best podcasts on the market.
99% Invisible
In what originally began as a podcast about architecture, 99% Invisible is really about design, and design is everywhere. Design is responsible for your street, your house or apartment, how you dress — it's responsible for how this website is set up. With that in mind, 99% Invisible takes a closer look at all the aspects of design that we fail to notice.
The Dropout
If you follow the news you probably heard about Elizabeth Holmes and her company Theranos. If you haven't, here's the quick version: a young college dropout starts a promising blood-testing company that is projected to make $990 million dollars in 2016. Even Joe Biden is on board at one point. And then, the company comes under criticism. There are accusations. The Dropout is about the fine line between faking-it-until-you-make-it and fraud, and what it takes to be a CEO, and a female CET in particular. It's about tech culture and dreaming big, and the characters in it — though you probably won't like them — are fascinating.
Smartless
Jason Bateman, Sean Hayes, and Will Arnett take turns bringing on guests and talking with them. It's a pretty simple concept, but the trio is funny and has great banter. Guests include Kamala Harris, Adam Sandler, Paul McCartney, and others.
Completely Arbortrary
Made by Casey Clapp and Alex Crowson, Completely Arbortrary is a podcast about trees. Casey is an arborist, Alex is not, and on each episode, they profile a different tree. While this may not sound thrilling at first, the two have a really fun dynamic, and you walk away having learned something interesting. If you're into the outdoors, especially if you live in the Pacific Northwest, this is a great podcast.
Renegades: Born in the USA
Apparently, Barack Obama and Bruce Springsteen are friends. In Renegades: Born in the USA, the two sit down for eight episodes to discuss a number of topics. Among them: Race, masculinity, fatherhood, money, and music. Casual and conversational, you'll enjoy listening to these guys sitting around talking. These really famous (and insightful) guys.
Even more great podcasts to binge
The great thing about podcasts is that you can never really run out of things to listen to. There are so many different podcasts, covering a wide variety of categories, that your next great listen is just a click away. While we've already listed the podcasts that we think are among the best, here are some others that are also worth your time.
Editors' Recommendations