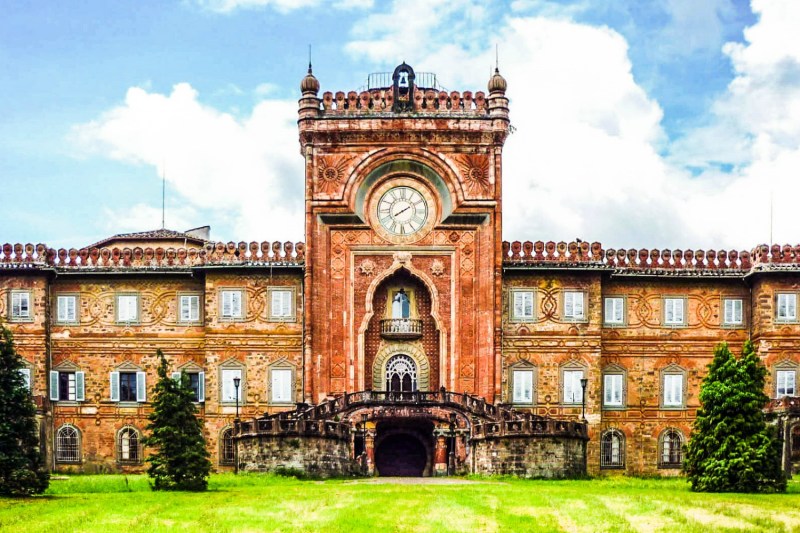 It's a buyer's market out there and now is a great time to invest in a new house. If you've been thinking of upgrading your pad to something a little more spacious, why not pull out all the stops and go big. Really big. Like a 365-room castle set on a 58,448 square-foot property in the heart of Tuscany big. Add on your own private, centuries-old 65-acre park and Sammezzano Castle seems like a steal at the asking price of $18.5 million.
Sammezzano Castle has a storied history with an equally unique style. The property dates back to ancient Roman times (it's also reported Charlemagne spent time there in 780), but it was a head-to-toe makeover in the late 17th Century that gave the castle its one-of-a-kind style.
Owned by the Medici family during the Italian Renaissance, Sammezzano Castle was acquired by a Spanish nobleman sometime in the 1600s. His love of Moorish design led him to give the castle a complete overhaul, decking it out in stunning mosaics, horseshoe arches, and intricately tiled flooring. Throughout the three-story castle, hints of the Italian Renaissance influence can still be seen, though blended with the Moorish style. In the 1800s the castle changed hands again, receiving an "Orientalist" treatment on the façade that was popular at the time. The layering of styles has led to Sammezzano Castle being declared one of the most important examples of Moorish Orientalism architecture in all of Italy.
After changing hands a few more times, the Sammezzano Castle became a hotel in the 1970s, was abandoned in the '90s, and more recently was used as a set for movies. Now it is up for sale for anyone looking to add their own mark to this famous Italian landmark.
Located in the town of Reggello, the castle sits among an outdoor park as impressive as its colorful interior. The park features one of the largest groups of sequoias in all of Italy (57 in total), including a massive 164' tall specimen. The tree, known as Sequoia Gemella, is estimated to be between 150 and 200 years old.
If all of this has you ready to pack your bags and head to Italy to become the King of Sammezzo, it's not exactly the picture-perfect castle of fairy-tales. There is the small issue of the castle lacking heat. And just how do you go about furnishing 365 rooms anyway?
Realistically, we would love to see the Sammezzano Castle turned back into an amazing hotel. Unrealistically, we want to see someone buy the castle, declare themselves King of Sammezzano, and host lavish, Great Gatsby-esque parties every weekend (with The Manual staff on the guest list, naturally).
If you're like most of us, you don't even come close to being able to afford your own castle. Instead, live like royalty for at least a night in one of these four cool castle hotels.
Editors' Recommendations