If you thought the Fresh Prince had some sweet digs when he relocated from West Philly to Bel Air, you ain't seen nothing yet. Unica puts all other homes in the exclusive neighborhood to shame. Now it's on the market and one lucky buyer will get to live life as the unofficial king.
The newly constructed Unica was designed to outshine all of the other homes in the prominent East Gate Bel Air neighborhood in Los Angeles, California. Every luxury amenity that can be packed into one home is found at this extravagant retreat. A gated drive winds its way up to the grand entrance which features a 30-foot tall black basalt waterfall and is protected by "porte cochere." There is also an option to park your luxury ride in the 20-stall auto gallery.
Everywhere you turn, Unica speaks to high-end living. Contemporary Spanish mission meets white-on-white minimalism for an ultra sleek design worthy of the $100 million price tag. Black accents add sharp contrast to the white walls while gentle archways complement the strong lines of the furnishings. No expense was spared by developers Ty Cueva & Dean Hallo. The black marble for the kitchen was shipped in from Italy, appliances are La Cornue, the lighting is Circadian Rhythm, and the wine cellar holds up to 1,200 bottles, while the tasting room boasts its own fireplace.
Luxury homes like this always seem to come with the same lavish amenities and Unica is no exception, however even these are over the top. The outdoor swimming pool isn't just any old pool. It offers views of LA from underneath the water thanks to a glass wall. There is an indoor basketball court with an NBA-regulation 3-point line. Want to host your own soiree rather than a pickup game? No problem — the basketball court converts to a full ballroom complete with Samsung wall video board. In the mood for a movie? You'll have to choose between the indoor theater that seats 36, or the outside video board located next to the pool.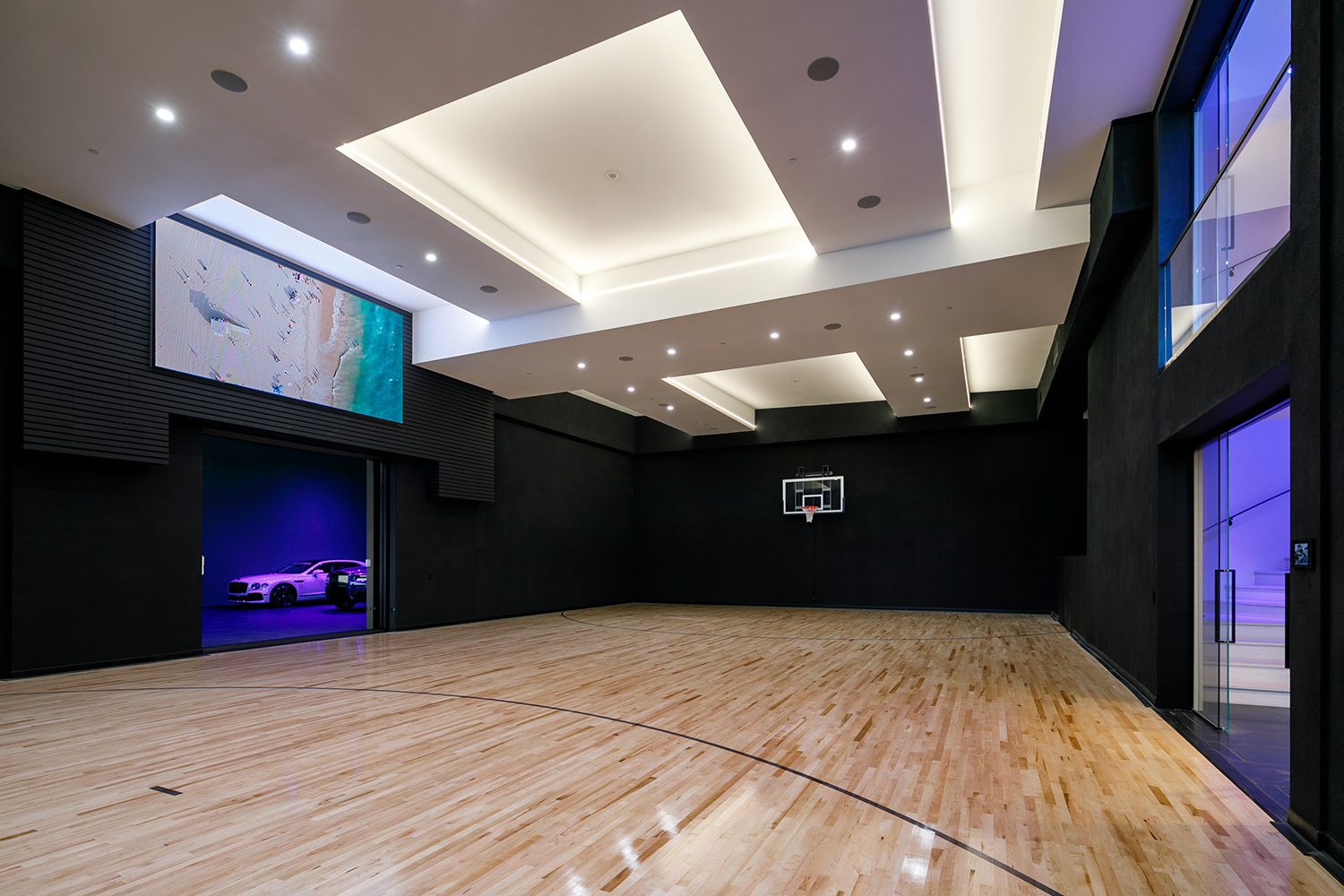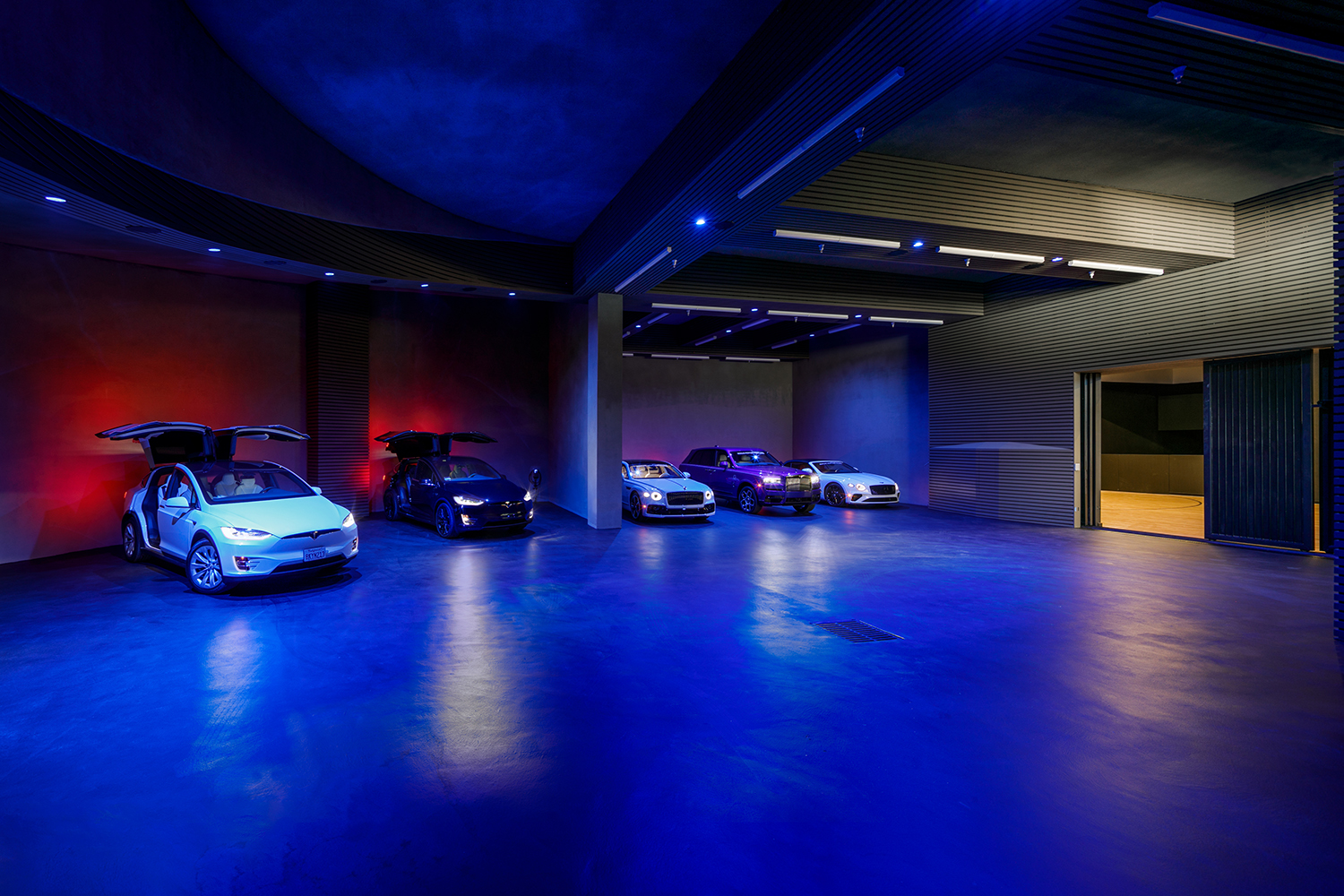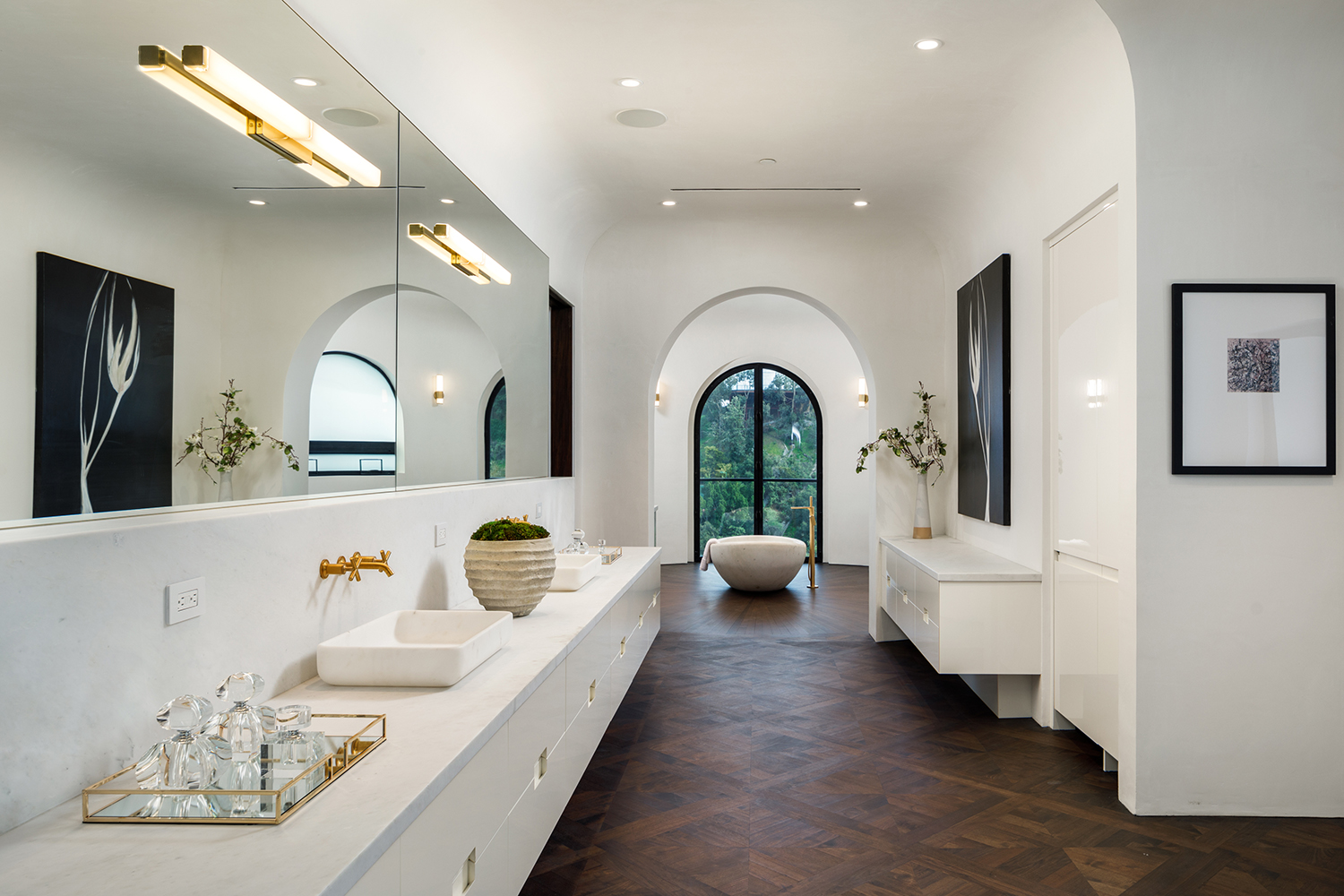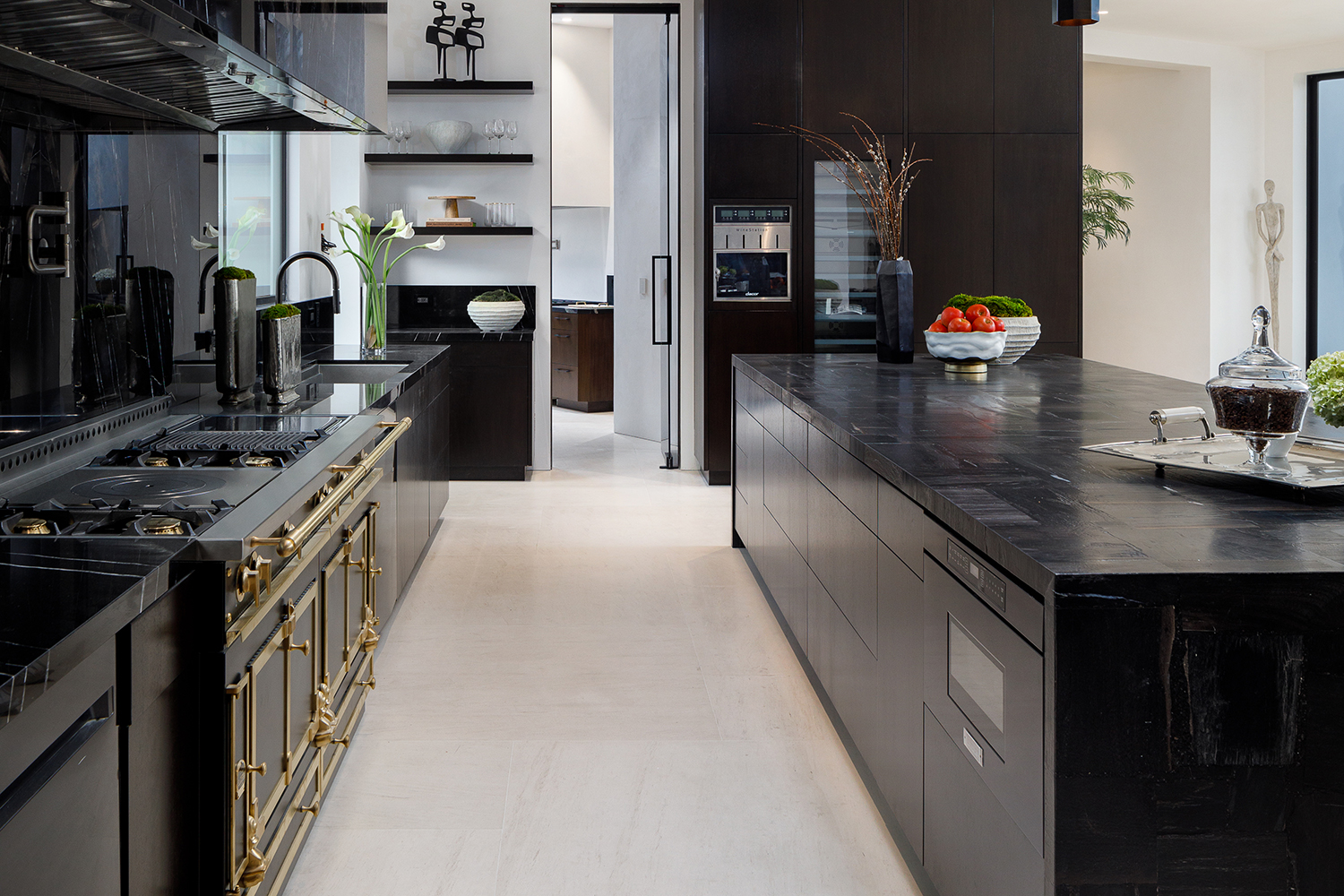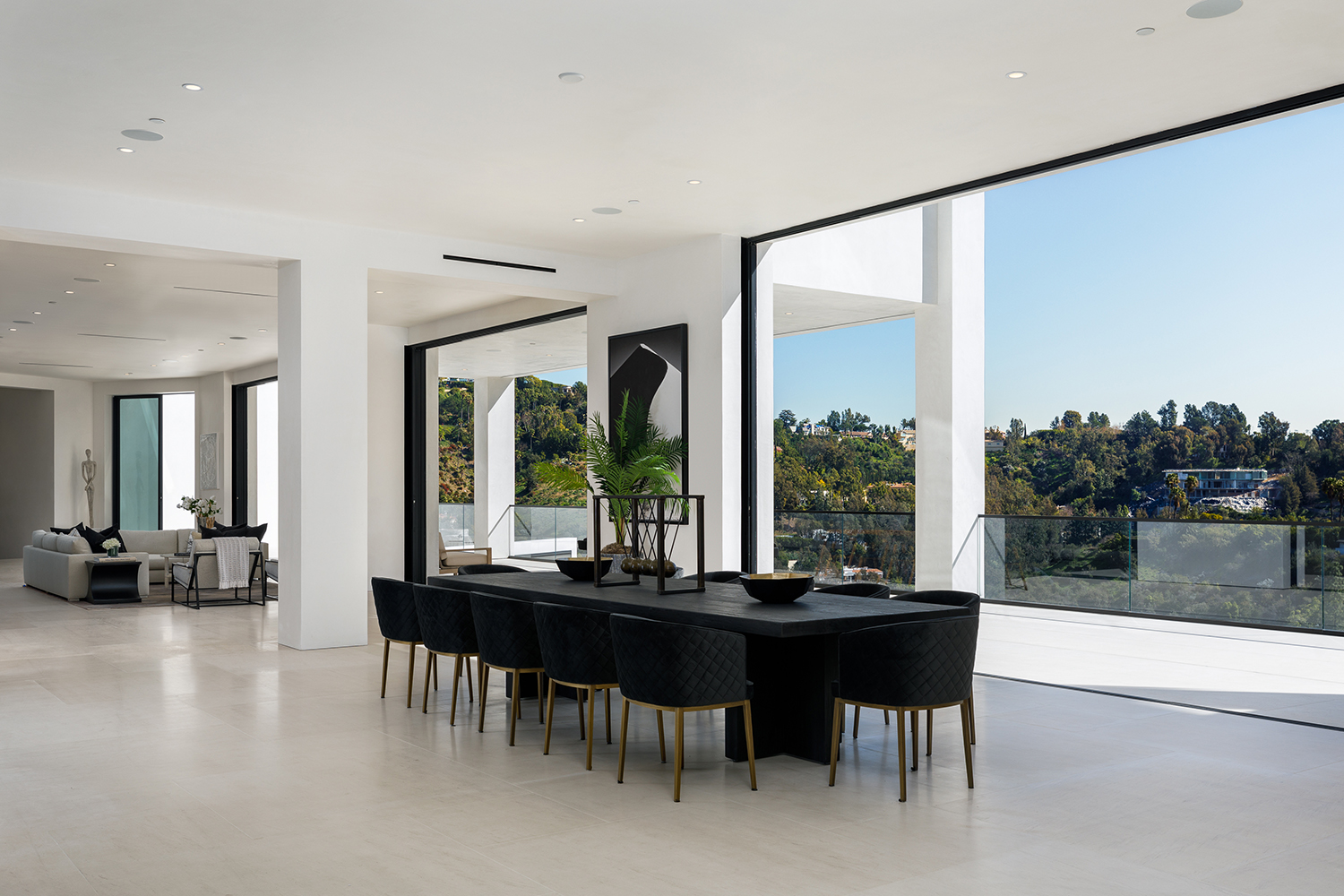 While most multi-million-dollar homes feature a spa, Unica has an entire wellness floor. This space includes a steam room, oak sauna, gym, kitchenette, and an ice bath. Don't forget to take a plunge in the 75-foot, salt water lap pool. All of this is certainly better than any world-class spa, but none of it compares to the solid white jade soaking tub in one of the two master suites. The "Hers" suite was done in soothing whites with the soaking tub set in the middle of the circular bathroom, the gorgeous hardwood flooring laid to create a sunburst pattern underneath. This may be the "Hers" tub, but you would be remiss not to sneak a soak in this tub once in a while.
For the "His" master suite, the theme is dark and moody. A large shower with bench was finished in black slate and glass and is complemented by an equally moody walk-in closet made from dark stained wood.
Around every corner there is something new and luxurious to discover about this opulent retreat. Spreading out over 41,000 square feet plus a bonus flex space of 6,000 square feet, Unica puts Uncle Phil's house to shame.
UNICA is listed at $100,000,000 with Sally Forster Jones and Anita Stephan of Compass, David Kramer of Hilton & Hyland, and Ty Cueva of Westside Property Group. The property was developed by Ty Cueva & Dean Hallo.