Just as the mythical phoenix arises from the ashes of its predecessor, PK (Portable Kitchen) Grills had almost faded into obscurity before being reborn.
The first Portable Kitchen was created in 1952 in Tyler, Texas by Hilton Meigs, an inventor and businessman. The unique capsule design was constructed of thick cast aluminum which conducts heat more efficiently than steel and will not fall prey to the effects of rust like other grills.
In 1960, Meigs sold the business to Lewis Hamlin, who moved the entire operation to Little Rock, Arkansas. With an abundance of aluminum at his disposal in the company's new location, the PK Grill's operation continued to prosper until a fire and subsequent additional business issues caused the company to cease production in the mid-1970s.
Fast forward to 1998, when Paul James discovered one of the classic grills at a yard sale and, after a hiatus of almost two decades, the classic grill was back in business. After some research, James purchased the intellectual property for Portable Kitchen. He then located the same tool and die casting company that had poured the original grills. From his garage sale find, a new mold was created and a new generation of PK Grills and Smokers was born.
In 2014, Brian Taylor (Paul James' brother-in-law), Jeff Humiston, and Scott Moody bought a majority stake in the company from James and began to execute a strategy to create a brand around the PK Grill & Smoker.
In the fall of 2016, Portable Kitchen launched the first new grill to its line in more than 40 years. The PK360 Grill and Smoker has an improved four-point venting system, a larger cooking area (360 square inches), a higher pedestal stand, and heat resistant, detachable shelves (available in either teak or synthetic versions).
While we haven't had the opportunity to cook with the PK experts directly, we did have the opportunity to catch up with one of the owners and Chief Marketing Officer, Scott Moody. In addition to assisting with the PK story, we wanted to share some of his direct answers to the brand's effectiveness and what lies ahead for the company.
What sets PK apart from other grills on the market?
Moody: PK Grills are made from thick cast aluminum and they have four vents instead of two. Aluminum conducts heat four times more efficiently than steel. This conductive property of aluminum, combined with four vents makes it much easier to achieve and control consistent, even heat inside the grill. Also, Aluminum is inherently rust-proof, so PK Grills have a reputation for lasting a very long time when other (steel) grills rust out.
How does it compare to other grills in regards to cooking?
The capsule shape combined with the four-point venting system allows for direct or indirect cooking. You can configure air flow to cook 'hot and fast' or 'low and slow'.
What is the biggest challenge facing this revived company?
Our biggest challenge is brand awareness. Once people are aware of PK and know the story, they tend to buy because the product puts so much value on the table. However, we are still relatively unknown.
Aside from the recent addition of the PK360, is there anything that you can share about what's in the pipeline for the company?
We have two new versions of the Original PK grill which are available this year, the PKTX which utilizes a unique folding stand that converts into a dolly and the PKGO which is a shorter, ultra-portable tailgate stand.
Still not sold? Consider this: Portable Kitchen has been the grill of choice for the winning team at the Steak Grill Championship three years running (2015-2017). It's hard to argue with winners.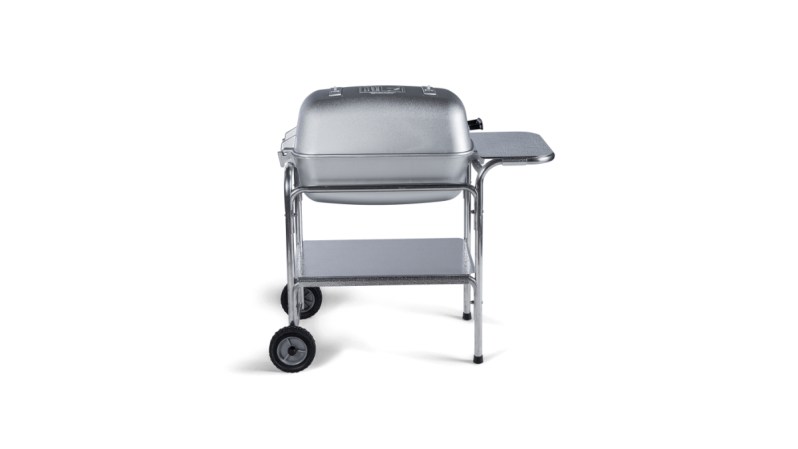 And now that you've got the grill, you've gotta get the gear.
Editors' Recommendations