We hate to lean on the obvious catchphrase here, but "Game of Thrones is coming" — literally. The eighth and final season of what has become one of HBO's most widely acclaimed shows ever returns April 14 in all its fascinating, bloody glory. In the network's typical over-the-top fashion, they've launched a global, GoT-flavored scavenger hunt ahead of the final season's premiere.
"When you play the game of thrones, you win or you die." Cersei Lannister
The queen's bleak declarations aside, last week, HBO announced a less deadly, real-world game of thrones for hardcore fans of the show. The Quest for the Throne is simple: six replica Iron Thrones have been hidden in remote locations around the world and fans are tasked with finding them. HBO is encouraging hints, rumor mill, and sharing on social media with the hashtag #ForTheThrone.
Seek the Weirwood in this Kingdom on Earth. Begin your Quest #ForTheThrone.#ThroneoftheForest https://t.co/LowR2bZ1z5 pic.twitter.com/usJrQjYlpv

— Game of Thrones (@GameOfThrones) March 18, 2019
HBO kicked off the hunt on Twitter with a photo of the first throne, The Throne of the Forest. The purposely vague picture revealed the empty throne sitting in a dense, mossy forest which, frankly, could have been just about anywhere. Still, in less than a day, two eagle-eyed fans tracked it down to the Forest of Dean in the United Kingdom. While it might not seem obvious to casual fans, the location is well-known among lovers of Harry Potter as the real-life setting for The Deathly Hallows.
The Throne of the North was the second to be unveiled via an hour-long, 360-degree YouTube livestream. Fans quickly tracked that one as well to a snowy field in Björkliden, Sweden. Three additional thrones were subsequently found in the Brazilian desert, coastal Spain, and British Columbia, Canada. Every winner in the scavenger hunt receives a replica of King Robert Baratheon's crown from the show (similar to this one we imagine).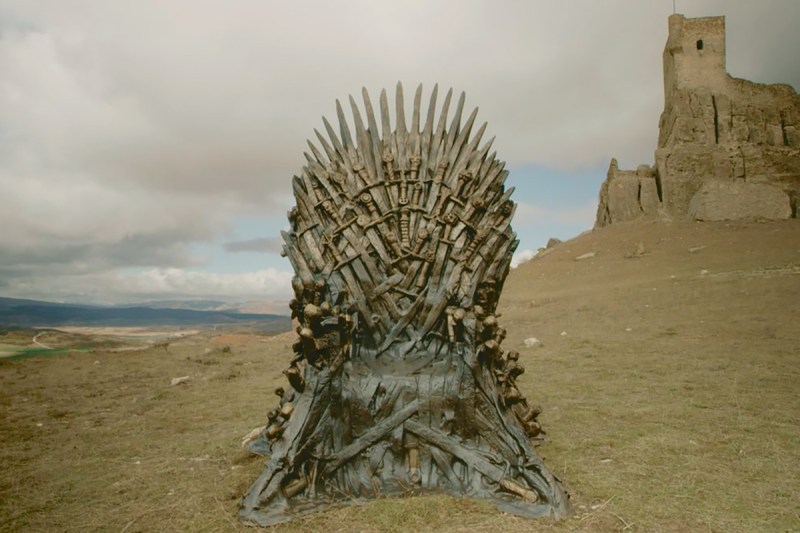 HBO is no stranger to clever marketing campaigns to hype their best programs, and they've pulled out all the stops ahead of the last six highly anticipated episodes of Game of Thrones. In February, the Create for the Throne campaign inspired artists around the world to craft some of the show's most iconic props (like the dragon glass daggers seen here) in their own image. The company also worked alongside the American Red Cross on a do-good campaign dubbed Bleed for the Throne, a simple, nationwide blood drive with a branded tie-in. Plus, we've seen Game of Thrones sneakers, whisky, and even a co-branded Game of Thrones x John Varvatos clothing line.
Now that you're appropriately dressed, boozed, and inspired for the season premiere, the only thing left to do is … wait.
Editors' Recommendations