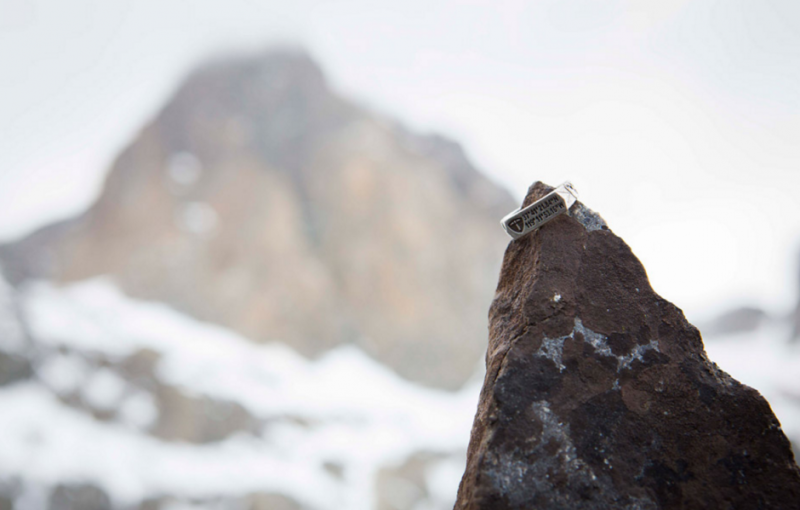 The holiday season is a time of selflessness. Every November and December, you exchange your hard-earned cash for thoughtful gifts, just so you can behold the look of joy on your loved ones' faces. If you're diligent about which companies you give your cash to, your selflessness can extend even further. Instead of throwing your money into some mega-corporation's mega coffers, consider purchasing gifts from one of the following brands — all of which give back in some capacity.
If you're looking to give your sweetheart a little bling, consider procuring said bling from Jax Union. All of their mountain-inspired jewelry is made in America, and a portion of the proceeds go to help secure housing for disadvantaged children in Nicaragua, the second-poorest nation in the Western Hemisphere. The Brothers for Hope pendant is an especially generous item, as 100% of the profits from its sale goes to Nicaraguan youth. Jax Union is founded by two adrenaline-junkie brothers, and boasts a wide array of exquisite rings, earrings, and necklaces.
Conquering the outdoors is a worthwhile endeavor — especially if you have the right gear. Fishpond, the celebrated adventure outfitter, sells lots of great gear for fishermen and other weekend warriors. Now, roughly 10% of the proceeds from select apparel items will go to a nonprofit called Save the Colorado. As you might have guessed, Save the Colorado is dedicated to combating overuse, pollution, habitat loss, climate change, and other issues affecting the mighty Colorado River, which is considered by many to be "the lifeblood of the American Southwest." Purchasing a t-shirt, hat, or pair of sandals can help ensure the wellbeing of one of America's great waterways.  
Related: The Manual's Made in America Gift Guide
Considering how many people talk about "supporting our troops," there's surprisingly little support happening. Lord Wallington is a veteran-owned brand that sells neckties, bowties, pocket squares, and other classy accessories. They're also dedicated to helping brave soldiers make the transition to civilian life by partnering with REBOOT Workshops and the San Diego Veteran Employment Committee. If you're looking for a way to support our warriors while doing some holiday shopping, consider buying a product or two from Lord Wallington. It's also worth mentioning that a portion of their sales goes to Almost Home Animal Rescue.
It doesn't matter where you land on the gun control debate; it's always a tragedy when an innocent child falls victim to gun violence. In an effort to protect our children, Liberty United has embarked on a unique project to get illegal guns off the street. They're taking illegal guns confiscated by the police, transforming them into exquisite works of art, and donating up to 25% of the proceeds to programs that help protect children from the threat by gun violence. Liberty United's wares include bracelets, pendants, earrings, cuffs, cufflinks, and money clips made from gunmetal and bullets.  
Oliberté holds the honor of being the world's first Fair Trade Certified shoe manufacturer. What does that mean? Well, instead of exploiting producers and workers in third-world countries, Oliberté makes sure everyone receives fair compensation for their efforts. The workers at Oliberté's Addis Ababa, Ethiopia factory are paid more than double Ethiopia's minimum wage, and work in clean, safe facilities. On top of that, Oliberté is partnered with 1% for the Planet, which means 1% of their proceeds goes to solving the world's environmental problems. Oliberté makes durable and stylish shoes, bags, and more. Most importantly, they're showing the world that a socially and environmentally responsible business can also be successful.   
When you're a kid, it's kind of a bummer to find socks in your stocking. When you're an adult, however, socks are actually pretty great — especially when you know that they support a good cause. Sophisticated sock maker Bombas donates one pair of socks to homeless shelters for every pair sold. Socks just happen to be the most oft-requested items in US homeless shelters, and Bombas has donated over 500,000 pairs. These aren't just any socks, either — the special blister tab, performance footbed, and high-quality materials make them much more advanced than your average tube socks.
If there's one thing that can put a damper on the holiday season, it's cancer. But still, you can never let it get you down; instead, you gotta stand up. That's exactly what the folks at Stand Up to Cancer are doing with their wide array of products, including accessories, clothing, jewelry, and much more. These are the kind of gifts that give back — the proceeds go directly to help fund cancer research. While you're in the giving mood, you might consider donating money directly to the cause. To date, Stand Up for Cancer has received $370 million in pledged donations and funded more than 160 clinical trials.
Editors' Recommendations